As soon as guests made their way out of the Sheraton Atlanta Hotel's labyrinthine parking deck on Feb. 3, they weren't greeted by the expected strings of elevator muzak. Rather, they were bombarded by the dulcimer tones of Metallica before running headlong into a mob of people (the males generally donning studded denim jackets with Cannibal Holocaust patches, the females usually clad in tattered jeans, fishnets and every hue of black lipstick imaginable) double-fisting 24 packs of Pabst Blue Ribbon in the lobby.
No, these were not the visitors attending the Southern Region National Black Law Students Association meeting. These were the merry, jolly sorts participating in this year's Days of the Dead horror convention.
And these are unmistakably the most hardcore of the hardcore horror fanatics. Not content with merely cosplaying as their favorite celluloid psychopaths, those waiting in line at the ticket booth compared and contrasted Freddy Krueger tattoos while discussing the most minute intricacies of ultra-obscure genre films such as The Leopard Man.
The scent of patchouli and raspberry-tinged deodorizer spray wafted over the show floor, where merchants hawked all sorts of kooky knickknacks – running the gamut from blood spattered hockey masks and lawsuit baiting "mash-up" t-shirts depicting random pop cultural icons gussied up as moviedom's most memorable murderers to stunningly realistic replicas of mutilated cats and infant onesies depicting the mugshots of real serial killers like Richard Ramirez and John Wayne Gacy.
While the old comic books, action figures and VHS cassettes for sale garnered their fair share of attention, the real draw of the event was its smattering of genre movie staples offering a photo op or their John Hancock for cold hard cash. While names like Bill Johnson, Sid Haig and Doug Bradley may not resonate with the hoi polli, the Days of the Dead attendees flocked to them like teenage girls making a mad scramble at Justin Bieber. Surreal doesn't begin to describe the scene of green-haired men wearing shirts reading "fuck the world and fuck you, too" and elementary school-aged children in panda costumes rapt with attention as the co-writer of Night of the Living Dead showed off a framed paycheck from 1968 – all while self-described "dominatrix wrestlers" in chain mail bikinis feverishly gyrated one table over.
While there were plenty of attractions to keep attendees occupied – full movie screenings and punk rock concerts and costume contests and special effects demonstrations, among others – perhaps the most popular events of all were the numerous panel discussions in which horror all-stars gathered to reminisce about the good old days of cinematic guts and gore.
And that evening, Days of the Dead attendees weren't getting just one beloved screen psychopath performing a grindhouse version of Inside the Actor's Studio – they were getting three of them.
The Unholy Trinity
Almost universally reviled by critics but nonetheless a perennial box office powerhouse (earning more than $460 billion worldwide across a spate of a dozen motion pictures), the long-running Friday the 13th series more or less represents the James Bond cash cow of Hollywood slasher series. The same way numerous actors over the years have portrayed Agent 007, about a dozen men – including credited actors and uncredited stunt doubles – have donned the iconic hockey mask (and sometimes, burlap sack) of franchise anchor and serial oversexed teenager slayer Jason Voorhees.
Three of the most memorable actors to ever put on the Jason regalia – part two's Steve Dash, part six's C.J. Graham and the only man to portray the character more than once, Kane Hodder – took the stage for a reunion and free-floating chit-chat on opening night at Days of the Dead 2017, each sharing personal recollections of their respective experiences beneath the ghoulish goalie mask.
That is, except for 73-year-old Dash (birth name, Steve Daskewisz), a former New York cop turned movie stuntman, whose tenure as Mr. Voorhees preceded the unveiling of the horrific hockey equipment in Friday the 13th Part 3.
"I got called one day for a job – there was this guy they hired to play Jason on Friday the 13th Part 2 and his name was Warrington Gillette," Dash recounted. "He was going to go through a window … he said he was a stunt man, but when it turned out he had to go through the window, he was scared shit."
The stunt coordinator asked Dash if he was up for portraying Jason instead. He drove all the way to Connecticut for what he believed was his big acting breakthrough.
"I said 'holy shit, I got a lead role in the film,'" he reminisced.
Alas, the title role in the film that was initially dubbed Jason wasn't exactly what Dash had anticipated. He recounted the words of stunt coordinator Cliff Cudney. "'The whole deal is you wear this bag and you kill all these kids that are having sex and then, at the end of the film, then they kill you … and you have no lines.'"
Still, Dash soldiered through the shoot, in which cast and crew had to rough it through freezing filming conditions and sleep in unheated cabins. Such a miserable experience, Dash turned down an offer from Paramount to reprise the role in Friday the 13th Part 3.
"If I would've known then what I know now, I would've taken the job because I would've made a lot of money like Robert Englund," he said, referencing the man who made a mint portraying Freddy Krueger in eight A Nightmare on Elm Street films.
Fellow stuntman – and one time Culver City, Calif. Chippendales dancer – C.J. Graham was likewise brought in as a replacement Jason for Friday the 13th Part 6, which, incidentally, was filmed in nearby Covington, Ga, in the mid-1980s.
"The first dailies come back and unfortunately, he didn't resonate with quite the physique they were looking for," Graham said. "It is kind of a Cinderella story, you know, but I knew what I was getting into when they pulled me back to [Paramount producer] Frank Mancuso's office."
Kane Hodder, 62, is the only actor to portray Jason in more than one film. In fact, he played the character in four consecutive movies, beginning with 1988's Friday the 13th Part 7. Hodder made quite the impression on the director of that film, John Carl Buechler while working as a stunt coordinator on an earlier horror flick titled Prison. When asked to put live nightcrawlers on his body while portraying a zombie, Hodder one-upped director Renny Harlin by stuffing a dozen real worms into his mouth.
Buechler was instrumental in getting Hodder the Jason role. He even paid out of his own pocket to bring Hodder in for a screen test.
"Because there were a lot of stunts to do in this particular movie, I think that's what helped put me over the edge," Hodder said. "I loved playing the character, and would've done it for free."
Becoming Jason
As the first actor to portray the notorious Friday the 13th killer (discounting, of course, Ari Lehman's seconds-long appearance as the character at the end of the original film), Dash more or less had carte blanche when it came to creating Jason's mannerisms. From the get-go, he didn't think the antagonist should've been much of a sprinter.
"They wanted me to run a certain way," he said. "I said 'no, I'd rather lope.'"
The burlap sack get-up was quite problematic, Dash recalled. With only one eye hole slit into the mask, he wore a patch for several days to help himself get acclimated to losing peripheral vision during filming.
It wasn't until Part 2's climactic scene – in which "final girl" Amy Steel does in the villain with a mean machete blow to the jugular – that Dash said he felt like he was portraying a true movie monster.
"The only time that it came to reality with me that I was a character was when we were in Jason's lair," he said. "I had to develop – and I wasn't intentionally developing – the character … I was just being Jason."
Apparently, Dash's menacing disposition made a big impact on the film's leading lady.
"Amy Steel wouldn't talk to me for the whole shoot," he said. "The first time I talked to [her] was 25 years later."
By the time Graham came on board, Jason Voorhees was already one of Hollywood's most famous (and feared) villains. Considering the opening sequence of Friday the 13th Part 6 pays homage to a certain Universal Monsters masterpiece, perhaps it's not surprising he found inspiration for the character via the horror classics of the 1930s.
"It was more of the Frankenstein factor of the old Boris Karloff days, the curiosity factors," Graham said. "The powerful force that was unstoppable, no matter what you put in front of that person."
Before filming on Part 7 began, Hodder rewatched all the films in the series. He said he took elements of each previous Jason and incorporated it into his portrayal – albeit, with quite a few touches of his own.
For starters, he decided early on that Jason should've been played more zombie than human – so that made running a big no-no. He also sought to introduce a few body language quirks to non-verbally express the character's ill intentions – primarily, by breathing rapidly and puffing out his shoulders instead of simply standing still before axing, knifing or spearing his latest prey.
Hodder also took great strides to elicit real terror out of his fellow actors. Before shooting began, he said that sometimes he would wander off into the woodlands and scream into the night to intentionally creep out his cast mates.
Few know his unique style of method acting as well as actress Joleigh Fiorevanti, who played one of his victims in the 2006 film Hatchet – a Friday the 13th inspired neo-slasher starring Hodder as the recurring antagonist Victor Crowley.
"They never saw me live in the makeup until they were on camera, and the best scene where that is evident is where I come out and grab Jolie and the belt-sander to the face," Hodder said. "She was crying knowing I was right behind her off camera, waiting for the moment where I turned the thing on … she was so terrified that when she turns around in the movie, she drops to her knees – and she wasn't supposed to do that – so I had to grab her hair and yank her up and ad lib a little bit."
Slaughter On the Set
Dash doesn't have to think too long to drudge up his most memorable murder in Part 2.
"My favorite kill was wheelchair-down-the-stairs-backwards-with-a-machete-in-the-head," he quipped as the Days of the Dead audience roared with applause.
It was actually a pretty intricate little stunt, he recollected. The prop itself was tied to a line traveling down the stairwell, and the rainy, nighttime shooting conditions made it even tougher to pull off.
"It took about a week to put that thing together," he said, "and there was no rehearsal because it was a one-shot deal."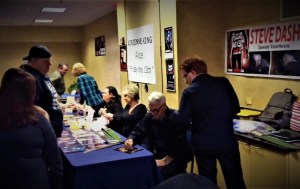 While Part 6 had its fair share of memorable executions – Graham himself is fond of the scene where an unlucky sheriff has his spine folded up like an accordion – perhaps the most iconic sequence of the entire film is the grand finale in which the flick's hero attempts to drown Jason at the bottom of Crystal Lake with the help of a humongous boulder.
While the exterior shots of Jason Lives were filmed just outside the city limits of Atlanta, that scene was actually shot in an Olympic-sized swimming pool in Los Angeles. Black felt was draped around the natatorium and safety divers were onset to provide Graham a steady supply of oxygen.
"They dropped me in the water in normal wardrobe – and that is a real chain around my neck – and they stood me on a cinder block 20 feet down," he said. "We went down several times and finished the shot in one night."
Hodder had a similar experience filming Part 7. He described the unanticipated results the first time he hopped into the pool while wearing the full body Jason costume.
"I floated right on top because foam latex is so full of air bubbles," he said. "The safety divers had to attach a cable at the bottom of the pool … and then looped it around my ankle because when I would go underwater, I would stay perfectly upright."
Although Hodder does have some misgivings about the critically maligned Jason X – when a New Line Cinema rep told him the concept was "Jason in space," he thought it was a joke – he does appreciate it for facilitating what he considers one of the most inspired death scenes in the entire franchise.
"At least there's the frozen head kill in there," he said, "that's a good one."
Behind the Screams
Hodder, already a huge fan of the Friday the 13th films, said he was utterly awestruck the first time he donned the goalie gear and tattered mechanic uniform.
"I still can think back to the feeling I had when I was on the set," Hodder remarked. "Saying 'holy shit, there's people around the world – literally – that know this character and I'm wearing the fucking mask.'"
He considers the one night of shooting in New York for the somewhat misleadingly subtitled Jason Takes Manhattan to be the single most remarkable moment of his 40 years in stunt work and acting. He vividly recalled thousands of spectators flocking to Times Square to catch a glimpse of his character.
"Just imagine, you're in the costume, shooting one of the films, people know the character all over," he said. "You're standing out there by yourself, in between shots, and you just look over in one direction and they just start going fucking crazy, cheering and yelling and stuff."
Promotional work for Part 8 led to an appearance on The Arsenio Hall Show in 1989 when Hodder appeared as a guest on the program in full Jason get-up. Before filming, the host made the dire mistake of telling Hodder he was deathly afraid of his character – Hall's terrified reaction when Jason yanked his hand at the end of the segment, Hodder said, was 100 percent genuine.
Interestingly, Graham said he also made an appearance in-character as Jason on The Arsenio Hall Show shortly after Hodder's visit to the set. In a backstage skit set up by Paramount, he reprised the role – albeit, while wearing the old burlap sack from Part 2 instead of the more famous hockey mask – as a green room server.
Not that he didn't have some memorable moments filming his canonical Jason Voorhees role. He recounted a scene where Jason plunged his arm inside the rib cage of Ron Parillo (yes, the actor who played Arnold Horshack on Welcome Back, Kotter), and – before the Motion Picture Association of America rating board scissored it to shreds – yanked out his still beating, blood spraying heart. Then there was the shot where he had to bust open an RV door. The prop people merely unhooked the hinges, then Graham stepped up on a couple of crates and literally sent it sailing off the frame with one punch.
Graham said he was treated very well during the filming of Jason Lives – indeed, he was one of the few cast and crew members to have his own trailer during the shoot. The antithesis of the Hollywood prima donna, however, Graham loaned out his mobile home to any weary set transportation workers who needed a quick nap; as a token of appreciation, the department let Graham keep the trailer after filming wrapped up.
An Ode to the Stuntman
While all three men share bonds in one of Hollywood's more atypical acting fraternities, they are similarly united by an altogether different type of brotherhood – the fellowship of stuntmen.
Before portraying Jason, Dash, Graham, and Hodder all had extensive experience as Hollywood stunt performers. Hodder alone has performed stunts in more than 100 films and television programs – including big budget offerings like Lethal Weapon 3, Batman Forever, Gone in Sixty Seconds and Daredevil – and has served as stunt coordinator in more than 40.
"This is the person who keeps everybody alive on the set," Graham remarked. "He's the general."
Hodder certainly takes set safety seriously. Early in his career, he was nearly killed in a fire stunt gone awry. Nearly four decades later, his neck, biceps, and upper body still display the scars of third-degree burns.
"Sometimes, the directors get really crazy with what they want to shoot and it becomes an art to say 'OK, that's great,' even though what they're coming up with you know in your mind is impossible," Hodder said. "In your mind you're saying 'we have to do it this way or else somebody's going to get killed,' but you have to present as if you are making the shot even more exciting … it's kind of a tightrope you walk."
He brought up one of his more harrowing recent stunts – a sequence in the 2010 horror film Frozen in which an actress had to lie on an icy road, with a car jettisoning downhill swerving to avoid hitting her at the last second. "That kind of stuff is some of the most nerve-racking," Hodder said.
Although Dash has never served as a stunt coordinator, he has performed stunt work in more than 30 films and television programs. He said he greatly admires coordinators like Hodder, who not only are tasked with ensuring performer safety but doing so without costing the studio extra money.
"If the budgets for these stunts is $600,000, it better not be $600,001," Dash said, "because they're on his ass constantly."
And if you're wondering what could possibly strike fear into the heart of a man who has the word "kill" tattooed on his bottom lip and whose biography touts him as "the world's most prolific cinematic killer?"
"If you're going to shoot for three months and you have 100 stunts, it's going to be very hard to budget, and you've got to stick to that budget," Hodder said. "Or else, those producers have no interest in hiring you for the next film."
Forget being chased through the woods by a hockey mask-wearing psychopath with a machete – the fiduciary responsibilities of filmmaking terrifies even Jason Voorhees himself.