A lot of people want to know how to get verified on Instagram. Why? Because it's the most prestigious digital blue check mark an individual can earn, a true sign that you're a real deal influencer. A blue check mark on Twitter or Facebook is relatively meaningless by comparison, simply because verification badges are so much more common on those platforms.
This is how you get verified on Instagram
By the time Twitter changed its verification policy in 2017—previously, any user could apply for verification by filling out a basic online form—the Twitter community was already riddled with blue badges. And while verified Facebook pages and profiles seem somewhat less prevalent, Facebook is nowhere near as strict on this front as Instagram is. Facebook's help page provides some pointers on how you can get verified there.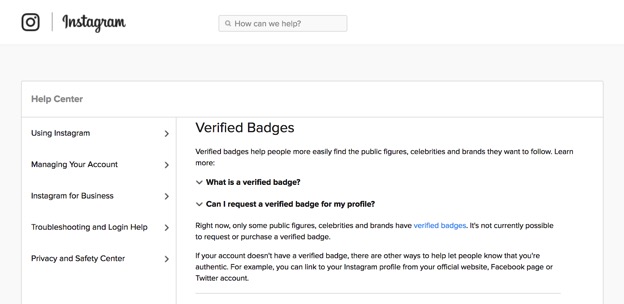 For a long time, Instagram's support page remained more cryptic, supplying few hints about the intricacies of its verification policy. In August of 2018, however, the company announced that it would allow users to request verification through the settings tab on their account: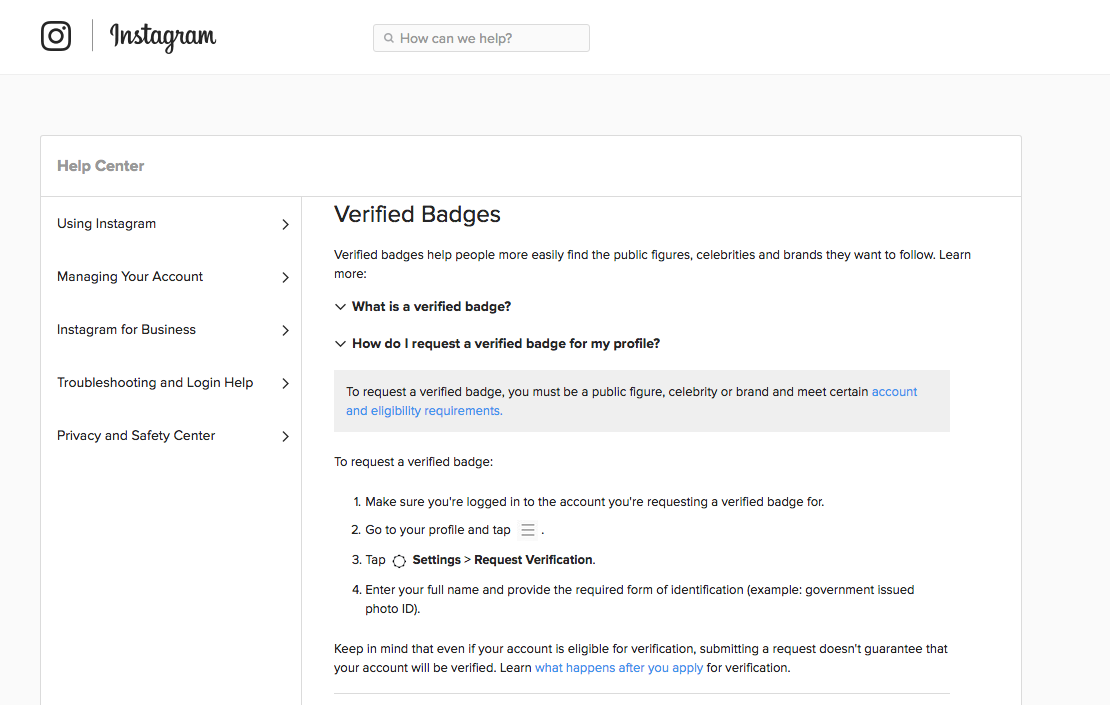 In a 2018 press release, Instagram said:
To access the verification request form, go to your profile, tap the menu icon, select "Settings" at the bottom and then choose "Request Verification." You will need to provide your account username, your full name and a copy of your legal or business identification. This information will not be shared publicly.
Below is a screenshot of the Settings tab on an individual's Instagram account, highlighting the Request Verification option.
Once you select the Request Verification option, you'll be directed to provide some personal information.
How to get verified on Instagram through the media partner portal
It remains to be seen how difficult it will be to get verified on Instagram through the Request Verification option on individual accounts. But there is another option—to request verification through the media partner portal certain media professionals are granted access to. I plan to share everything I know about how to get verified on Instagram through the media partner portal from forging relationships with individuals who have access to it.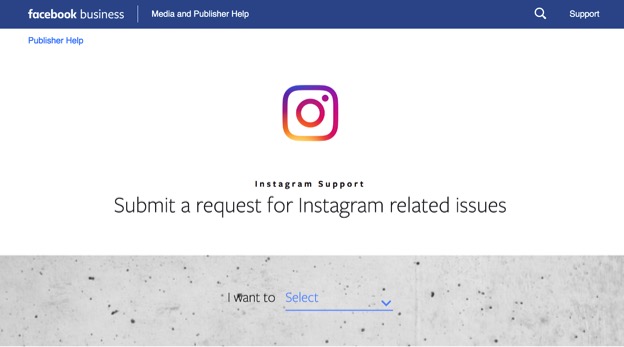 If you're an A-list celebrity, or you've managed to become an Instagram star all on your own, a blue check mark might very well appear on your profile because Instagram has proactively authenticated your account. But for the rest of us, the best shot at Instagram verification is applying through a media partner.
If you know anyone who works at a print or digital publisher or some other media company and they either owe you a favor or are especially kind, you can ask them to submit a verification request on your behalf. Keep in mind that even those with access to the media partner portal are only supposed make requests on behalf of individuals or brands affiliated with their organization. So your media friend will either have to be creative in explaining your professional affiliation, or you will actually have to find a way to work with them somehow (by authoring an article on their site, for example).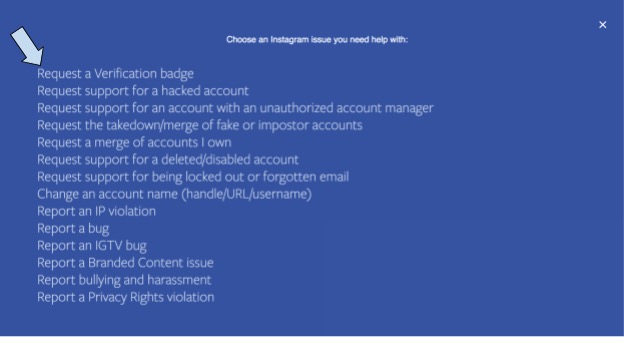 Here's everything you need to get verified on Instagram, based on the submission form within the media partner portal, aptly titled Request a Verification Badge on Instagram.
1. An Instagram account. Duh.
2. A name (your own or your brand's).
3. One of the following documents.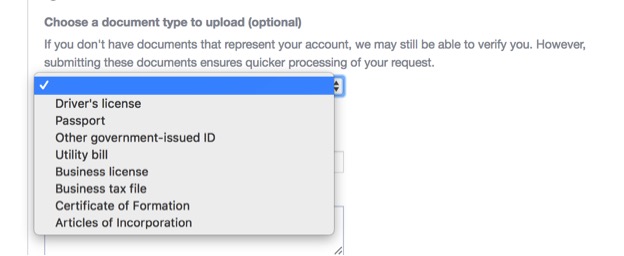 4. A legitimate contact at Instagram or Facebook.
5.  A good reason for requesting verification, which you can expand upon in the Comments section (you can even include links in this box to further substantiate your case).
Below are some examples of effective strategies / good reasons for requesting a verification badge that have worked for accounts in the past:
Emphasize your desire to establish your account's authenticity because there are other accounts impersonating you.
Express your desire to lend your account the credibility only a verification badge can provide because you're so committed to growing your presence on the platform.
State that as your account continues to grow, you want to start using Instagram as your primary method of engaging with your fans / followers.
Claim that you plan to shift your focus from publishing on your highly trafficked website and / or blog to creating content on Instagram instead.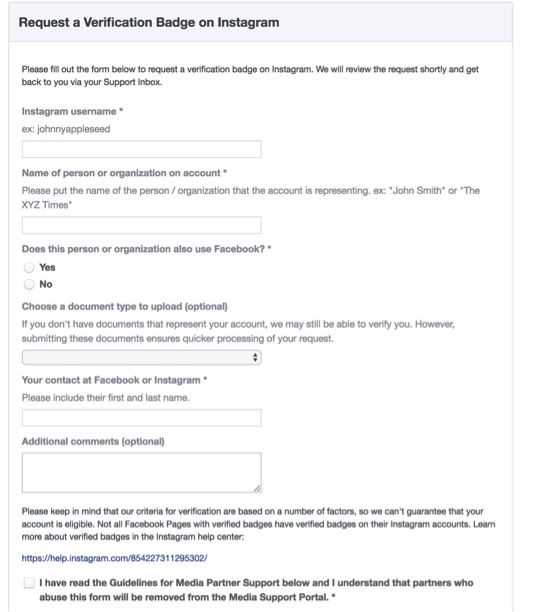 From firsthand experience, I can tell you a few things I've gleaned about the criteria for getting verified on Instagram.
1. Engagement on Instagram matters more than total follower count. In an environment where so many people are buying followers, this makes sense. The average Instagram account has an engagement rate of 3 percent. That means that total likes and comments on an average user's Instagram post should amount to 3 percent of that user's total follower count. True influencers have higher engagement, and Instagram seems to care more about high engagement rates than massive follower counts.
2. Even if you're a true influencer, you're not guaranteed a verification badge. Super users like Charly Jordan, who has over a million highly engaged fans, remain unverified (as of this writing).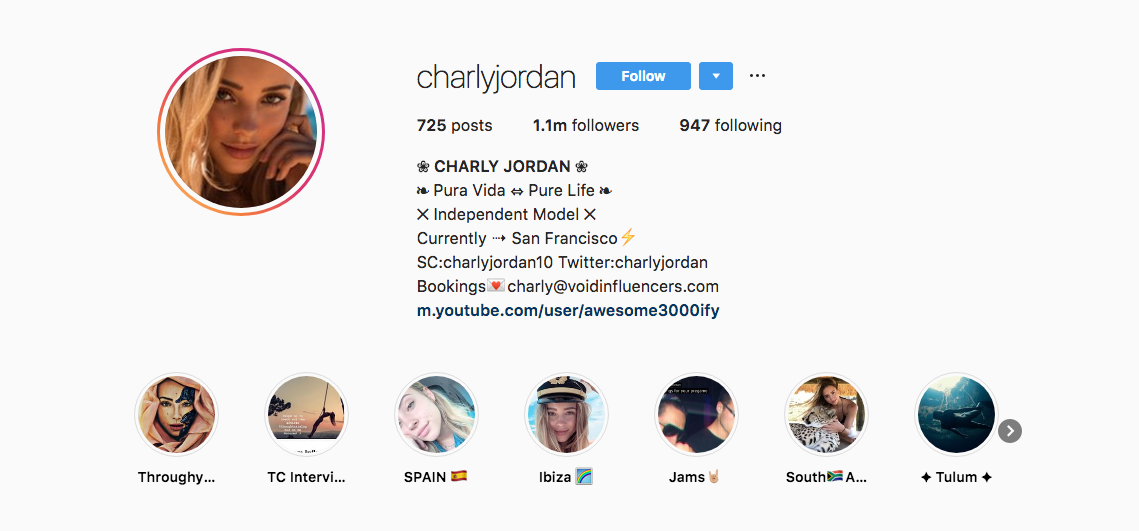 3. Instagram seems to lean towards verifying people who have a robust web presence. While some major Instagram influencers remain un-verified, journalists like Brianna Wiest and lawyer / media blogger Rachel Sklar, who have only a few thousand followers each, are both verified.


While neither Wiest nor Sklar is a significant Instagram player by influencer standards, they are both very Google-able, meaning that they have been written about and / or written for countless national publications. They rank high on a measure I'll call Overall Internet Notability.
So what happens once your verification request is submitted through the media partner portal?
Instagram will send you a nice message confirming receipt and thank you for your request. The stock message also states that they aim to respond within one .
Within the day next day or so, one of two things will happen.
1. Your verification request will be approved. In this case, a blue check mark will suddenly appear on your profile, and your media insider friend will receive the following message in their Support Inbox from a Facebook representative (remember, Facebook is Instagram's parent company).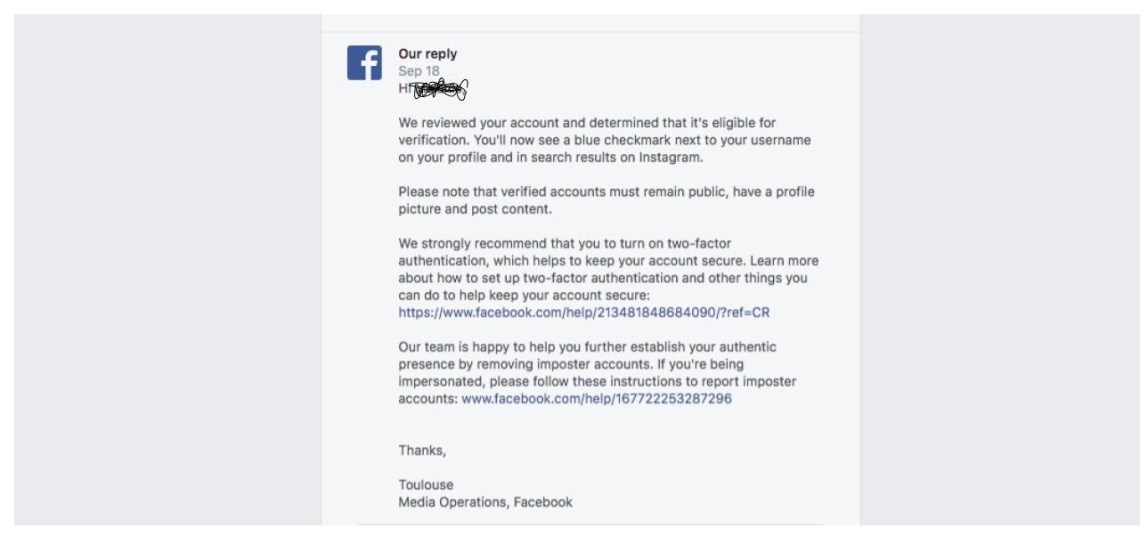 2. Your verification request will be denied, and your media friend will receive the following message in their Support Inbox.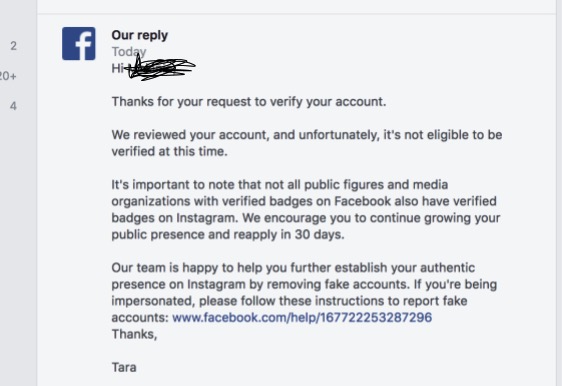 The most helpful aspect of the rejection email is the reference to "growing your public presence." As I mentioned previously, Instagram seems to prefer verifying people with an established public profile.
My advice? Either make an effort to get yourself published, or find a way to get yourself or your brand written about in the time before reapplying (a 30-day wait is recommended).
And that's everything you need to know about how to get verified on Instagram.