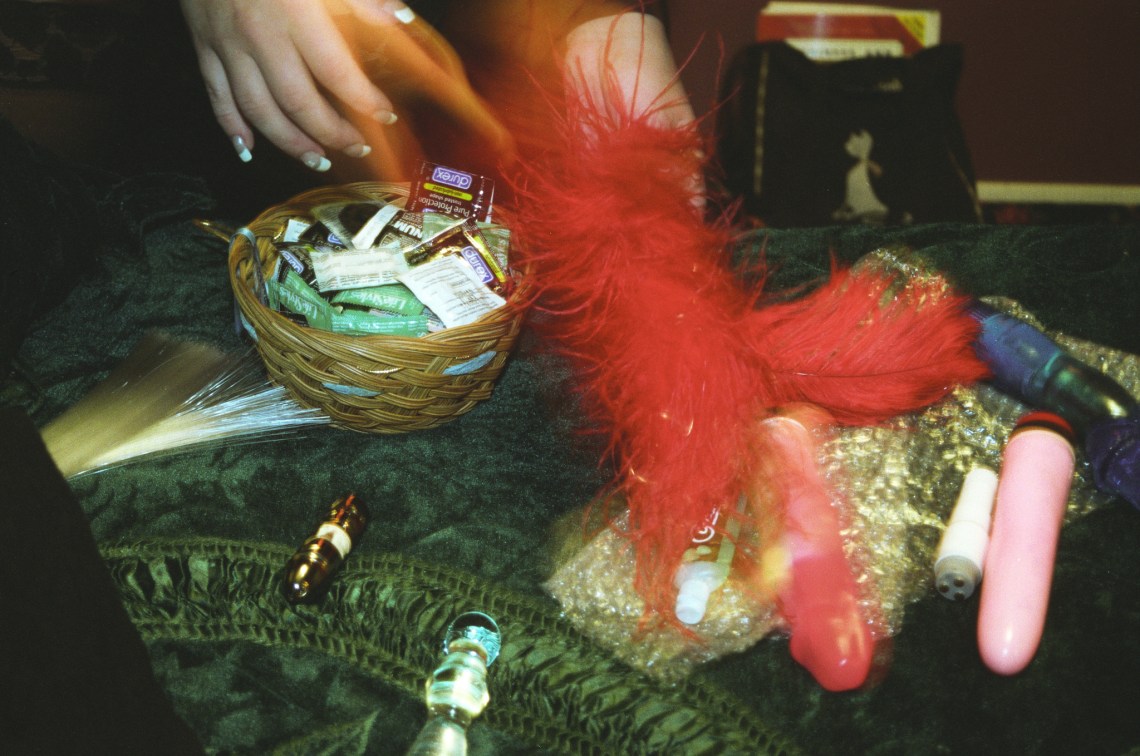 1. Put a blindfold on him — or tie a scarf across his eyes — and then ride him. It'll turn him on, and if you're self-conscious about being on top, his blindness should ease your insecurities.
2. Stand in front of a full-length mirror while you're fucking. Or put a mirror behind you while you're sucking him off, so he can see down your shirt and has a good view of your ass.
3. Take photos of each other while you're getting undressed — or while you're in the middle of lovemaking. And if that turns you on, the next step is actually recording a video (for your eyes only, of course).
4. Instead of bringing actual food into the bedroom that'll ruin the sheets, buy chocolate body paint to lick off of him, edible underwear to tear off of him, or a ball gag made of candy to stuff in his mouth.
5. Get a paddle, or whatever substitute you can find around the house, and give him a good spanking. Sometimes, your hand just isn't enough.
6. Run a feather over his stomach and chest. Or, if he's especially ticklish, then kiss him lightly up and down his body to create a similar sensation.
7. Suck on an ice cube a few seconds before sucking on his dick. Then ask him to do the same before going down on you. It's going to feel amazing.
8. Hand him a vibrator, so he can rub it up against your clit while he's inside of you. Seeing you squirm, and eventually orgasm, will make him orgasm.
9. Grab an erotic novel (or search for fanfiction on the internet) and then act out the steamiest sex scene you can find. Make sure to say all the dialogue and copy every movement.
10. Masturbate side-by-side. You're not allowed to touch him and he's not allowed to touch you. Just enjoy the view.
11. Wear lingerie that makes you feel powerful, so you're motivated to dominate him. Try something made of leather. You could even buy a whip to go along with it.
12. If you like it when he plays with your breasts, get some nipple clamps, so you can experience a slightly new sensation. He'll love the look.
13. Pick up a pair of flimsy handcuffs from the dollar store. Then let him handcuff your wrists together and fuck you doggy style. Or handcuff him to a chair and then go down on him.
14. If he wants to see what the male G-spot is all about, grab a strap-on and try role reversal. Or, ease him into it by sticking a finger up there while you're sucking on his dick and playing with his balls (after getting his permission).
15. As foreplay, give each other sensual massages — with hot wax — that result in happy endings.
16. If you're not sure what kind of sex toys he's into, buy a few things that interest you, spread them out on the bed, and tell him to pick one. He's bound to like something.