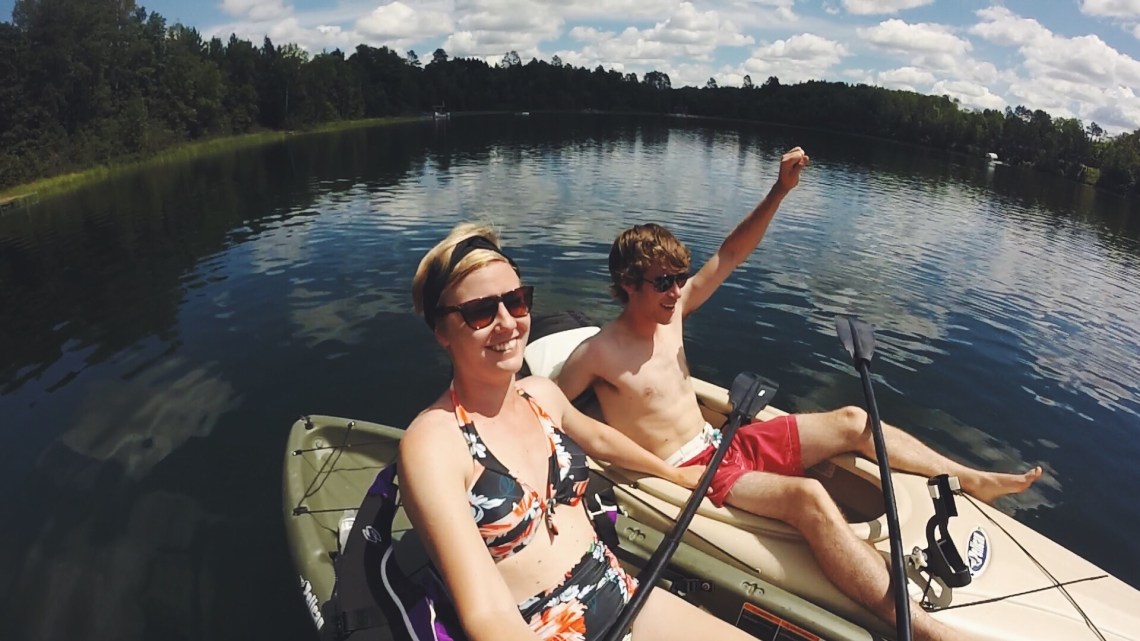 1. Go ziplining. It's the perfect date for couples who want to try something adventurous, but aren't quite ready to jump out of a plane or bungee jump off of a bridge.
2. Visit a wax museum. After this date, you'll never be able to complain about not having enough pictures of the two of you again, because all you're going to be doing is taking pictures.
3. Rent a canoe. If you two really are best buddies, then you shouldn't have a problem working together in order to maneuver it around the water. But if you want a little more of a challenge, rent a kayak instead.
4. Go to the shooting range. If you're against guns, you can skip the rifles and shoot a bow and arrow instead. Come on, you know you've wanted to try it ever since you first saw Katniss.
5. Ride the ferry, even if you don't have a specific place to go. Once you reach your destination, you can ride it right back.
6. Explore a haunted house. Not the kid-friendly kind that gets erected every year around Halloween. An actual house that is actually haunted.
7. If you're on Long Island or in Orlando, you can check out NYZ Apocalypse. It's basically laser tag with zombies and a storyline. If you watch The Walking Dead together every Sunday, then you have to buy tickets for this experience.
8. Or, if you ever visit NYC, you should try buying tickets for Accomplice (which Neil Patrick Harris is a huge advocate of). It's basically a game where you'll have to travel all over the city to meet different characters and solve puzzles.
9. Download the Geocaching app for free. It's like Pokemon Go, but instead of finding Pokemon, you'll find actual containers that people left behind with scrolls of paper you can sign your name on.
10. Go to the race track. You can get drunk and bet on which car is going to take home the gold.
11. Go apple picking or even pepper picking. Then, when you get back home, make a meal out of whatever fresh fruits you've picked.
12. Visit Medieval Times, so you can watch a show while eating an entire chicken wing with your bare hands. It's even more fun than it sounds like.
13. While it's still nice out, go jet skiing. You can control the machine while your partner sits on the back and holds on for dear life.
14. Go to a casino. Or, if you don't want to spend the big bucks, find a Dave & Buster's where you can take turns playing random video games.
15. Buy something ridiculous, like a tandem bike, so you can ride around town together looking like two fools in love.
16. Take a class together, but make sure it's something fun. Try a painting class or an improv class.
17. Instead of getting ice cream, get Italian ices and walk down the block while you eat them.
18. Take a road trip for a ridiculous reason, like to get a bite to eat at Cracker Barrel or Sonic, since they don't have any anywhere near your house.
19. Go to a zoo, but don't settle for looking at the animals from afar. Find a place that allows you to feed the goats out of your palm and pet a penguin.
20. Go to a psychic to see what your future has in store for you. Or, if that sounds way too terrifying, see a magic show instead.
21. Visit a karaoke bar. Sing the most ridiculous duet that the place has to offer.
22. Go camping at a park that has actual bathroom stalls you can use, so you can experience all the fun of the outdoors without all the horrors of the outdoors.
23. Instead of buying tickets for a Broadway show and flying all the way to NYC, you should get tickets for a local play. Even if it's one your little sister is in, it should make for an interesting night.
24. Start a podcast together. Or create a YouTube channel. Or at least make a joint Instagram account you can spam with your favorite couple photos.
25. Go to a bar, but don't get anything to drink. Just challenge each other to a game of pool.
26. Save up your money to take a special trip to Disney, or Hershey Park, or at least Six Flags. There's nothing more fun than riding a roller coaster while squeezing your partner's hand.