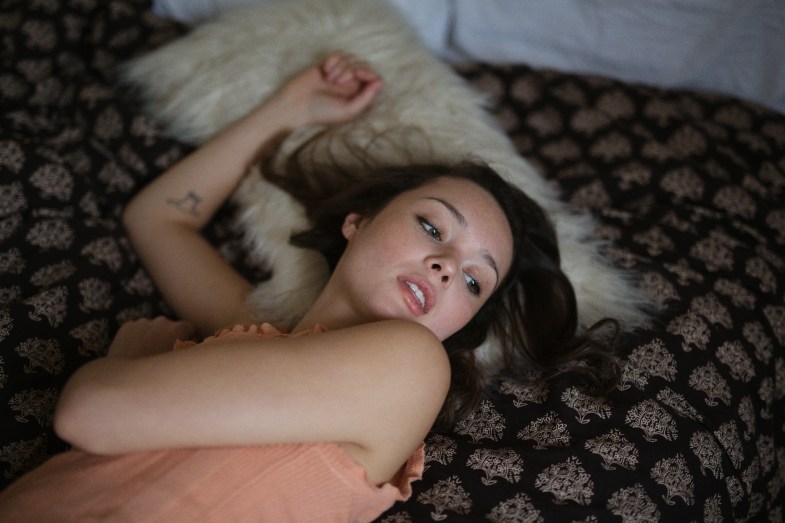 ***

The way she looks at me. She's not exactly a romantic, and I'm usually the one doing all the corny, "cringey"romance stuff, but the way she can use her eyes, especially in a situation where it'd be entirely inappropriate if someone was watching our gaze, to make me know I'm the one person that matters.
***

I used to date a girl that would snuggle up to me at night and couldn't stop fidgeting until i cuddled her. Then she would smile and quickly fall asleep. It was heartwarming.
***

Grab my butt.
It's a minor thing, but I really appreciate it! :)
***

Sometimes I'll stay up and watch TV in bed, while she falls asleep next to me. A couple of times she'd be fast asleep and I'll feel her leg wrap around mine, and she'll just gently cling to me.
***

When we're in the car, she'll leave her hand outstretched waiting for mine.
***

She's always considerate of me, sometimes she'll go shopping and just appear with goods I need. I tell her not to buy me things, and she says, "they're not gifts they're necessities".
***

Just talks to me like she gives a shit.
I'm not after anything huge. It's big enough to know she's on my side.
***
Every day she doesn't work she comes to my work for lunch and we go for a walk hand in hand.
It's nice.
***
My wife has stood by me for decades now, but I think the biggest things have always been her supporting my career.
When I wanted to study and work abroad? Go for it.
When I wanted to take my time finding a GOOD job after grad school, so we ate lean for a few months? Go for it.
When I wanted to move to the Bay Area to take a better role? Go for it.
She's always supported me in my career, and I've done the same for her (we moved twice for her career as well).
Also she likes to just curl up together and veg out to One Piece or something silly after putting the kids to sleep. Love it.
***

I have a pull-up bar at home. Sometimes she makes me do pull-ups completely naked and she just watches and giggles.
***

She has trouble sleeping due to anxiety, she will be very fidgety and breath quickly, but as soon as I put all my weight on her she wraps her arms around me, let's out a sigh of relief and her breathing returns to normal.
***

Whenever one of us gets home, she calls me "sexy man" And rushes to give me a hug.
***

Her initiating physical intimacy, whether sexual or non-sexual.
Her putting in effort to look her best for me.
Compliments and non-verbal attention.
Those quirky little things she does when she acts like I'm catnip to her.
***

I don't have a girlfriend, but receiving compliments on my butt is infinitely better than anyone giving me a compliment on my arms looking big.
***

Asking me to take a shower with her. She does alot of other stuff cuz she's great but that one is my favorite.
***

Holds me close and says "mine" in a cute voice.
***

We give each other massages all the time. She told me that while she massages me, she thinks of our love and hopes the positivity gets channeled through me. It certainly makes my heart whole.
***

I started dating one girl and she had heard me talk about playing basketball. I'm not great, but I'm pretty decent for a hairy thirty-something white boy. She came to see me play one night (just a pickup game) and showed up just in time to see me score the final basket with a pretty sweet little reverse layup. The guys on the court were hooting and hollering and kinda making a big deal about but I don't like to showboat so I didn't say anything. I just walked over to the sideline and smooched her and said hello. She pulled me close and locked eyes and whispered, "Sexy man!" It made me feel like a total stud, like, yeah the lady over there likes my moves.
***

Wakes me up in the middle of the night and says "I had a nightmare, hold me."
I'm always groggy and shit but love that she wants me to hold her.
***

She just reminds me she's mine and has my back whenever i need it, without me having to tell her i need it. My ex (daughters mom) spends a considerable time trying to make me miserable. My girlfriend is the antidote for that.
***

She kisses me when im asleep and even if its subconscious. I wake up the next day feeling amazing :)
And im told i grin like a happy go lucky idiot to hah
***

My girlfriend grabbed my ass during missionary recently. I can't really explain it but I have never felt so wanted in my life.
***

Initiates sex often and eagerly.
***

Sometimes we'll be laying in bed on our phones for a good while and she'll randomly put down her phone, cuddle up, and say in the cutest voice "love me!" And then we cuddle and forget about everything else.
***

Texts like "ti amo, tesoro".
I'll walk through her front door and she will just start unbuttoned my shirt, etc. while talking about something completely unrelated to what she's doing- with a big smile on her face. So cute.
***

She actually listens with interest to the things I talk about. Hardly seems a lot but being the youngest in my family I always felt like people never listened to me so it makes me feel like someone cares what i think and such.
***

18 years married; when she kisses my earlobes it is such that i know she's crazy about me.
***

There's something about when we're sitting on the couch watching tv and she just snuggles in and puts her hand on my chest. Makes my heart do the ol' flippy floppies
***

A simple glance can melt your heart away.
***

When we were first dating and we hung out at her place until late, she'd make me cuddle her until she was almost asleep. Sometimes she'd whine like noooo don't go yet and pull me back in bed longer. It was cute.
***

She buys me little gifts and leaves them in places where I'll find them.
***

Sometimes when we walk together she hugs my arm and pulls me close to her.
***
Over the weekend she requested I pull a box down from a shelf in the garage. As I reached up she pulled my cock out and gave me amazing head then proceeded to bend down and gave me that "have your way with me smile". Needless to say I will be placing everything in boxes and placing them on shelves all over the house.
***

When i come home she always asks for a big hug something so little but super nice coming home to that after work.
***
She's horny and does things that I like with a smile on her face, and happiness in her voice.
Pretty much sums it up. Knowing she's thinking of me as much as I am of her is crucial.
Also, she never, ever second guesses or nags me. If I say "I got it" then I fucking do. Otherwise I'm bluntly asking for input. And she has good input, or the self awareness to know she should say she doesn't.
***

Takes care of my kids, the house, the meals, the shopping, and me.
Basically everything. I have a dope wife.
***

So many. She can't fall asleep while I'm not in the room let alone not hugging her. Grabs my body telling me how beautiful it is including when we're having sex. Tells me how much she loves the sex we have, sends me sexual drawings of couples she finds on the net when we're apart as she's thinking about it. Spends the whole weekend with me from Friday after work until she has to go back on Monday even when I know it's inconveniencing her not being able to do her shopping or wash her clothes etc which she does in the week instead in between all the millions of things she has on instead of on Friday like normal before. Always posts stories of us on her social media, she's proud to show me off so to speak.
It's really nice to have a girl that's really into you and isn't afraid to show it!
***

My ex used to always be touching me in some way while we slept. On a few occasions, she would wake up panicking looking for me if she hadn't felt me in a while. Really hit home that she really loved me.
***

She always says "good morning handsome" or some version of that. Tells me often how much I mean to her. If I'm stuck at work she'll bring me dinner.
***

She (and our dog) usually greet me when I come in the door from work. They both give me hugs and kisses and proceed to ask me about the day. (Yes, the dog too.) I just relax immediately knowing their are two beings out there that will just show absolute love and devotion and actually enjoy seeing me. It's a huge plus, and for sure helps me get through all my days. Especially when I am able to watch them both fall to sleep at the end of the day.
***

She routinely calls me on her lunch break to tell me she loves me and misses me.
***

We're long distance, so it makes intimacy difficult, but she always wants to make sure I'm taking care of myself since she can't. 5a. When we're around each other , if I seem frustrated by something she won't hesitate to initiate sex because as she says "I need relief" :')
***

She made me a chicken pot pie from scratch because I said I liked them… it was amazing and I think I unsettled her by praise… Also made pecan pie and coconut cream pie.. so good.
***

She randomly sent a Edible Arrangements shortly after we started talking because she "wanted to make sure I was getting enough fruit…and fruit and chocolate is fucking delicious".
***

She calls me on my shit when I need to be called on it, and she encourages all that I aspire to do and be.
***

She's a general manager for a bar, and whenever I visit her at work, whether it's in the afternoon or closing time, she will always find a moment to give me a hug and kiss whether it's busy or not. I don't require it whatsoever, and have on multiple occasions said that I don't want to distract her from work, but she always makes a point to acknowledge me and greet me like her lover.
***

She's completely emotionally open and doesn't play emotional games or manipulations- honesty and openness are just her being her
She knows exactly, almost intuitively, when to come close and when to give space (I'm the same)
She treats our relationship with great equality. Too many past relationships where I carried way too much weight- physically and emotionally. We truly are a team and a partnership and it's fucking amazing
She's patient and knows I don't have all the answers and doesn't expect me to solve all her problems- we both know we have existential depressive thoughts that have no answers and we just comfort each other
She also likes to talk dirty/kinky and is super sexual and super open minded and has no judgment or shame about our pasts/non-normative sexualties/fantasies-fetishes- we just openly communicate and don't get offended about this either
By god this post made me just text her and tell her how much I love her for just being her ❤️
***

I don't think I'm exactly attractive but the way my wife looks at me with an admiration she does not give to anyone else makes me feel like the most handsome man in the world.
***

I dated this one girl who when we would head to bed, she would take my arm and wrap it around her body…like cuddling closer and me just holding her made the actual sleeping much more enjoyable and sensual. Made me believe she felt more safe when she was in my arms. That shit made me melt and feel desired. Best gf ever
***

We're getting married in 39 days. How do I know this? She tells me EVERY DAY how many days until the wedding. She has been doing this for months. If I'm away from her, she will text me as soon as she wakes up. She is extremely excited to be marrying me, she's probably the happiest I've ever seen her.