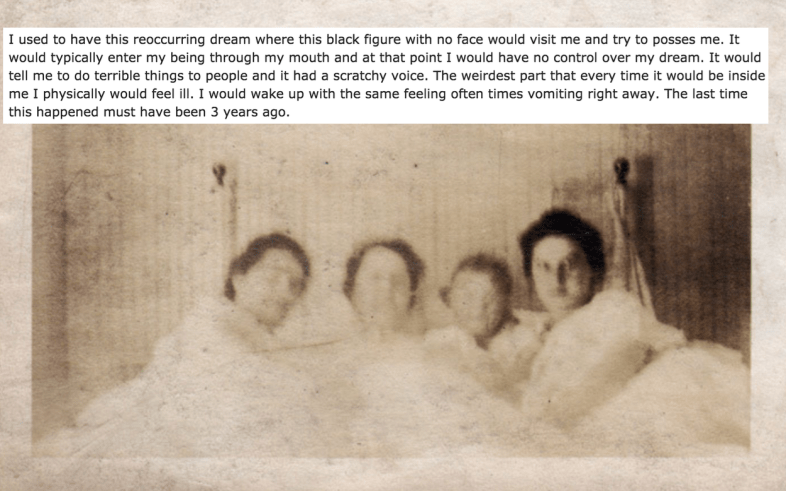 Mom's home
"When I was around 12 my mother had to go out of town for a bit and she left me home alone for a few days (we lived close to relatives so it wasn't a big deal back then). She refused to give me a mobile phone because she figured she could just call me on the landline if anything came up.
She told me the date when she'd be back and that was that.
The date arrives and I hear my mom knocking on the door downstairs, calling my name. My dog (who loved her) got excited when she heard her voice and ran down ahead to greet her. She got to the door, freaked the hell out and ran back upstairs to me.
I refused to go down and open the door. The phone started ringing and the knocking stopped. I picked up the phone to hear my mom say, "Hey, I'm sorry, I have to stay one more day here. I'll head home tomorrow."
Tl;dr – Someone/something pretended to be my mom. Didn't fool the dog." — rowhesr
"He's coming"
"We used to live in a battered women's and children's shelter when I was young, because my father was looking for us(ugly divorce, Alabama gave him custody, mom took us to WA). One night, I looked in the mirror, and saw a hairy demon looking back at me. I screamed and cried and ran to get my mom who assured me it was a normal mirror. But that night, a kind looking man, that I can only describe as a ghost, appeared at the end of my bed. He was there all night, but gone when I woke up in the morning. Then, the next night, and the next night. He was there every night for 4 months. We never talked, he never moved. Just stood guard.
Then, one night he woke me up from my sleep, and I'll never forget how surprised I was, because I'd never seen him move or talk. He said, "He's coming. Get out now." So we packed up the car and left to a hotel for the night. The next morning, we went back to find out someone had broken in and gone room to room looking for someone.
I never saw him again after that." — CharlieBaumhauser
He told me to be good
"As a 4-year-old, I fucking hated tying my shoes. I was terrible at it and progress was just not happening. One morning I was throwing a shitfit because my mom told me to tie my shoes before we left the house, and I was trying to avoid this horrible responsibility while crying and screaming on the third or fourth step of the staircase. The ceiling above the staircase extended from the second floor, horizontally, to the space above the first step, where it met a vertical wall that connected the second floor ceiling to that of the first. Imagine a big upside-down "L". So my punkass is screaming on one of the lower steps, and my gaze drifts upwards after a few minutes. I stop crying immediately, and I go silent. I distinctly remember seeing a man in a sharp black suit with the head of a boar, only blue and complete with tusks and fur, bracing himself in the corner of the ceiling (like a ninja) above my head staring down at me. He didn't say anything to me, but I know what he wanted. My mom began to ask me what happened, noticing my abrupt change in mood, and I cut her off in a monotone, saying only "He told me to be good.'" — beezowdoodoo
Haunted apartment
"Lived in an old two bedroom, three storey walkup for a time in my early 20s in Toronto. A few days after moving in my roommate Mike chides me in the morning for banging on the wall that separated our bedrooms and pacing back and forth across the apartment at night. We just agreed he must have been dreaming or it was sounds from other apartments as I had done no such thing. We agreed that it must have been nothing and left it at that but this became a regular nightly occurrence.
Shortly thereafter I started noticing at certain times in my own bedroom the cloying smell of cheap women's perfurm mixed with a damp musty smell. Imagine an old person's clothes left on a damp musty basement floor near a litterbox that wasn't being changed often enough and you get the idea. What made it even weirder is that I would be filled with a sudden horrible sense of foreboding a few moments before the smell would begin.
Mike flaked out and left only 4 months into our 1 year lease which meant I was left footing the rent for the entire place until I could find another roommate. I had decided to try and sleep in his bedroom shortly after he moved to see if things would get better. The very first night I slept in his former room I had an incredibly detailed and realistic nightmare of myself standing in the dimly-lit bathroom of the apartment and cutting my own face with a large shard of glass while staring into the broken bathroom mirror (it was only broken in the dream).
Soon after that I started to hear the loud bangs at night and the flushing of the toilet in the bathroom. Several times the hot water in the bathtub turned on full blast in the middle of the night.
One of the freakier things that happened not too long before I moved is the time I was woken up by the TV blaring Poltergeist on CityTV at about 2 in the morning. At the time that channel would always play movies late at night but the fact that the one time my analog TV (turn a knob to change the channel or the volume, pull a knob to turn it on) turned on by itself at full blast was the time a movie like Poltergeist was playing." — dicknass
Violin music
"Growing up, my older brother had a computer program that he used to compose piano music on. I remember I was reading in the living room when I heard the most beautiful violin melody I have ever heard. I listened to the whole thing which was several minutes long. I walked down the hallway to compliment my brother on his masterpiece when I realized my brother was not using the computer, and I was home alone." — feeling_psily
Roommate
"I lived in a haunted apartment. It was two rooms, but one of the rooms was locked, and I didn't have the key. So I only had one small room as kitchen, dining room and bedroom, and a screened in porch.There were two especially freaky events. One night, my girlfriend slept over, and she woke up in the middle of the night and said she saw the bathroom door open and a shadowy figure standing in the bathroom, staring at her. The bathroom was right across from the locked room. Another time, I was jerked awake by the fire alarm going off, just blaring, but when I went to unplug it the alarm stopped and no other alarm in the building was going off.
A lot of the things that happened could have been just my neighbors, but the way they happened was, well, weird. I would hear knocking – it sounded like someone tapping a spoon on a counter – coming from the downstairs apartment. It could have been my neighbor, but I'm not sure why she would do that every couple of minutes for hours on end, or in the middle of the night. I would also hear knocking on the walls, it sounded like someone tapping their way up the wall, like they were looking for a stud. I would also hear this weird moaning/howling that I couldn't trace the source of, again, could have been a neighbor's dog, but it didn't sound like it was coming from her apartment. The apartment across from me had three tenants in a year, I think because it was just as or more haunted than mine.
I had, I think, a unique way of coping – I named the ghost Pete, after a previous tenant's mail I would get from time to time, and I tried talking to him, basically treating him like a roommate I wasn't friends with. My girlfriend was much more freaked out by the situation than me and basically stopped coming over after a few months, so I wasn't there much anyway. When I was, I felt that talking to Pete made the atmosphere of the whole place much more friendly. I also left out a sheet of paper with "Pete's Notes" written on it, and told him if he had any problems, just write them down.
I still don't know if I quite believe in ghosts, though I find the supernatural fascinating, but that experience did push me closer to the "science doesn't know everything about the universe" camp." — FloobLord
Humanoid
"Was around 7 years old and it was near the holidays. The house I grew up in has a downstairs and a basement. So I left my pillow downstairs after a day long movie binge and went to grab it later that evening.
Grab the pillow and look up, see a man on the other side of the room dressed to the nines just looking around paying no attention to me. Weird thing was he was entirely grey. Head-to-toe, skin color and everything, grey.
I'm staring, jaw wide open, completely petrified with fright. He looks up at me, notices I'm able to see him, and drops his jaw lower than humanly normal almost as if he was screaming at me, but without sound. He then ran through the wall and disappeared.
I wasn't able to go downstairs if the lights were off until I was a teenager." — Kafoobleflats
Baby monitors
"Mine is second hand. My step-mom and my dad used to work opposite shifts there for awhile. He was on nights, her on days. They had a set of baby monitors from when my sister and I were babies. My dad said they could record short messages with them, and they would leave them out on the coffee table for the other to hear when they got home from their shift. This went on for a bit, then once their shifts lined up they put the monitors away in storage.
She died of cancer at a really young age, and my dad had just gotten back from the funeral and was home alone. He spent that night going through their things, packing some of her stuff away. He said he had one of the baby monitors sitting out on the coffee table and it woke him up in the middle of the night with an old message going off on repeat that she had recorded. It said "I love you Mike, I love you Mike," over and over. My dad told me he just sat on the couch in the dark and listened to her message until the batteries died.
A couple of weeks later he had picked us kids up for the weekend. After my sister and I went inside he said he was sitting on the porch smoking, and a strong gust of wind blew and he said he could smell her perfume that she always wore.
It scared me hearing those stories as a kid, but now I can see the beauty and peace in those experiences." — HugheyM
"Get her"
"This didn't happen to me, but it happened to my dad. We used to live in a home that was part of the Underground Railroad. It a few hidden crawl spaces around the house that was being used a storage in the present. While we lived there my brother started sleep walking and talking. One night while my parents were sleeping they heard my little brother scream from my bedroom even though he slept downstairs. My dad ran up there but my bedroom door was closed like something was blocking it, so he kicked the door open. But when he kicked it open, a shadow ran past him and my room was ice cold. My brother was laying on my bed (sound asleep) pointing at the closet screaming "get her daddy, get her!" My dad looked but saw nothing but darkness, quickly picked up my brother who was stiff as a bored, covered in sweat, and ran out. When my brother finally woke up that morning he remembered nothing that happened. After we moved out he stopped sleep walking." — Ray_ofsunshine
Haunted house
"When I was a kid, I lived in a house that was haunted with all sorts of paranormal beings.
One of my first memories was actually an experience with one of these beings. I was about 4 years old, standing in the entryway in our house, facing the door. I stop and notice there are two people standing in front of the door, staring at me. One was a tall, middle-aged man, dressed in an black 1900s-era suit. The other was a boy, wearing what I figure now was a red baseball uniform. The boy looked up at the man and said, "Why is he staring at us?" And the man replied, "It's okay. He can't see us."
I still remember that experience clear as day, almost 14 years later.
We also had multiple incidents of poltergeist activity. Stuff like baskets literally flying 10 ft. off the wall and aimed at me and my family, pictures falling daily, etc. My sister also used to see priests and some of our deceased relatives from her crib." — musicman0326
Possession
"I used to have this reoccurring dream where this black figure with no face would visit me and try to posses me. It would typically enter my being through my mouth and at that point I would have no control over my dream. It would tell me to do terrible things to people and it had a scratchy voice. The weirdest part that every time it would be inside me I physically would feel ill. I would wake up with the same feeling often times vomiting right away. The last time this happened must have been 3 years ago." — churrosricos
My ex
"I saw my deceased ex husband in my kitchen.
I was watching tv in my living room (in the middle of the day) and kept hearing this sound, like someone was jiggling their change around. And it was loud, as if it were in the room with me. I paused my t.v. yet the sound persisted.
So I start to look around the room and when I got to the kitchen, I saw him standing there. He was looking around, as if taking stock of my apartment. Oh, and he was jiggling change in one hand, while flipping a quarter in between his fingers with the other hand. Something he did a lot when he was alive.
He turned his head and saw me frozen, staring at him. The expression on his face was knew I would never forget. His eyes got HUGE and he kind of tilted his head forward, with the expression like, "You can SEE me??!!" I don't how long we stared at each for, but I turned away when I started to hear my cat ripping up the fucking carpet again in the other room. When I turned back to my ex, he was gone.
It's worth noting that he had only been dead for a couple months too. Some Romanian women I worked with told me that the dead stick around for three months before crossing over. I don't know about all that, but I know without a shadow of a doubt, what I saw that day." — dinken_flicka84
The figure
"When I was in elementary school, I shared a queen size bed with my older sister and our family dog (a mutt that looked like a short haired Lassie) would sleep at the foot of our bed every night. When I was about 6 years old, I woke up one night around midnight and saw a dark figure standing at the foot of the bed. The figure was entirely in black without any eyes or a face. I tried to wake my sister up, but she rolled over to go back to sleep. My sister must have accidentally kicked the dog, because the dog woke up and raised her head and started growling at the figure at the foot of the bed. The growling then woke my sister up and she saw the figure and started screaming. When my parents came into the room and turned the light on, nothing was there.
To this day, both my sister and I are adamant that we saw a ghost or other demon in our room. We know we aren't crazy because the dog saw it too." — KimJongFunk
Scratches
"When I was a young teenager my father and my step-mother had gotten married. This forced me and my little brother to move into her home and share the same bed room for quite some time. Three weeks before we moved in. My step-mother's mom had died where I slept for most of my child hood. The spooky part happens one night when I got off of my computer and I was going to bed. I had laid there for maybe 10 minutes when I started hearing scratching at my closet door. I figured it was a mouse and went to sleep. I go to get dressed in the morning and open my closet to door to see very very long scratches down the inside of the door. Like deep scratches. It wasnt in one area it was wavy from the top of the door to the bottom. Both hands. 10 lines. Thats the scariest thing thats ever happened to me." — sentientgypsy
"It's okay"
"I was a rookie cop when my brother committed suicide. He was one of my older siblings but we were very close. He died in another state, and I had a lot of guilt then about not recognizing the signs. His remains were in bad shape by the time he was discovered, so it was a closed coffin service.
About a week after he died, I was back at work one night, and my partner and I see a pimp pistol whipping one of his girls. I jump out and the pimp sees me and the foot chase was on. I was running after him, gun in hand, and he cuts through a narrow corridor under a building that leads to a courtyard in the middle.
Right before I reach the courtyard, I hear "It's okay" in my dead brothers voice. I hit the courtyard and the guy is against the side pointing a gun a my head, and squeezes the trigger twice. I froze for a milisecond and then started beating him in the head with my revolver. Till this day, I don't know why I didn't just shoot him. Cuff him and walk him back to the street and find my partner. I tell my partner about him squeezing the trigger, but not the voice I heard. We unload the gun (.32 revolver) right there, and 2 bullets have strike marks on them.
Take the gun to the lab for testing. Tell the tech the story. He puts the two bullets with strike marks back in and shoots into the test tank. Both bullets fired." — krocker321
My face was almost smashed
"Middle of the night, sleeping. I hear a sound like someone is taking a paperclip from my desk and throwing it against the wall and it bounces across the desk. I wake up to this noise, turn on the light right by my bed as I sit up. I look over and see nothing. Weird. As I'm ready to lay back down my 20lb steel gumball machine falls from the shelf over my bed directly onto my pillow where my head was not 30 seconds earlier. I flip out and scramble out of my bed as I'm totally taken by surprise. As I stand up I feel something under my feet… a paperclip.
I put the murderous gumball machine on the floor, the paperclip back on my desk and crawl into the safety of my comforter. Nothing like that happened again." — Armantes
She came to say goodbye
"When I was growing up, I was tight with the Daughter of my Dad's cousin. So My 2nd cousin I suppose. Her name was Lisa. We grew much closer as teenagers. Too close really. Anyway, we wised up a little and went our separate ways when it was time for College.
A few years passed and I had moved on. One night I got up to take a piss. Didn't bother to turn on the lights. I was washing my hands and glanced in the mirror. There she was. Lisa was standing in the doorway behind me. I heard the echo of her voice. She told me that she still loved me and always would. She then turned and walked out of sight. I stood holding onto the sink for a moment. My heart pounding in my chest. I calmed myself down and decided it had just be a dream. I tried to go back to bed. My pillow smelled like her. She could have been in the room seconds ago. I lay back down and as I drifted off to sleep I felt her warm familiar presence against my back.
The next morning the was no sign of her. No scent, no indent in the covers. I wrote it off as a dream. I got a call from my Mom later that day. She told me Lisa had died a few days earlier. She had been killed by her boyfriend. He got drunk and angry and he hit her and that was that. I guess she stopped by to see me one last time. To say goodbye before she moved on." — JadeLegume

For more scary stories, check out The Worst Kind of Monsters by Elias Witherow.