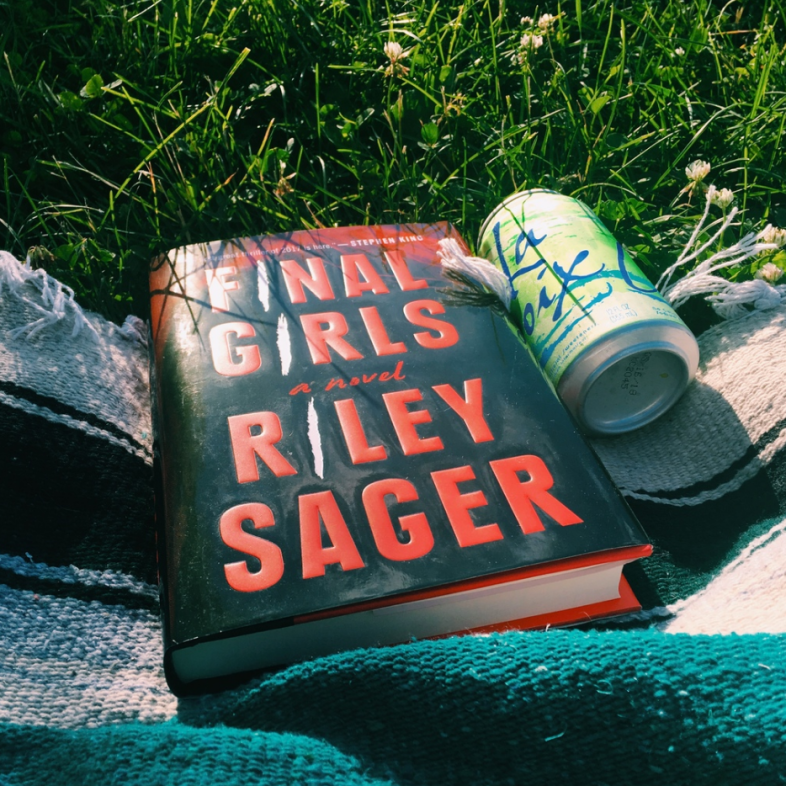 I'm a huge Stephen King fan, so when I saw he was recommending a thriller this summer (with a nice horror movie sounding title, no less) I knew immediately it was what I wanted to be reading on a beach somewhere soon. I wasn't let down. Final Girls is a fast-paced read I couldn't put down. It was scary and suspenseful and had some nice twists I didn't see coming. I sat down with the book's author, Riley Sager, to answer some questions for Creepy Catalog readers:
Creepy Catalog: I loved Final Girls! I kept trying to guess the twists and turns and predict how it would end. Do you know how the book is going to end when you start it? Do you outline it, or do you kind of let the story unfold as you're telling it?
Riley Sager: First, thank you! That's so nice of you to say. I definitely planned every twist in advance. I knew that in order for the book to work, I needed to be mindful about character arcs, plot mechanics and all those intricate details readers don't necessarily notice unless they're missing.
But in general, I'm very much an outliner. I wish I was more spontaneous, but I can't write without knowing where I'm going first. Things always change slightly along the way, but for the most part I stick to the plan.
Creepy Catalog: What movie and book scare you the most?
Riley Sager: I've read a ton of scary things in my life, but only two books have caused nightmares: RED DRAGON by Thomas Harris and BIRD BOX by Josh Malerman. Both absolutely terrified me. As for movies, I would have to say seeing The Silence of the Lambs for the first time was probably the most frightening filmgoing experience I've ever had. Followed closely by It Follows. No pun intended.
Creepy Catalog: What makes something scary?
Riley Sager: For me, it's the unknown. There's nothing more frightening than encountering something completely beyond your realm of experience. That sense not only of why is this happening, but also how is it happening? Which is why I avoid anything having to do with zombies. The idea of something going completely against the laws of nature and science is too scary for me to deal with.
Creepy Catalog: How is writing and publishing in horror different from writing and publishing in other genres? How did you get started?
Riley Sager: Honestly, I don't think of myself as a horror writer.
Despite its subject matter and obvious references to slasher flicks, I consider FINAL GIRLS to be psychological suspense. But I also believe that genres are meant to be blurred. I like when something is a mix of things. I've heard FINAL GIRLS described as horror, suspense, psychological thriller and even YA. I like to think it can be all of those things at once. All of that is just a roundabout way of saying that writing the book and finding the right place to publish it wasn't any different from my past experiences.
As for getting started, this isn't the first book I've had published. I have several other books under my belt, published under different names. But because FINAL GIRLS is such a departure from everything else I had written, my agent and I agreed that a clean slate was needed. So Riley Sager was born, although in name only. I'm still me, just trying to write the best books I can.
Creepy Catalog: What is your writing process/daily routine when you're writing like?
Riley Sager: I've discovered over the years that I basically work in three stages. There's the getting started phase, where I plot, outline and tentatively dip my toes into the water of a new book. This involves a lot of sitting around drinking coffee and thinking. Once all that thinking turns into blatant procrastination, I begin the real writing phase, in which I try to do about a thousand words a day. Eventually, once I'm well into the writing of the book, I push it to two- or three-thousand words a day. That's the eat-sleep-breathe-the-book phase. It's a mad scramble to meet a crazy, self-imposed deadline. I'm sure there are better ways to finish a book, but this seems to be working for me.
Creepy Catalog: What was it like to have Stephen King say he loves your book?
Riley Sager: It's like a dream I'm still worried I'll wake up from. I truly never, ever expected something like that to happen. Who in their right mind would? From a strictly commercial standpoint, his endorsement has brought a ton of attention to FINAL GIRLS that it wouldn't have received otherwise. And I'll be forever grateful to him for that. But it means so much more than that. I've been reading him for thirty years. Some of his books—THE SHINING, MISERY, PET SEMATARY, THE GREEN MILE, ON WRITING—are among my all-time favorites. He's truly a living legend and a master of his craft. So to know that he not only read my book but enjoyed it enough to give it a public endorsement truly means the world to me.
Creepy Catalog: Where do your ideas come from? And how do you continue to write when you're feeling uninspired?
Riley Sager: I get a lot of inspiration from the movies. FINAL GIRLS clearly has its roots in slasher flicks, and my next book started as a riff on PICNIC AT HANGING ROCK. The tones and moods of certain movies strike a chord that allow me to come up with scenarios that eventually deviate wildly from their source material. As for feeling uninspired, it happens often. When it does, I remind myself that I'm a full-time author, that it's my job to create and that I'm very fortunate to be able to support myself solely with my writing. Then I sit down and get to work.
Creepy Catalog: The main character in Final Girls doesn't do social media. Do you? Do you think it's realistic that a writer could be absent from social media in 2017?
Riley Sager: I think it's foolish for a writer to be absent from social media, especially something like Facebook or Twitter. One, it's an easy way to connect with readers and other writers. Two, it's a cost-effective way to promote your work. Three, writing is a lonely profession. I spend most of my day home alone with my laptop. It's nice to be able to break that up every so often with an interaction or two on Twitter. That being said, I'm very careful about not getting too distracted by social media. When I'm in that eat-sleep-breathe-the-book phase, I tend to put my phone in another room, just to avoid temptation.
Creepy Catalog: What advice would you go back and give yourself when you started writing Final Girls?
Riley Sager: I haven't talked too much about this, but I started writing FINAL GIRLS during a very dark period in my life. A lot of bad things, both personally and professionally, happened to me in a staggeringly short period of time. I was sad, angry, almost broke and feeling utterly hopeless. So I would go back and assure myself that my instincts are right, that the book will work and that my life will be completely different in two years. Basically, I'd tell myself that all the pain will eventually be worth it.
Creepy Catalog: What's next for you? Are we going to get another thriller about any of the Final Girls characters in the future?
Riley Sager: In the immediate future, I have revisions on my next book to contend with. It's a standalone thriller that I'm very excited about polishing and making as good as possible. I toyed with the idea of doing a sequel to FINAL GIRLS, but realized very quickly that I was interested in telling a different story. While I don't have any plans to revisit the characters of FINAL GIRLS, I never say never. For now, though, I'm happy to let them rest in peace.
—
You can order Riley Sager's book Final Girls: A Novel here.