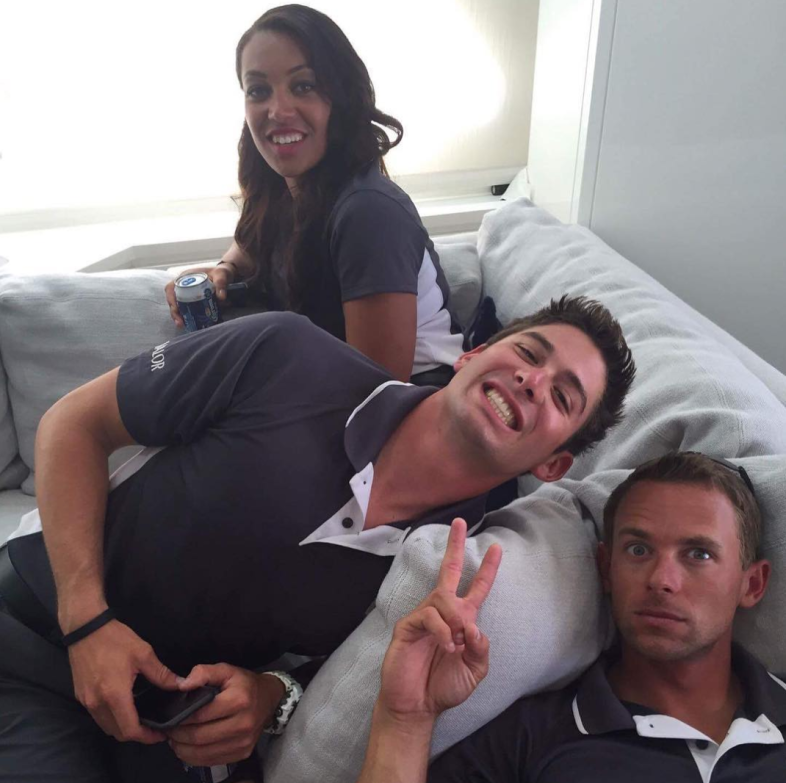 Mark Cronin, the TV producer who created Below Deck stopped by Reddit to do an AMA on the beloved boat series. He answered a lot of the show's mysteries that have always bothered us non-yachties:
1. Yes, the crew gets paid outside of tip money. The crew typically makes $1-2k in tip money per charter (charters last 3 days). They get a "small sum" for appearing on TV but generally their "salaries are in line with what they would make anyway as a yachty". Here's a helpful article that breaks it down further (Captain Lee could be making as much as $20k per month).
2. No, Bravo doesn't pay for the guests trip for them. They are given about a 50% discount in the cost of renting the ship for 3 days and asked to tip 15-20% of the cost before discount. The full costs range according to which ship the crew is on, but it's $150-200k for the week.
3. No, Bravo doesn't screen the guests. Because the world of yachting is so small (and expensive) they have to go with "whoever's check clears."
4. There's no reunion because Bravo didn't want to pay for one. The regular shows get better ratings, so they're focusing their money on producing more regular shows and less reunions. They did film 14 episodes this season, the most they've ever done.
5. Yes, the drama is real. Cronin says "The contract between the cast and me is: "Please make us a great show that people will love – and please be fair in portraying who we are and what we do." I try to keep to that – and for the most part all of my former cast members – literally hundreds of them – feel that I kept that contract. I do feel bad when someone is shown to be horribly flawed – the only thing I can hope is that they learn from seeing themselves as the world sees them."
6. No really, it's real: "All reality shows are different. There is a spectrum from the very fake to the very real. I think though, that reality TV tends to be more real than you think. The skeptical audience is giving us too much credit for being masterminds."
7. The "season" is six weeks long.
8. You see all the guests that come on that season. They've never had a group "too boring" to show.
9. Shockingly, it's really rare for the guests to feel they got a "bad edit" and complain. "It's actually rare – but not completely unheard of. The ones who complain in public are just trying to defend their bad behavior and blame us. But again, it has only happened twice in like 50 charters."
10. Yes, it's pretty common for someone to get fired or quit mid-season in the yachty world. It's not just Captain Lee who's fond of handing out plane tickets. As Cronin says these "are people who don't appreciate being tied down. Most of them don't even have a proper address on land!"
11. Yes, Unreal can be considered an "accurate" portrayal of working in reality TV. "I think that show is accurate – for some reality shows. Other shows are less heavy handed. Below Deck is much less heavy handed. I'm proud of that."
12. Yes, everyone else loves Kate Chastain as much as we do. Cronin says he's currently his favorite cast member.
13. No, there's not a spinoff with Ben in the works. (Though Cronin says they'd love to make one!)
14. If you want to get cast on a reality show, you have to step your game up from just trying to play a trope: "These days, your characters can't be stereotypes. The audience is too sophisticated to believe in the old types (the purely mean girl, the dumb muscle head…) now you need to show more complexity in your people. Now if someone is cruel, you have to show either the reasons behind that cruelty, or balance it with the contradictory kindness in places."
15. It's not related to Below Deck but this tidbit about Cronin's career and the Rock of Love bus was too juicy to pass up: "We had one crew member start dating Janice Dickinson after she was on Surreal Life. I once had a cameraman make out with one of the girls on Rock of Love bus DURING the shoot. We fired him immediately."