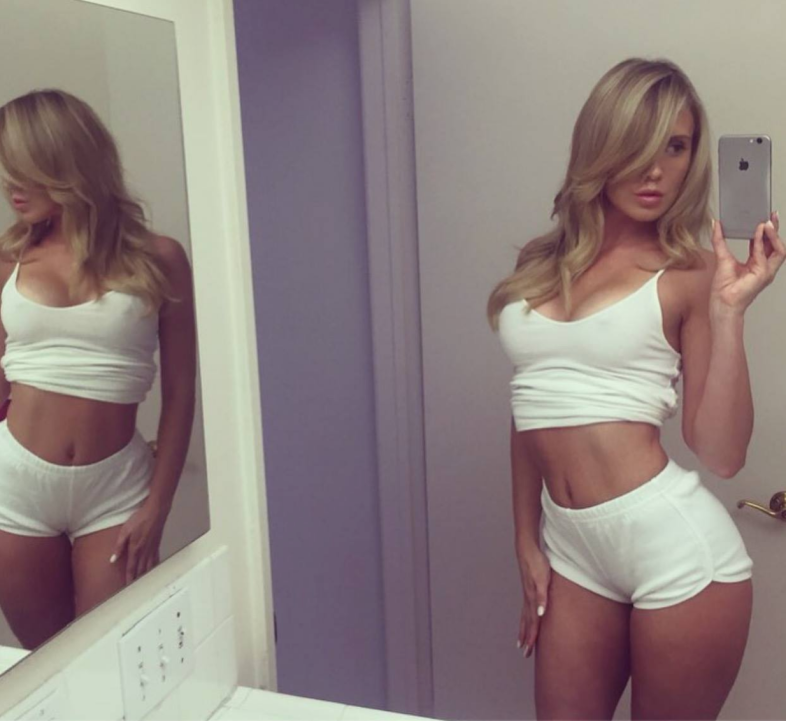 Katie May had it all going for her. She was a Playboy model and TV host who was called the "queen of Snapchat" by Sports Illustrated and GQ. On her website she described herself as the "ultimate triple threat": sexy, smart, and funny.
Then, at a photo shoot she pinched a nerve in her neck. As many of us are inclined to do, she got it adjusted by a chiropractor, as confirmed by these haunting tweets:
Pinched a nerve in my neck on a Photoshoot and got adjusted this morning. It really hurts! Any home remedy suggestions loves? XOXO

— Katie May (@Ms_katiemay) January 29, 2016
Thanks love! It still hurts, going back to chiropractor tomorrow xoxoxo https://t.co/xTw080sjrK

— Katie May (@Ms_katiemay) February 1, 2016
A few days later on Feb. 1, 2016, she died of a stroke.
People is now reporting that a spokesperson for the Los Angeles County Coroner is confirming that her death was a result of her chiropractic visit:
Los Angeles Assistant Chief Coroner Ed Winter tells PEOPLE that a chiropractor shifted May's neck, tearing her left vertebral artery. The tear blocked blood flow to May's brain and caused the stroke.

Her cause of death is listed as "infarction of brain" and has been ruled an accident, Winter says.

"She had some clotting and went to the hospital where they tried to do some procedures but she passed away," he tells PEOPLE. "I personally have not seen this before."
Katie's brother Stephen confirmed the results to People:
"To the best of my family's knowledge, and we are fairly but not totally certain of this, Katie did not seek medical care prior to Monday evening; if she had, it seems reasonable to conclude, the subsequent days would have unfolded very differently"
We'll wait to see if an investigation into Katie's chiropractor will take place.
Katie is survived by her daughter Mia. There is a GoFundMe page set up for Mia's education and best interests:
Through the courage, drive, spirit, and heart she showed in dreaming big and working tirelessly to realize whatever she set her mind to, Katie May—mother, daughter, sister, friend; star—inspired all of us, in Pittsburgh, Los Angeles, and the world, to be better, stronger, bolder, to do more.

Those closest to Katie have created this fund to keep her spirit living on in support of her soul mate and daughter, Mia, in the days, months, and years ahead. Given the centrality of Mia in Katie's heart, we are certain this is what Katie would have wanted.

All monies donated will go to Katie's daughter's education and best interests, now and in the future, in celebration and honor of Katie's life and remarkable spirit.