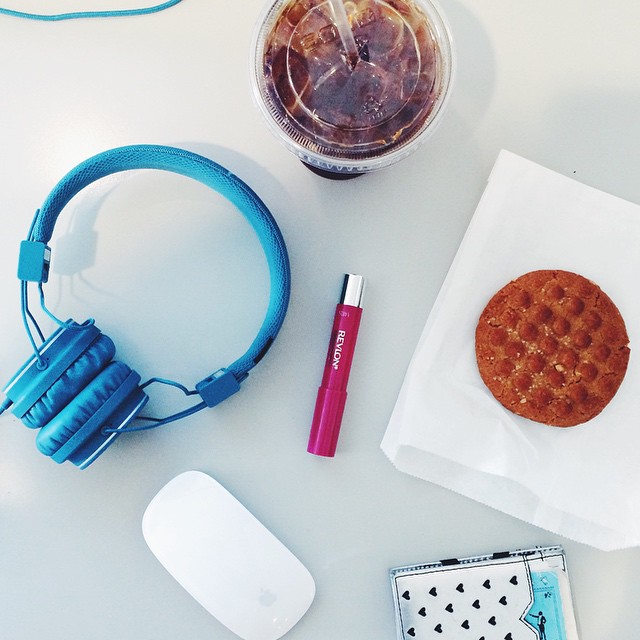 There have been countless studies proving what music does to our minds, bodies, and wellbeing. It helps us focus, it chills us out, it makes us happier… whatever you need to do, your own personal soundtrack to your life can either make or break any mood or situation. I'm a total Spotify junkie, so I love finding new playlists that other people have curated, because relying on your own music tastes can often get you in a rut and you'll never listen to anything else. As such, I've rounded up 15 of my favorite playlists on the service, for whatever situation or mood you might find yourself in.
You don't have to be blonde to get your head in the game, but on days when you just need to tap in to the workday and crush Excel sheets or whatever it is you do, this playlist is the best. The songs skew to hip-hop and R&B, with some pop mixed in. There's nothing that will really distract you from the task at hand because these are all songs you probably already know, but the beats are motivating enough to keep you going. I listen to this one every day when I really need to just focus on my work. (Plus, a lot of the songs have really motivational "you got this!" messages, so it's a little subliminal boost.)
[spotify id="spotify:user:121103283:playlist:6jH6d0jP6vIklABZEohUxB" width="300″ height="380″ /]
If you're someone who suffers from an awful case of the Mondays — or hell, just the Mornings — this playlist is guaranteed to at least make the commute mildly enjoyable. It's filled with really catchy songs you forgot you loved once upon a time, and any playlist that reminds you that sometimes exactly what you need is to listen to 'All Star' by Smash Mouth is a-okay by me.
[spotify id="spotify:user:spotify:playlist:2PXdUld4Ueio2pHcB6sM8j" width="300″ height="380″ /]
This one can be a bit hit-or-miss, but the premise is always really good: each Thursday, some blessed angel of music picks a theme (the last two weeks were music from the '00s, and music from the '90s) and populates a whole new playlist full of songs you might not hunt down otherwise. Sometimes the list doesn't align with what you'd necessarily listen to, but the anticipation of what the theme is every Thursday makes it feel like musical Christmas comes once a week.
[spotify id="spotify:user:spotify:playlist:4ORiMCgOe6UxBDqW8SF1Lm" width="300″ height="380″ /]
There's over 20 hours of really empowering music on this playlist, so whether you hit shuffle or start it at a certain power song, chances are good you won't get bored. (And yes, before you ask, it does have 'Eye Of The Tiger' on it, because pretending you're Rocky Balboa is an integral part of any workout ever.)
[spotify id="spotify:user:1255764095:playlist:2tWWaAKlh8vLF6jtYS3KpH" width="300″ height="380″ /]
If "what are the kids listening to these days?" is a question that plagues you as you grow older, this playlist will answer all of those questions for you. Is it a little embarrassing? Yes. Do I feel shame for liking it as much as I do? Hell no. This playlist is usually a pretty heavy rotation of pop music, with a little bit of hip hop or country, depending on what's trending on the charts "these days." It always works as background music when you're trying to rally yourself to go out after work on Friday night. That's what the kids these days are doing, after all, isn't it? Partying all night and sleeping when they're dead?
[spotify id="spotify:user:spotify:playlist:3MlpudZs4HT3i0yGPVfmHC" width="300″ height="380″ /]
Have you ever thought that guys don't have feelings? Well, Thought Catalog's own Alex Magnin is here to dispel that rumor for you. I always imagine this playlist is the kind of thing guys blast when they need to have a good shower-cry, sliding down the wall, sobbing under the water, just marveling at how much Michael Stipe just gets it. When you're all Adele and Sam Smith'ed out (because trust me, there is a threshold there) this is the playlist to turn to.
[spotify id="spotify:user:alexmagnin:playlist:0zmEirsUEEy9pCW7paalA0″ width="300″ height="380″ /]
Look, at some point, we're all going to be That Asshole who says, "Well, I liked that band before they were popular!" as if it is a badge of honor. Maybe it is in some circles. Maybe you earnestly are a hipster, and don't even need this playlist. For the rest of us, there's the Spotify-curated most popular indie hits. I understand that's a bit of an oxymoron – indie purists would be shocked that you could like popular indie — but hey, music can be for the masses and still be good, and this is the primer as to what your Cool Friends ™ are listening to these days.
[spotify id="spotify:user:spotify:playlist:4dJHrPYVdKgaCE3Lxrv1MZ" width="300″ height="380″ /]
Because sometimes, you just need to cry it out about the one who got away.
[spotify id="spotify:user:spotify:playlist:2EOu5dfAMmdbHcGYYNQIc0″ width="300″ height="380″ /]
On the flipside, however, is the playlist for when you realize that crying your eyes out over someone who isn't worth your tears is an exhausting endeavor. This playlist is filled with all the great "I'm over you, so let me belt a few high notes about it" anthems, including but not limited to Justin Timberlake's 'Cry Me A River' and *N Sync's 'Bye Bye Bye.' (J.Timbs really found his groove in the 'better off without you' genre, what can I say?) Besides, some of these songs are really just infectious, so blasting them is probably scientifically proven to help you get over someone, because you're having too much fun singing along to be broken hearted anymore. Or something.
[spotify id="spotify:user:spotify:playlist:6XPx6OqVFxBm2i6PO4KJnY" width="300″ height="380″ /]
I mean, sure, it's a little cheesy to have a go-to "get busy" playlist, but sometimes you've got to. (A guy friend of mine once told me he swears by just putting on Ne-Yo's greatest hits, so hey, it could be worse than this playlist.) In any case, if you need to up your bedroom game, you're welcome.
[spotify id="spotify:user:spotify:playlist:6VFQeQWFz2WgvSZrpJ7uuy" width="300″ height="380″ /]
This playlist comes in handy for two reasons:
1. You have younger cousins, nieces, nephews, or friends' kids (hey, it's the holiday season, you'll be forced into close confines with a lot of miniature humans with whom you'll have to bond) and want to put on music in the background that is appropriate for their ears.
2. You just really need to get nostalgic and belt along to Lea Salonga mourning about the girl she sees in the mirror's reflection and how it doesn't live up to what her family considers honorable. Mulan freaking got it. Mulan understood. She had seen it all. And knowing that Disney's got your back even as an adult is a really comforting emotion.
[spotify id="spotify:user:128899670:playlist:2F8jLq8ofWz89jZEkc516U" width="300″ height="380″ /]
As someone who mainlines coffee like I have a caffeine-fueled death wish, I am not exactly a zen person. Yoga makes me antsy, sitting still drives me insane, and if I had to define my religious beliefs on any level, it would be "spirituality for the deeply unspiritual." (If you're the kind of person who is put on edge by white noise, you get what I mean, but if that helps you mellow out, this is a great playlist for you.) Workday Zen, however, is enough to temper even the most tightly wound of us. Sometimes you need to unwind. Sometimes you have to unravel before you just snap. Sometimes even Kanye's motivational "hanh!"s don't cut it. This is the playlist for those days.
[spotify id="spotify:user:spotify:playlist:6HmX9F7b4ypVSsY6ysED1P" width="300″ height="380″ /]
Because everyone needs a working knowledge of rock music, and this 100+ song list is a solid education in the history of rock's greatest, most influential hits. (Spotify has yet to earn the rights for Beatles songs, so you'll have to do the extra credit yourself. Everything else, however, is classic rock at its best.)
[spotify id="spotify:user:spotify:playlist:6RU5ydGPBQ8fJKWAqMj8Hg" width="300″ height="380″ /]
Similar to the Have A Great Day! playlist, Feelin' Good is guaranteed to put you in a good headspace. It's made up of really great soul and MoTown, though, so instead of laughing like an idiot at how much you still like 'I Believe In A Thing Called Love,' you're going to let Aretha, Sam, and the Isley Brothers take you to church. And if this playlist doesn't turn even your worst mood around, then I honestly don't know what to tell you.
[spotify id="spotify:user:spotify:playlist:1B9o7mER9kfxbmsRH9ko4z" width="300″ height="380″ /]
Because you're just going to need to embrace it. Blast it. Belt along to Mariah like you want to. 'Tis the season, babies. And all I want for Christmas is you to admit that Christmas music is the best music.

[spotify id="spotify:user:myplay.com:playlist:5l6rFyXN63iINVsbaBObag" width="300″ height="380″ /]
This article contains the personal views/opinions of the author only. Neither the author nor Thought Catalog has received any payment, free sample, and/or promise of compensation from the referenced brand(s) for writing/publishing this article.