Anita Knutson was an 18-year-old elementary education major at Minot State University in North Dakota. She worked two jobs, one at a hotel front desk and the other in retail, in order to support herself and move from her family home an hour away. Anita lived in a two-bedroom apartment near campus that she shared with a roommate, Nichole Thomas Rice (19). Unfortunately Anita and Nichole did not get along. Anita disliked that Nichole frequently invited men over the apartment, often leaving while the men were still there. The roommates had arguments that sometimes escalated to screaming matches.
On Friday, June 1st, 2007 Anita called her mom and told her she was at a friend's house. The next day, Anita was a no-show at work which was not normal for her. Her mother also began to worry when Anita didn't answer her calls on Saturday or Sunday.
On Monday, June 4th, Anita's father, Gordon, drove the hour from their home to campus. He found Anita's car in her apartment's parking lot but got no response when he knocked on her door. Gordon then went to the apartment manager to ask for a wellness check. The manager was with her boyfriend, who did maintenance for the apartments. The maintenance worker told Anita's father he noticed a troubling cut in the screen of one of her windows. The two went back to Anita's apartment to look at the window and it was then that Gordon saw his daughter's murdered body inside the apartment. Anita was found laying on her bloody mattress covered by a robe.
When police arrived, they determined Anita had been stabbed to death and probably by someone she knew as she didn't have defensive wounds. The apartment didn't look like a vicious attack had taken place there and they hadn't been robbed. Anita had not been sexually assaulted. The blood-covered murder weapon, a knife that did not belong to either Anita or Nichole, was found sitting in the sink. Police recovered what they believed to be the killer's fingerprints and DNA from the scene. An autopsy led police to believe Anita was murdered sometime early Sunday (June 3) morning. This puzzled Anita's family as she was uncharacteristically MIA all day Saturday, the day before the murder, as well.
Suspects
Police investigated the maintenance man who reported the slashed window screen to Gordon. They also looked at a man from Anita's hometown, Tyler, who Anita had rejected romantically and now lived in her apartment building. Knowing the two didn't get along, Anita's roommate Nichole was also a suspect, but her parents provided an alibi that she was with them all weekend. Police also investigated 40 construction workers who were working outside of Anita's apartment in the weeks leading up to her murder.
Nichole attended Anita's funeral with her mother, GaeMari Thomas. At some point Nichole's mother and Anita's mother got in a verbal argument because Nichole's mother was upset that her daughter had been considered a person of interest. A witness also said that after Anita passed, Nichole's mother referred to her as a "f***** b****" and a "f****** little c***".
In 2013, six years after Anita's murder, her brother Daniel died by suicide. Anita and Daniel's sister, Anna, says that Daniel was "never the same" after Anita's death.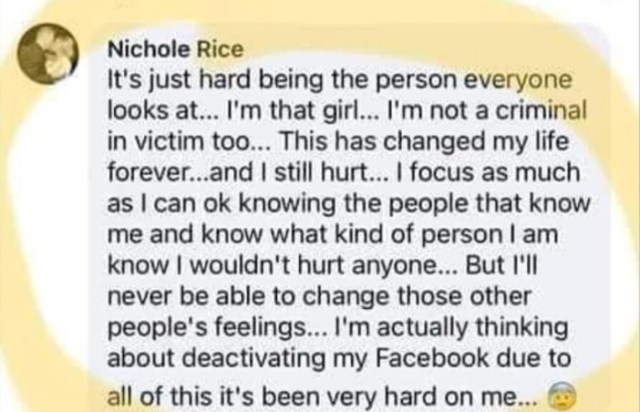 In 2016, GaeMari Thomas posted about Anita on Facebook, saying "I wish they would catch the person that took Anita's life. I really liked her, I know u 2 had yor ups and downs, no different they any of the other in yor class." Nichole replied to the post, saying that she is also a "victim" like Anita: "It's just hard being the person everyone looks at…This has changed my life forever…and I still hurt…I focus as much as I can on knowing the people that know me and know what kind of person I am know I wouldn't hurt anyone….But I'll never be able to change those otehr people's feelings."
In fall 2021, Nichole also posted on Facebook about how the Gabby Petito case personally touched her: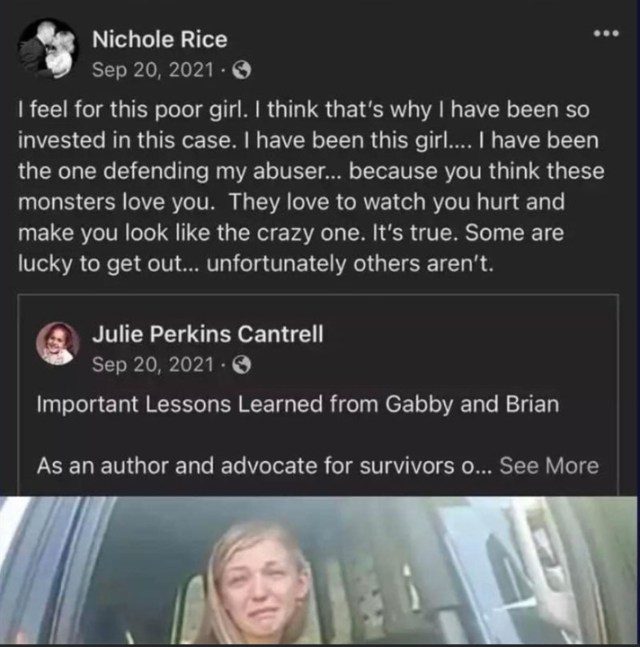 Arrest
Fifteen years after Anita's murder, police finally made an arrest in her case. Anita's roommate, Nichole Rice, was arrested and charged with her murder.
Police haven't said specifically what new evidence emerged that allowed them to charge Nichole, who they say has never been cleared and has "always" been a person of interest in the crime. However, they do credit the arrest to the true crime TV show Cold Justice which airs on Oxygen. Cold Justice stars prosecutor Kelly Siegler, who leads a team of investigators in researching cold cases with the help of local law enforcement. Each episode features a different cold case and Anita's case was being researched for an upcoming episode. This is one of 50 arrests that have resulted from the TV show.
Originally, Nichole told police that she was "best friends" with her roommate. A year or two after the murder, Nichole reportedly got blackout drunk at a party and told her then boyfriend that she murdered Anita. There were also witnesses who said they saw Nichole partying on Saturday night, though she and her parents claimed she was home with them. Before she deleted her account, Nichole was an active member of Anita's memorial group on Facebook, sharing with other members that she "missed" Anita.
In the fifteen years since the murder Nichole had gotten married twice and now has a daughter. On Facebook, she described herself as a mom who is "Married to my best friend. Dog mom. Cat mom. Ringleader of my own circus." Her wedding website spins a fairytale romance story between Nichole and her husband. The site says that Nichole and her husband recently purchased 6 acres of land and had "So many exciting things to come!"
Nichole has been charged with felony murder and is currently out on bail even though in 2012 she pled guilty to bail jumping after she failed to appear in court for writing bad checks. Her arraignment is scheduled for April 21, 2022.