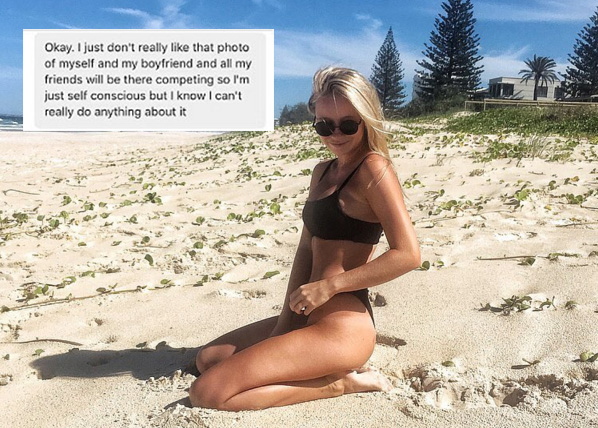 Women today face a lot of backlash from society. There's body-shaming, makeup-shaming and slut-shaming, to name a few. No one is immune to it — every woman will be a victim of one of them at some point, if not many times. Even the women you'd never expect to be.
Stevie Alger is a model from from Queensland. She was recently contacted by Aquadiva Swimwear, who wanted to use a photo of her in their swimwear on a giant poster for their store. It was all fine and well, until Alger admitted the photo made her feel self-conscious.
"Okay. I just don't really like that photo of myself and my boyfriend and all of my friends will be there competing so I'm just self conscious but I know I can't really do anything about it," the model wrote to Aquadiva Swimwear owner Allison Appleby.
It's normal to feel self-conscious about photos of yourself, right? Well, apparently Appleby didn't think so, because her response was absolutely disgusting.
Um, excuse me?
Of course, Alger was pretty pissed off by the response.
"I absolutely think what she said and how she has handled herself is wrong in so many ways, but I think it will be best to end it here to hopefully move on," she told the Daily Mail.
Of course, Appleby had her own explanation for the message.
"She doesn't seem to be the self-conscious girl she's portraying herself to everyone on Instagram," Appleby said. "When I asked her what she didn't like about the photo, she just left me hanging for 10 minutes."
How dare she.
Appleby also claimed she didn't know what "slut-shaming" was when she made the comment, citing her age for her ignorance.
But for what it's worth, she claims she's sorry.
"I feel so sick to the stomach about it," she told the Daily Mail. "I have apologized to Stevie twice now, but she has not accepted my apology. What can I say? I've been in the business for 30 years — what I did was wrong. I was so distraught with what happened. I was horrible to her. It was very out of character."
Not sure I believe that, but whatever helps you sleep at night, Appleby.