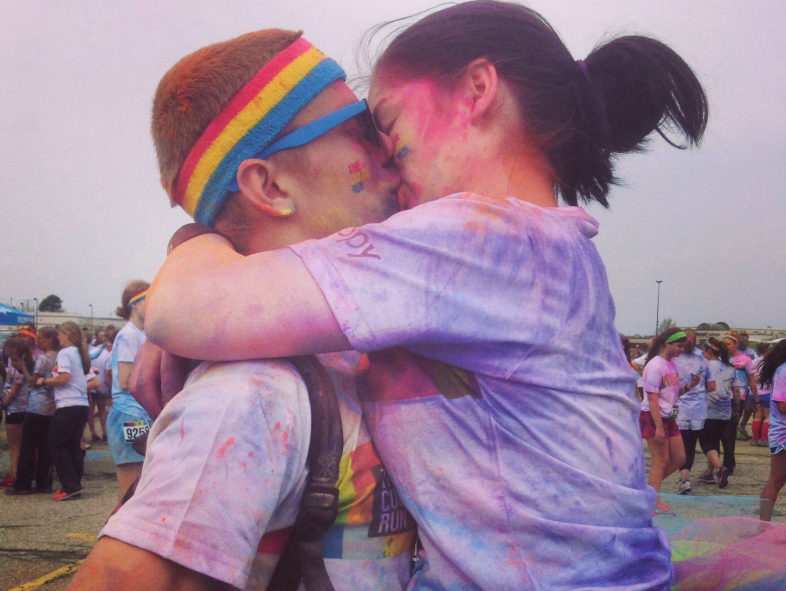 1.
"I love you without knowing how, or when, or from where. I love you simply, without problems or pride: I love you in this way because I do not know any other way of loving but this, in which there is no I or you, so intimate that your hand upon my chest is my hand, so intimate that when I fall asleep your eyes close."
 ―Pablo Neruda, 100 Love Sonnets
2.
"There is never a time or place for true love. It happens accidentally, in a heartbeat, in a single flashing, throbbing moment." 
―Sarah Dessen, The Truth About Forever

3.
"We have to allow ourselves to be loved by the people who really love us, the people who really matter. Too much of the time, we are blinded by our own pursuits of people to love us, people that don't even matter, while all that time we waste and the people who do love us have to stand on the sidewalk and watch us beg in the streets! It's time to put an end to this. It's time for us to let ourselves be loved." 
―C. JoyBell C.
4.
"They say a good love is one that sits you down, gives you a drink of water, and pats you on top of the head. But I say a good love is one that casts you into the wind, sets you ablaze, makes you burn through the skies and ignite the night like a phoenix; the kind that cuts you loose like a wildfire and you can't stop running simply because you keep on burning everything that you touch! I say that's a good love; one that burns and flies, and you run with it!"
 ―C. JoyBell C.
5.
"Love is not an equation, it is not a contract, and it is not a happy ending. Love is the slate under the chalk, the ground that buildings rise, and the oxygen in the air. It is the place you come back to, no matter where your headed" 
―Jodi Picoult
6.
"I love that you get cold when it's 71 degrees out. I love that it takes you an hour and a half to order a sandwich. I love that you get a little crinkle above your nose when you're looking at me like I'm nuts. I love that after I spend the day with you, I can still smell your perfume on my clothes. And I love that you are the last person I want to talk to before I go to sleep at night. And it's not because I'm lonely, and it's not because it's New Year's Eve. I came here tonight because when you realize you want to spend the rest of your life with somebody, you want the rest of your life to start as soon as possible." 
―Nora Ephron, When Harry Met Sally
7.
"I think you can only be truly mad at someone you really love."
 ―E.L. James, Fifty Shades Freed
8.
"Falling in love is very real, but I used to shake my head when people talked about soul mates, poor deluded individuals grasping at some supernatural ideal not intended for mortals but sounded pretty in a poetry book. Then, we met, and everything changed, the cynic has become the converted, the sceptic, an ardent zealot."
 ―E.A. Bucchianeri, Brushstrokes of a Gadfly
9.
"True love is tested when betrayed."
 ―Toba Beta, Master of Stupidity
10.
"To be deeply loved, means a willingness to cut yourself wide open, exposing your vulnerabilities… hopes, hurts, fears and flaws. Hiding behind the highlight reel of who you are, is the real you and that person is just as worthy of love. There is nothing more terrifying or fulfilling, than complete love, it's worth the risk… reach for it."
 ―Jaeda DeWalt
11.
"So just let me deal with it, I can be emotionally flawed and still love you all at the same time. I'm a great multitasker." 
―Holly Hood, Prison of Paradise
12.
"I don't think love is blind, true love is probably the most clear-eyed state of being there is.'

'Maybe you're right. Maybe with true love, you see and you love anyway…"
 ―Marisa de los Santos, Love Walked In
13.
"I've been thinking of something your father said – that the true measure of love is what one is willing to give up for it. He was talking about freedom – fighting for liberty. But I believe 'tis the same for love as war."
 ―Laura Frantz, The Colonel's Lady
14.
"To love without need or without expectation of restitution, that is how we ought to love."
 ―Criss Jami, Killosophy
15.
"I always looked for someone who can appreciate my feelings, to understand me and above all feel very happy to have my love, it took me years to find you but today I feel happier than ever." 
―Auliq Ice