Some of us just have too much personality for this decade. If you think you can't handle the monotony of a desk job, maybe it's because you were really meant for the lifestyle of a rocker. Specifically, a head-banging, hair-whipping 80s rocker. For decades, The Rainbow Bar & Grill in LA has been a premiere meeting place for musicians and their fans. But in no decade did it rock harder than the 80s, when bands like Mötley Crüe would frequent the bar and raise hell. In anticipation of ABC's upcoming series Wicked City, a new TV crime drama set on the Sunset Strip in 1982, we wanted to highlight this incredible location and decade by paying homage to 80s rockers (and rockers at heart) everywhere. Soak up more nostalgic vibes when you watch the premiere of Wicked City, Tuesday, OCT 27 10|9c.
SPONSORED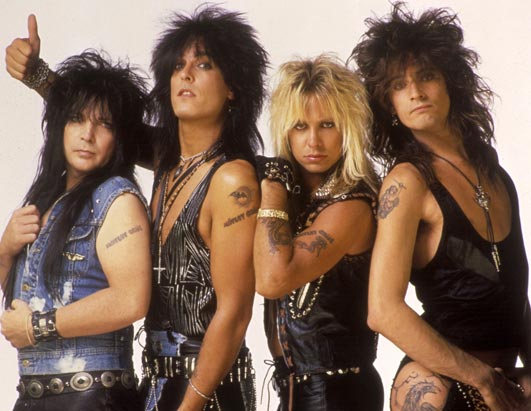 1. No matter how hard you try to sit still, you have more energy than the world can handle. The only place you really feel at home is a rowdy, grungy dive bar like The Rainbow Bar & Grill on Sunset Strip where you can rock out to your heart's content.
2. You're constantly bordering on "too much." Your boss asks you to show the new intern around and you're like:
3. Subtlety is also not your strongpoint. When you like someone, they know.
4. In fact, you're basically a hopeless romantic.
5. But even so, you're fiercely independent. It's all but you can do to not be offended when people ask you if you need help.
6. You also have a little trouble consoling people or showing your sensitive side. Your friend tells you she's upset and you're like:
7. One of your ultimate life goals is to make a pilgrimage to the infamous bars of the Sunset Strip, where the rock gods of the 80s reigned supreme at places like the Rainbow and Whisky a Go Go.
8. You've been accused of being a tad dramatic. Your co-workers have lovingly nicknamed you "Hollywood".
9. But you can't help it if everything you say is accentuated by your luscious mane.
10. When all's said and done, you'll have no regrets because you are a champion, my friend, and you'll go on fighting til the end.
via GIPHY

https://www.youtube.com/watch?v=wOvzUdJda-k&feature=youtu.be