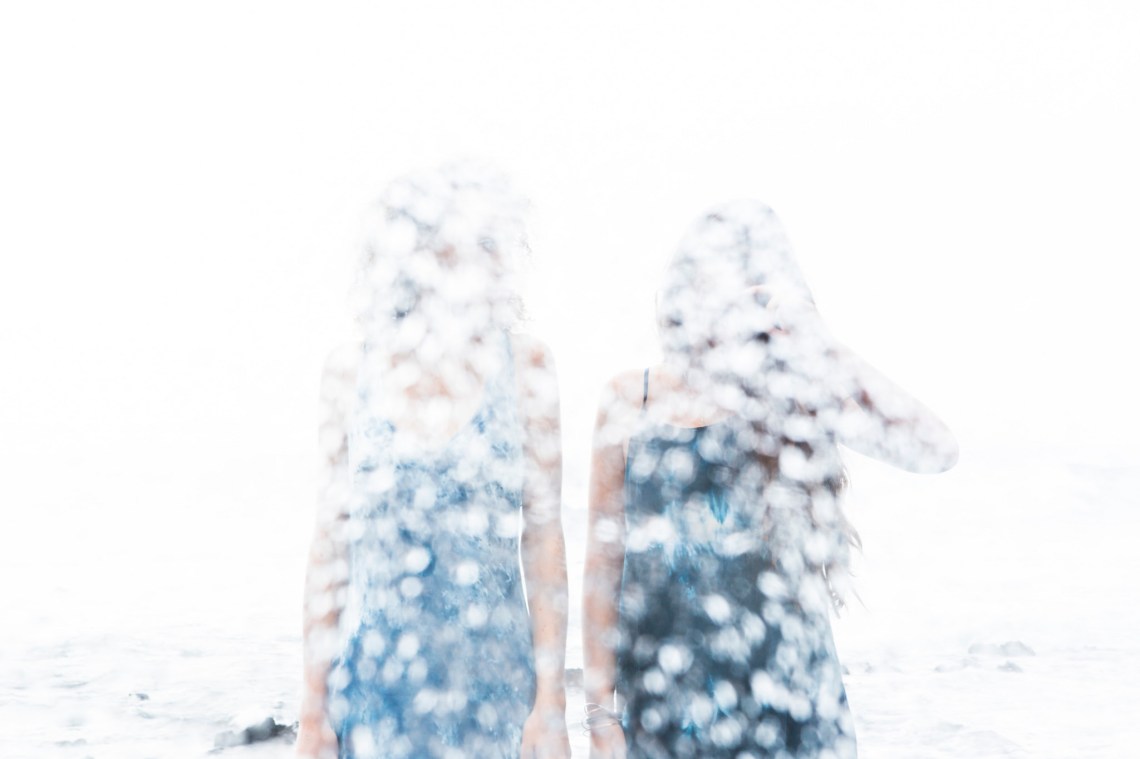 I kiss the pretty boy in black semi-sheer thigh highs, plant my hands on his hips, pull teasingly at his garter belt and I can hear my mother shaking her head across town. I can't tell if she is disappointed or confused.
I lie awake next to the girl who smells like sweat and lemonade. I think about shoving my face into her hair but she falls asleep talking about her boyfriend. On the day my mother corners me in the kitchen to ask if I'm a "fucking lesbian," I say no. I wonder if it counts as a lie when I still don't have a word for all the different kinds of porn I like to watch.
When I come out, I am eight thousand miles away from home. I am sharing the bed of a substitute teacher. He likes to tie me up at night and kiss me in the morning. When I use the B word, my mother says she's not surprised but she doesn't understand. All I can think about is the first time bisexuality came up with her in conversation and she laughed.
THEY'RE JUST GREEDY.
IT'S LIKE THEY DON'T EVEN CARE WHO THEY'RE FUCKING.
THEY'D FUCK ANYTHING.
THEY MAY AS WELL FUCK A DOG.
My grandmother asks where they went wrong, if it's because my father left and "you know, the other stuff." She says, LOOK: IF YOU FALL IN LOVE, I'LL BE HAPPY FOR YOU BUT YOU CAN'T MARRY A WOMAN BECAUSE IT PERSONALLY OFFENDS ME. She calls me a dyke and says it's a joke. She never asks me again if I'm seeing anybody.
I have a crush on a girl who makes her living writing good lines. I swoon every time she calls me baby, but I tell her I don't know if I want to get into things. I second guess myself into a corner. What if it is just a phase? What if I change my mind? What if my mother's right? Do I really need to put my family through that kind of thing?
I make arrangements to meet up with a man I've been in love with for the last few years, but I don't tell anyone in my family because I don't feel like explaining that it doesn't mean I am straight.
My coworker says to me "why do lesbians use dildos? why don't they just fuck men?" And I want to say "have you ever met a man??" but I feel like the joke is too gay and I am always trying to convince everyone I know that my sexuality is a revolving door that never stops spinning long enough to check IDs.
Yet somehow, I am always getting carded.
OKAY BUT HOW MANY WOMEN HAVE YOU BEEN WITH?
HOW MANY THREESOMES HAVE YOU HAD?
I MEAN ALL GIRLS ARE A LITTLE GAY.
YOU DON'T HAVE TO FLAUNT IT LIKE THAT.
YOU JUST DO THIS TO GET GUYS, DON'T YOU?
When the supreme court ruling comes through, I cry; but I don't know if I can really celebrate the way that I want to because I don't feel gay enough to talk about the struggle, but I'm not straight. My mother finds me in the morning to ask if I've heard the news.
She says, I SUPPORT YOU BECAUSE YOU'RE MY DAUGHTER BUT I DON'T AGREE WITH IT AND I DON'T THINK IT'S RIGHT.
I say, "then you don't really support me"
and she doesn't say anything.

For more of Trista's writing, check out her website.