The build-up for Netflix's original series, Wednesday, a new adaptation of The Addams Family focusing on everyone's favorite gothic daughter, has been immense. The streaming service has been peppering social media with every crumb and morsel they could send our way in the lead-up to the release, and the fans have been eating it up. From cast reveals to teaser trailers, we've been hearing about this show for months. Now that Netflix finally released the show on November 23, 2022, fans loved what they got from this 8-episode arc. There's one scene though that fans (and people who haven't even watched the actual show yet) are obsessed with: Wednesday's dance scene. Gracing the fourth episode, titled "Woe What a Night," Wednesday's black dress and spooky-cool choreo set her apart from her bland, all-white-wearing counterparts who surround her at the school dance. Here's why this scene is so good:
The Burtonesque visuals are stunning.
Tim Burton, the goth director that gave us gems like Edward Scissorhands (1990) and Sleepy Hollow (1999), brought his brand of aesthetic macabre to the set of Wednesday. He's an executive producer for the show and directed half the episodes, this one included. You can really see that in the design of the dance scene. Wednesday is highlighted under a bright spotlight, a vision in black lace. Her fellow students dance lazily in the background, their all-white outfits bathed in shadow. The Burtonesque juxtaposition of light and dark highlight just how special the Addams daughter is, and how different she is compared to her school counterparts. (And also, let's be real, it just looks cool.)
It channels a bit of Morticia and Gomez.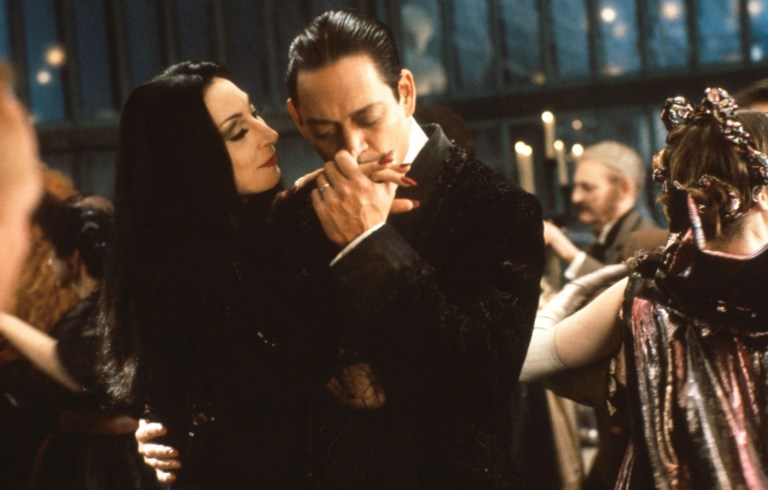 Every incarnation of The Addams Family, from the 1960s TV show to the '90s rendition above, and now, the married couple at the head of the family spend much of their screen time showing their undying love for each other. Gomez Addams devotes his daily life to showing his wife, Morticia, how she is the most beautiful, gorgeous, perfect woman in the world. And how does he do it? With, among other things, dance. Their gothic tangoes are some of the best scenes of the movies, and Jenna Ortega's choreography as the current Wednesday Addams has hints of those tango moments as a callback to the deep love her parents demonstrate every day. Clearly, she got it from her mama (and papa.)
Jenna Ortega choreographed the number herself.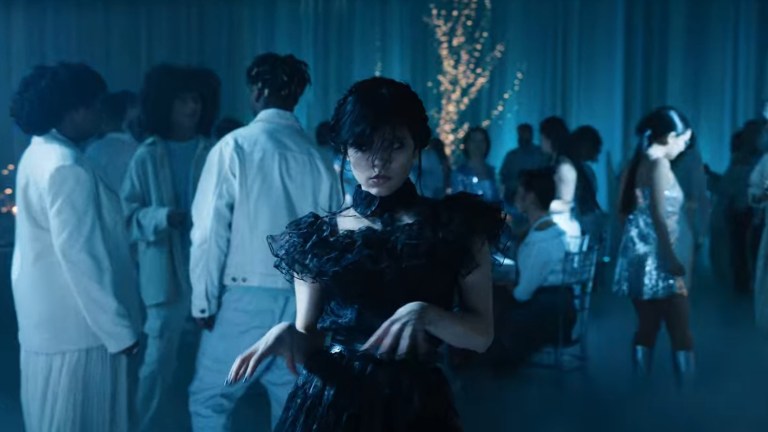 You have Jenna Ortega herself to thank for that memorable choreography. In a reaction video for Netflix, she said,
"I actually felt really insecure about this. I choreographed that myself and I think it's very obvious that I'm not a dancer or choreographer." (Still Watching Netflix)
Self-criticism aside, it's cool to see she'd been given free reign to create her own dance moves. Ortega also thanked some of her inspiration for the moves on Twitter:
Thanks to Siouxsie Sioux, Bob Fosse's Rich Man's Frug, Lisa Loring, Lene Lovich, Denis Lavant, and archival footage of goths dancing in clubs in the 80's. Helped me out on this one. https://t.co/zlxlv1JUW4

— Jenna Ortega (@jennaortega) November 25, 2022
We love a woman who does her research.
The rest of the cast loves it as much as we do.
Wait until you hear how the rest of the cast reacted to the dance scene. Emma Myers, who plays Enid Sinclair said, "This is my favorite scene! We brought this up so many times."
Hunter Doohan, who plays Tyler, her dance partner in the scene, agreed: "The last two days, this is like all we've been talking about. It's amazing."
Percy Hynes White, who plays Xavier Thorpe, said, "Oh my god, man. I could watch an entire show of just this." We agree, Percy.
The song is killer.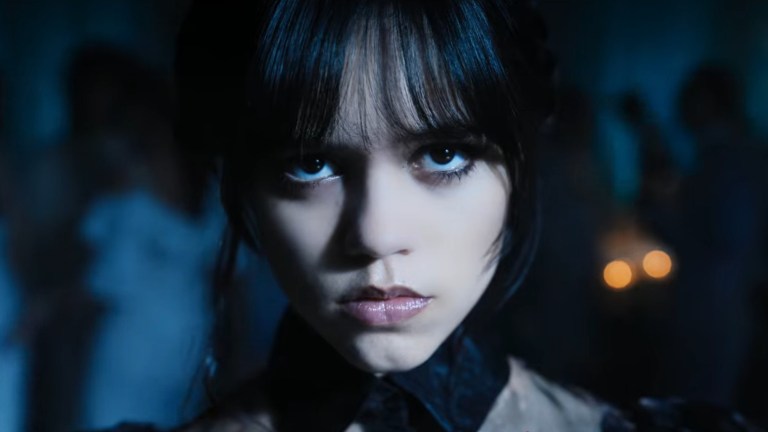 Part of the charm is the music, of course. You have The Cramps to thank for the fun yet spooky vibes. The old school psychobilly punk band came out with "Goo Goo Muck" back in 1981 off their album, Psychedelic Jungle. Even over 40 years after its initial release, it's killing it in this scene. A+ music choice on behalf of the show.
You can watch it over and over on Netflix's YouTube channel.
You might just have to watch it yourself to judge how great this dance scene is. Netflix posted a clip on their official YouTube channel. The video rightfully has over 2 million views, and you can watch it below:
You can also watch Jenna Ortega and the rest of the cast of Wednesday reacting to the scene here: