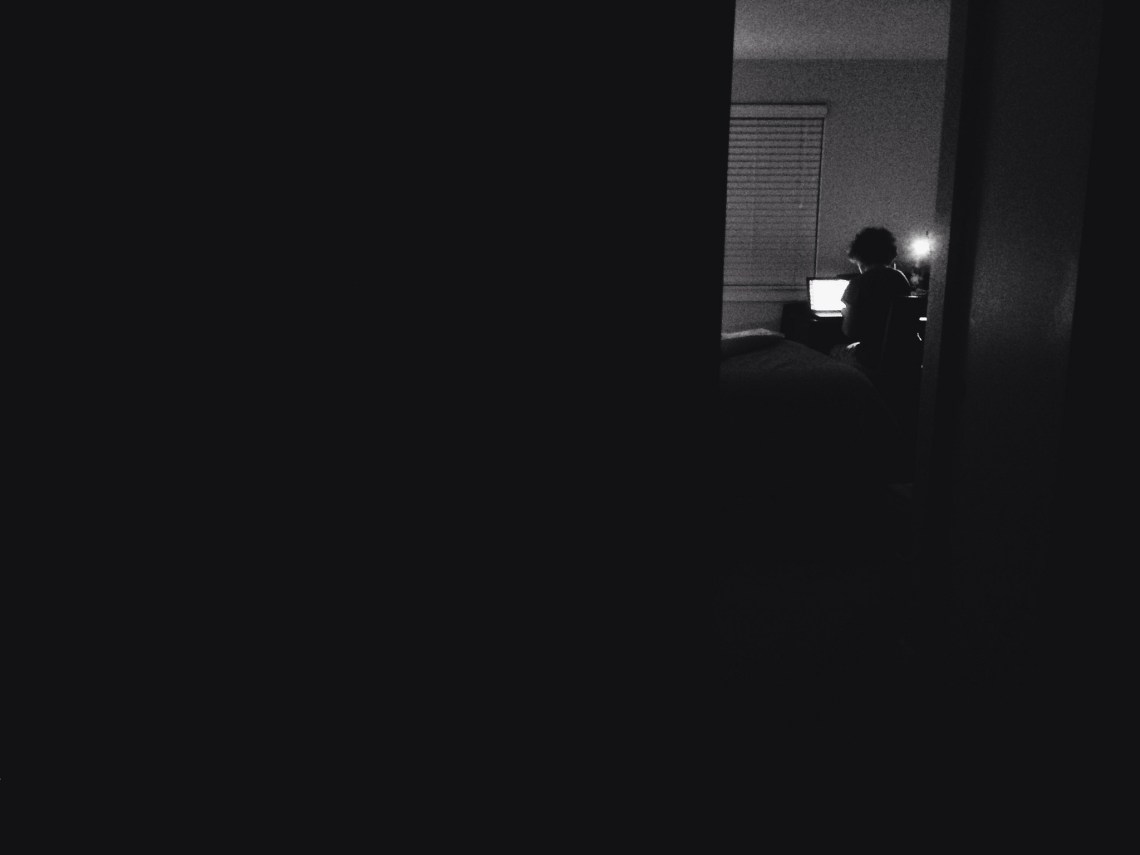 "Neque porro quisquam est qui dolorem ipsum quia dolor sit amet, consectetur, adipisci velit…" — Cicero (taken from "de Finibus Bonorum et Malorum" 45 BCE)
Roughly translated, it means, "There is no one who loves pain itself, who seeks after it and wants to have it, simply because it is pain…"

There is this simple release that comes from watching the blood trickle from a fresh wound. It's like all of the bad thoughts and negative emotions are waiting just below the surface and this holy, straight razor is cleansing my body of all the terrible things I endure throughout the day. Don't mistake my self-destructive behavior as suicidal intention or masochism. There is a spot on my thigh that I cut from time to time, but you'll find no scars on my arms or anywhere you'd see in daily life. This habit; it is almost a compulsion. It is like my blood is this foreign liquid that must be purged from my body.
I work as a floor supervisor for a suicide hotline. The irony of a cutter working in such a place isn't lost on me. The volunteers sit at their phones while I walk the floor listening in on the calls and keeping notes on the call activity. It says something about how fucked up the world is when you learn that we actually have a quota. This quota is simple. If you call making a suicidal threat, we are to call the police and having you apprehended for a 72 hour hold. The charity that pays our bills is funded almost entirely by three different local psychiatric hospitals. If you call because life seems like it isn't worth living, chances are, you'll help us meet our quota when we refer you for a psychiatric evaluation.
When I am not walking the floor or training new volunteers, you can find me holed up in my office browsing various internet forums. I think it's fair to say I have an unhealthy fascination with death. From an early age, I've been unable to accept that 80 or so years of consciousness is some meaningless interval that begins abruptly and ends in an instant. My obsession with death has more to do with discovering what, if anything, comes after it. While the plebes on the floor answer calls from morose motherfuckers sad about their lives, I'm reading accounts of near-death experiences and messaging people who claim to have had contact with supernatural forces.
Most of my inquiries don't pan out.
The vast majority of the people who claim to have contact with otherworldly forces are either liars, lunatics, or both. In nearly 15 years of searching, I've seldom found more than misinterpreted coincidence and uncorroborated claims. Well, there is one girl who stands out, but I'll get to her later. For now, I'll just say that most of what you read on the internet is bullshit. One of my favorite quotes goes like this.
"Don't trust everything you read on the internet." — Abraham Lincoln

Pisha is a woman I met in a chatroom over on freenode IRC. I had searched the active room list and found one titled #Ouroboros. There were 20 users in the room, but she was the one that messaged me as soon as I entered. I saved the chat log of our initial conversation. I'll display it below.
Pisha216: You shouldn't be here.

Me: Where should I be if not here?

Pisha216: I suppose you think you are clever?

Me: Perhaps.

Pisha216: Cleverness & Curiosity can get you killed.

Pisha216: Go back to whatever room you came from.

Me: Suppose that I am curious and clever, what's the worst that could happen?

Pisha216: I'll send you an email later. For now, I'm booting you from the room.

(User Pisha216 has kicked you from #Ouroboros, Reason: Uninvited)
It was an odd encounter, but not uncommon. A lot of those rooms are set up for private groups and I had stumbled in without knowing exactly what to say or do while there. A few days later I was checking my email at work when I received an email from Pisha216@hell(dot)com. It had been a while since I had seen an email from that domain. From what I understood, the mail server went offline back in 2010. Even still, there was an email with an attachment.
It read:
Greetings,

The Temple of Ouroboros is not currently accepting new pledges. If you would be so kind as to explain how you entered the room without the appropriate password it would be appreciated. My name is Pisha Maxwell, but you may refer to me as Pisha. I am an apprentice with the Temple of Ouroboros. My superiors have tasked me with vetting you and figuring out your intent. Should you prove to be a worthy candidate, my superiors may allow further contact in a manner they see fitting.

— Second Level Apprentice
Pisha Marie Maxwell
I replied:
Pisha,

There was no password prompt when I joined the channel. My intent was one of curiosity. I was completely unaware that your organization existed. Please forgive my intrusion. It was just one of my late night internet binges where I went looking for something spooky. Sorry to disturb you.

— [Name redacted]

Several weeks passed and I received no response. I figured it was just some group of weirdos heavy into role play or some sort of kinky sex stuff. I was walking the floor and listening to a caller who identified themselves as Pisha. It's a rather uncommon name. Sometimes I would take over a call if it seemed like the volunteer was floundering. I made some excuse about protocol and had the call transferred to my office.
I picked up the receiver and a timid female voice spoke.
"I'm sorry to bother you. I hope I didn't get the other guy in trouble," she said.
"No ma'am, sometimes with special cases I step in and handle the calls personally. My name is [redacted]. How can I help you?" I responded.
"I'm up for review with this umm… internship I've taken up. I don't think I'll be selected for advancement. My next review won't be for another year," she said. "I don't know if I can take another year at this level of service. Most apprentices who fail their second review kill themselves. I don't want to die, but I don't want to live with the shame of being passed over."
"Why do you think you'll be rejected for advancement, Pisha?"
"I was tasked with vetting a potential newcomer," she said. "His story checked out, but I set up my mail client to delete messages on the server after I downloaded them. My laptop fried and I didn't have a backup of his contact information. If I returned to my superiors to ask for it, they would have marked me unfavorably. I have two days to find someone and properly vet someone and I don't even know how to get a hold of them."
I sat back in my office chair and contemplated my next words carefully. It violated pretty much every ethical standard of my position to even take the call. But to identify myself could get me fired. I had to be careful, but I didn't want her to off herself.
"The Temple of Ouroboros sounds like a pretty hardcore organization," I replied. "I don't know who this potential newcomer is, but if I were a betting man I'd say he could be found at the Book & Bean off of 2nd & Porter in [town name redacted] tomorrow at around five."
"This is twice now you've inexplicably appeared. Someone will be there. Thank you. Thank you so very much," Pisha said, her voice in hushed tones.
Pisha assured me she wouldn't harm herself and I ended the call. After filling out the appropriate forms, I logged the call and then logged into the quality control system and ensured the audio had been marked reviewed and approved. It was an abuse of my position, but there was something about her voice that seemed familiar. I clocked out at eleven o'clock and I was home and in bed by midnight.
I was anxious about my meeting with Pisha later in the day and I felt overwhelmed with guilt from abusing my position at work. I was a bit more hurried than normal when I pulled the straight razor from my pocket and made an incision in my left thigh. I cut a little deeper than normal and ended up having to give myself stitches. After more than 15 years of self-harm, I had become fairly adept at patching myself up. I winced with pain with each stroke of the needle moving through my flesh. After some cleanup and some fresh gauze, I pulled my Tripp pants and a Social Distortion t-shirt from my closet and headed to the Book & Bean.

A confused girl in an ankle length slim gray lace dress wandered into the coffee shop a little bit before five o'clock. She was carrying an attaché case and wore black horn rimmed glasses that rested on a slender face partially hidden by jet black hair. I looked at her for a moment and marveled at how she was an almost classic beauty. Her eyes locked with mine and she made her way over to my table. She extended a tiny hand that I shook firmly. She introduced herself in a timid voice.
"My name is Pisha Maxwell and I represent The Temple of Ouroboros, I take it you're [redacted]"
I nodded.
"Do you believe in fate?" she asked. "I don't mean some hokey sense of predestination, but rather that from the first spark of the big bang that all of these random atoms collided into one another just so that two people could meet? Twice now you've inexplicably appeared when I needed you the most. I don't believe in coincidence."
I took a sip from my latte.
"I don't buy into fate," I said. "As much as I'd like to think of a few girls weaving the circumstances of our lives with golden looms, I'm a skeptic and a pragmatist. Things happen. Any meaning behind them is purely subjective. That being said, it is a pleasure to finally meet you Pisha."
A barista approached our table and took Pisha's order. She motioned for some more comfortable chairs in the back of the room and by the time we moved over to the vinyl easy chairs, the barista returned with a warm Earl Grey tea with a wedge of orange. Pisha sat on a love seat and motioned for me to join her. She sipped her tea and placed it on the table next to her. A single finger moved the hair out of her eyes and we locked into a gaze where I could have fallen into those cold brown eyes.
Pisha looked away quickly.
"It's strange. We've just met and I feel like I've known you my whole life," she said.
Still looking where her eyes had just been, I nodded.
"I hope I'm not being too forward when I say this, as I'm sure it wasn't your intention when you came here, but I haven't been able to take my eyes off of you since you walked in the room," I said. "It's not something I say often, but you are simply captivating."
She smiled and turned her feet inward as she tried to deflect the compliment and my advance.
"As much as I'd enjoy taking you back to my hotel room and removing your clothes with my teeth, this is purely a business meeting Mr. [redacted]."
I scooted towards the arm a bit to try and give her some space and she put a hand on my shoulder.
"Don't get me wrong. I'm flattered, in any other circumstance you would have just sealed the deal, but I have some more questions you need answered and a 7 AM flight in the morning," she said and leaned over to kiss me on the cheek. Her timid voice seemed a bit more bold with that declaration.
"What do you know about Ouroboros?" she asked, smoothing her skirt out. "What would you assume about an organization that treats the figure like a deity?"
I cleared my throat.
"I know about a much as anyone else that shows up to a coffee shop with a triskelion tattoo on his wrist in full goth attire," I said. "I always saw it as an eternal cycle, like that biologically immortal jellyfish in Japan that lives for a million or so years. I imagine a religion centered around such a figure would be focused on eternal life through perpetual rebirth."
"I pegged you as clever in our first encounter, but that was eerily insightful," she smirked. "You're right. The Temple of Ouroboros is a religious sect that is centered around the belief that death can be averted through rebirth. Membership is incredibly exclusive. There are only 50 members operating in the United States and that includes apprentices and neonates. You have gained the attention of my direct superior. If you pass this interview, it is likely that we will fly you to the temple for the initiation process, if that is what you desire."
I took a long sip from my latte and stared off into the distance.
"It might sound strange, but I'm not even sure such a thing would make sense for me. I've spent my whole life looking for meaning in death, the idea of averting it altogether seems almost cheap. I don't know why your superiors are so interested in me. I'm a 33-year-old slacker at a dead-end job that spends his free time looking for answers online. At this point I'm not even sure where I'm going in life, much less that I'd want to live forever."
Pisha leaned over and put her head on my shoulder as her arms wrapped around me in a warm embrace I recognized as the first intimate human contact I had experienced in the better part of eight months. She brought her lips so close to my ear that I could feel her warm breath against my skin.
"I'm at the Marriott, room 734. You bent the rules for me, allow me to bend the rules for you," she whispered.
We went through another hour of question and answer from that point, but I can't remember most of it. There was something about her that was so uncanny and out of place. I was completely enthralled, but wary of her frequent transition between timid and bold. There was something off about her, but as the interview ended I kissed her hand and she caught a cab. I walked back to the car debating whether or not I should take her up on her offer.
Several months prior to this I got about this far with a girl, but when it came time to do the deed, she saw the scars on my thigh and a fresh incision that left her uncomfortable. That was the last I saw of her. She stopped volunteering at the call center and I ended up in a performance review where my boss explained while they had no problems employing someone with a mental illness, that I would need a note from a doctor stating that I wasn't a danger to myself of others. I had to go to three months of therapy just to keep my job. If they found out about this, I'd be fired. That is the main reason I continue to remove any of my personal information from this account of the past few months.
I was about halfway to my apartment when I received a text from Pisha. We traded contact information before leaving the coffee shop.
"Don't be ashamed of your scars. I'm not ashamed of mine," it read.
I never mentioned the cutting. It was a little eerie that she picked up on it. I pushed on my thigh for reassurance and realized I had popped a stitch at one point and my black denim pants were wet with blood. I turned my car around and made it to the Marriott around eight in the evening.