Colleen Stan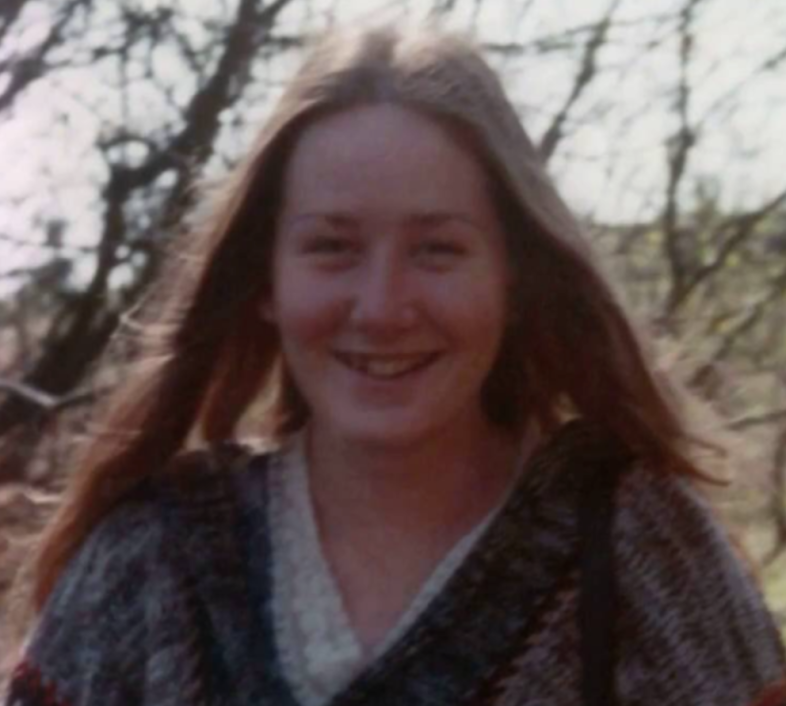 In 1977, Colleen Stan was abducted while hitchhiking from her home in Eugene, Oregon, to a friend's home in California. She had hitchhiked in the past and felt safe taking a ride from her kidnapper because the suspect's wife and children were in the vehicle.
During the trip to Colleen's destination, the suspect stopped to let the victim use the restroom at a gas station. Colleen started to fear that something was amiss, but she got back in the vehicle. The suspect took Colleen to an isolated location where he held a knife to Stan's throat. After the suspect threatened to kill Stan, the suspect then put a wooden box on Stan's head to limit her senses. The box prevented fresh air, light and sound from entering the wooden box.
The suspect and his wife came to an agreement to keep Stan so that she could be raped. Immediately after Stan was kidnapped, she was locked in a wooden box 23 hours a day, seven days a week. She was repeatedly tortured and beaten. The kidnappers led Stan to believe that she and her family would be tortured and killed if she tried to escape.
By 1981, the suspect began to trust Stan, which allowed her to visit her family alone that year. During her visit with her family, she did not tell them her situation out of fear of retaliation. The next day, she visited her family and introduced the suspect to her family as her boyfriend. After the visit, the suspect feared that he had given his victim too much freedom. He responded by locking her back in the wooden box for the next three years for 23 hours a day. The suspect took her out of the box for one hour a day to torture Stan and feed her. During the summertime, temperatures would exceed over 100 degrees Fahrenheit in the wooden box.
In 1983, the suspect wanted Stan to become his second wife and started to allow her more freedom. Stan was introduced to the neighbors, and she got a job as a maid at a local hotel. After these events took place, the suspect's wife told Stan that the suspect had been abusing her for years. The suspect's wife then told Stan that she was not being watched. After the conversation, Stan called the suspect to inform him that she was not going back to his house. She then took a bus home to escape her kidnapper.
The suspect's wife asked Stan to not call the police to give her husband a chance to reform himself. The police department was not contacted until the suspect's wife called the police on her husband to tell them about Stan.
The suspect's trial took place in 1985, and his wife testified against him in exchange for full immunity. The suspect was charged and convicted of sexual assault, kidnapping and using a weapon during the commission of a crime. The suspect, Cameron Hooker, was given a sentence of 104 years to be served in consecutive terms.
Cameron Hooker was eligible for parole in 2015, where his request was denied. He is not eligible for parole again until 2022.
Since being back home, Stan and the suspect's wife changed their last names, but they do not communicate with each other. Stan has since got married, had a daughter and attended college after seven years in isolation with her kidnapper.
Mary McElroy
Mary McElroy was kidnapped on May 27, 1933. Her father, Henry F. McElroy, was the controversial city manager for Kansas City at the time of her disappearance. Four people kidnapped Mary McElroy after being inspired by other successful kidnappings. Mary was bathing when she was kidnapped. Dressed as delivery men, they tricked the cook at the McElroy home to open the door. The kidnappers were armed with revolvers. They went upstairs and took Mary McElroy hostage after they allowed her to get dressed. The abductors took her to a house in Shawnee, Kansas. They then handcuffed her to a wall in the basement of the house.
After her abduction, the kidnappers requested a ransom of $30,000, which they received. They released Mary McElroy the next morning at the Milburn Golf Club. Three of the kidnappers were arrested. One of the abductors received the death penalty, the second abductor received a life sentence and the other abductor was sentenced to eight years behind bars. One of the kidnappers remains at large.
After her abductors were sentenced, Mary got severely depressed for most of the remaining years of her life. In January 1940, Mary McElroy committed suicide.
June Robles
June Robles was abducted on April 25, 1934 as June was heading to her aunt's house after finishing school. A boy walked into Robles Electric Company with a ransom note demanding $15,000 from her father. The note had directions for delivery. The note warned her father to not to contact the police. The boy told June's father that an unidentified man paid him 25 cents to deliver the note. Her father decided to get the police involved.
Volunteers started searching for June after her grandfather got a note for ransom. The kidnappers reduced the ransom by $10,000. A third note was delivered to the Pima County Attorney's door at the courthouse threatening the family. The note demanded that they receive the money within 48 hours or that they would shoot and kill June.
June's father notified the kidnappers that he did not have the ransom to pay them and that he could not pay them in a timely manner. He asked the kidnappers to contact him for further negotiations.
A letter was sent to the governor of Arizona at the time disclosing the location of June. The letter stated that June was in the desert in Tucson. The note also read, "You will find the body covered with a load of cactus," which made volunteers believe that they would find her deceased.
Volunteers searched for June for two hours. They found her alive in a metal cage buried under sand. The cage was a little over three-feet high, and her abductors chained June to the cage by her leg.
After June was found, she told authorities that she spent 19 days in the cage, and her abductors only came to bring her food three or four times during her captivity. A federal grand jury didn't have enough evidence to indict anyone in the case. The case was closed without any arrests.
After her alleged kidnapping, June raised her four children. She was married to her husband for 64 years until her death in September 2014 at the age of 87.
Sano Fusako
On Nov. 13, 1990, Sano Fusako was kidnapped while she was walking home from school. The kidnapper took the nine-year-old girl at knifepoint and forced her into his trunk. The kidnapper took Sano Fusako up to his bedroom and held her captive there for nearly 10 years.
The kidnapper was living with his mother at the time of the kidnapping, and he prohibited his mother from entering his bedroom. The kidnapper claimed that he took Sano Fusako because he was lonely and needed someone to talk to. He was previously diagnosed with a mental illness before the kidnapping.
The abductor bound Sano Fusako and placed adhesive tape over her mouth. He threatened to use a stun gun on her if she made a mistake while filming horse races for him on television. He also threatened her with a knife and punched her often.
During Sano Fusako's captivity, her abductor cut her hair short and forced her to wear his clothes. He fed her three times per day. The abductor threatened that he would leave her alone on a mountain if she attempted to flee.
The abductor became violent when his mother would go upstairs. His mother made a phone call to social workers. The social workers visited the house and found the girl. They then asked the police for help. The police refused to visit the house and told the social workers to fix the issue.
As the abductor's violent behavior increased, he visited a hospital with Sano Fusako. He started acting violently towards the staff, and they called the police. Once the police arrived, Sano Fusako told them that she had been abducted and that she had not been outside in over nine years.
Sano Fusako was rescued on January 28, 2000. She suffered serious injuries during her captivity. The kidnapper was taken to an area hospital the day Sano Fusako was rescued for a psychiatric evaluation. He was discharged from the hospital on February 11, 2000, and he was diagnosed with several mental disorders.
The kidnapper went to trial and pleaded guilty to the abduction and unlawful confinement resulting in injury. He was sentenced to 14 years of imprisonment on January 22, 2002. The kidnapper only spent 250 days in confinement during the time he was imprisoned, but he continued to complain about his human rights. The kidnapper was eligible for release in 2016, but his status is currently unknown.
Jessyca Mullenberg
Jessyca Mullenberg, now known as Jessyca Christianson, was kidnapped by her neighbor on September 16, 1995. The kidnapper was a 38-year-old writing teacher at the time of the abduction. Steve Oliver picked Jessyca Mullenberg up for a trip from Eau Claire to Madison, Wisconsin, and the pair was going to review her layout of a book of her writings. Steve Oliver told her father that he was going to submit her work to Random House and that they wanted to publish her work.
Jessyca Mullenberg fell asleep during the trip, and she woke up and realized that she was tied up. Steve Oliver drove to the Kansas City airport where he threatened her with a concealed knife as they boarded a flight to Houston.
When the pair arrived in Houston, they stayed at a Days Inn near the airport. Her kidnapper locked her inside the room for 101 days, and he raped her almost every day. Steve Oliver cut her hair short and dyed it from blonde to dark brown.
If Jessyca did not follow his orders, he would tie her to the bed or beat her. He mentally, emotionally and physically abused her for the months that she was in captivity.
Steve Oliver watched America's Most Wanted many times to see if the police were on his trail. One evening, he decided not to watch the show, and Jessyca later learned that the episode aired her disappearance.
A woman working at the hotel they were staying at recognized Steve Oliver and called the show. Around 2 a.m. that night, FBI agents entered their hotel room. After the FBI agents entered the room, they realized that they had found Jessyca.
The trial took place in June 1996, and Jessyca testified for hours. Steve Oliver received a 40-year prison sentence without the possibility of parole. As of 2015, he is serving his sentence at a federal prison in Atlanta. Unfortunately, Jessyca suffered serious injuries during her captivity from Steve Oliver repeatedly punching her in the face. Jessyca has since went to the University of Wisconsin, and as of 2015, she is now married and has two children.
Sabine Dardenne
Sabine Dardenne was kidnapped on May 28, 1996 when she was just 12-years-old. Her kidnapper, Marc Dutroux, kidnapped her while she was riding her bicycle to school. Marc Dutroux held her captive in his basement for 80 days while he raped, abused and starved her. Sabine Dardenne was not his first victim. He had previously killed and raped girls before he abducted her, and she had no knowledge of this information until the police found her. He had even gone as far to burying his previous victims while they were alive and starving them until they died.
Marc Dutroux told her that her parents did not want her back while she was in captivity. He finally made her believe that, but it was a lie. While she was in captivity, she wrote letters to her family. The abductor told her and made her believe that he would mail the letters to her family, but he never did.
Marc Dutroux ended up getting caught and arrested in 1996. Once he was arrested, he faced trial for his horrible acts. Sabine Dardenne ended up testifying against him. Marc Dutroux was found guilty. He was sentenced to life in prison.
Since she was found, Sabine Dardenne went to school, landed a job and found a boyfriend.
Kala Brown
Kala Brown and her boyfriend, Charlie Carver, were kidnapped after they went to Todd Kohlhepp's property after he offered them a job cleaning his garage in South Carolina. Kala Brown had cleaned for him five times in the past over a three-month period. When Kala Brown and Charlie Carver entered the property in Carver's car, Todd Kohlhepp locked the gate behind them. After they got out of their car and in the garage, Kohlhepp shot Carver multiple times. After he shot Carver, Kohlhepp forced Kala Brown into a container on his property where he raped and chained her afterwards.
Kala Brown was kept in the container in hot temperatures, and she was only fed once a day. She was chained during most of her confinement. She was missing for nearly three months before she was found by the police after the police executed a search warrant for the property and heard her banging on the container.
After she was found, Todd Kohlhepp was arrested and charged with multiple offenses ranging from murder to kidnapping. After he was arrested, Todd Kohlhepp admitted to killing several of his people in South Carolina.
Kala Brown told Dr. Phil in an interview that Todd Kohlhepp apologized to her for killing her boyfriend. Kala Brown has since changed her appearance. She is still grieving over the loss of Charlie Carver.
Natascha Kampusch
Natascha Kampusch was held captive for eight years when she was kidnapped at 10-years-old in Austria. Her kidnapper held her under his garage in a cellar.
Her kidnapper reportedly beat her approximately 200 times a week, and he chained her to his bed while forcing her to sleep with him. He also forced her to shave off her hair and do chores while nude. She was beaten so badly that it broke some of her bones in her body. When she would cry, he would hold her head underwater until she lost consciousness.
Natascha Kampusch escaped when she was 18-years old. After her kidnapper found out that the police were looking for him, he committed suicide after throwing himself on train tracks while a train was approaching.
Shawn Hornbeck
Michael Devlin kidnapped Shawn Hornbeck in 2002. Shawn was only 11-years-old at the time of his abduction. Michael Devlin was not the only boy that he kidnapped.
Michael Devlin tortured Shawn Hornbeck during his four years in captivity. Michael Devlin constantly warned Shawn that he would kill him if he ever tried to escape. Michael Devlin tied Shawn to a futon and taped his mouth shut. At one point during his captivity, Michael Devlin tried to strangle Shawn, but he stopped after Shawn said he would never tell anyone.
The FBI rescued Shawn Hornbeck and another boy in 2007 after they entered Michael Devlin's apartment. Michael Devlin was later arrested. He pleaded guilty, and he is now serving 74 life sentences in state prison and 170 years in federal prison for his crimes.
Wu Ruofu
Several men dressed in police uniforms in Beijing kidnapped Wu Ruofu in 2004. The kidnappers did not know who he was. They kidnapped him because they saw him driving an expensive BMW.
After we was kidnapped, he was held captive for over 20 hours after they demanded ransom from his family. During his captivity, Wu Roufu was beaten, bound and gagged. The kidnappers told Wu Ruofu that they were going to kill him if they did not get the ransom in a specified time period. When the police rescued Wu Roufo, the kidnappers were strangling him. After he was rescued, seven people were arrested, and three people were later sentenced to death a year later.
Wu Roufu has a hard time while thinking about the incident. He is still mentally traumatized.