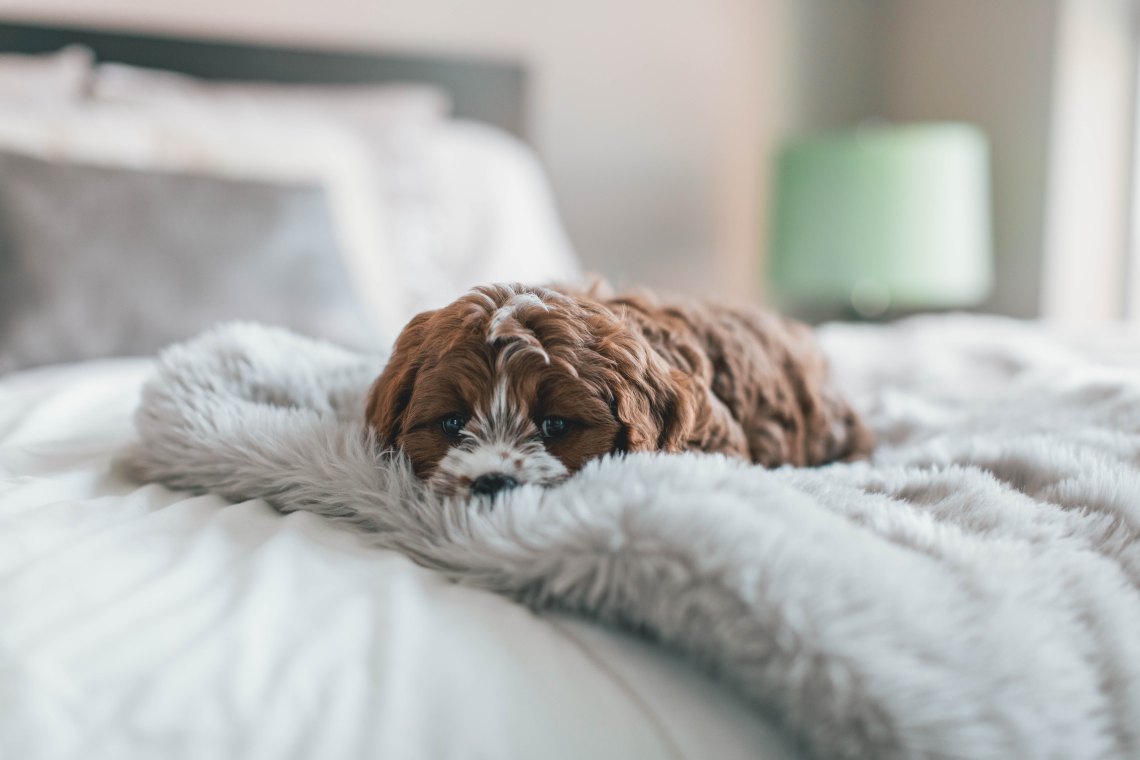 But regardless of why Millennials are so pet obsessed, they clearly aren't ashamed of it. On the contrary, as their social media accounts demonstrate, Millennials constantly document this obsession in pics and videos, and take pride in sharing their "fur babies" with the world. And a company called lovimals has found a brilliant way to cash in on our pet-obsessed culture by giving us a new, decidedly low-tech way to publicly proclaim our love for our furry friends: socks. Yep, socks. But not just any socks…
lovimals creates custom socks (along with various other products)with illustrations of your pet's adorable face printed right on the fabric. And the process of creating these custom socks couldn't be easier. All you have to do is capture a cute pic of your fur baby (or choose from one of the 10,000 pics you've already taken) and upload it to their website. Next, a lovimals graphic designer turns your photo into a custom illustration which is then emblazoned on a pair of high-quality socks using 360-degree, direct-to-garment laser printing. Once they're ready, the socks are delivered right to your door.
lovimals socks are printed and shipped from the USA, and are made of ridiculously high-quality materials. No, seriously. They have reinforced toes and heels, and are made up of a 75-percent high-grade polyester and 25-percent custom nylon/elastane blend. This gives lovimals socks a one-of-a-kind plush, suede feel. They aren't just novelty socks that will fall apart after one wash. They're built to last.
But the best thing about lovimals socks is that they truly are customized. They come in six colors: blue, green, red, yellow, purple and pink. They're also one size fits all (up to a men's size 11). While the basic lovimals designs are meant for your furry family members, their graphic designers will create illustrations of any animal you want. So if your fur child is actually a hairless reptile, or maybe a feathered friend, they've still got you covered. Not only that, but if you want more than one pet on your socks, or perhaps a picture of both you and your pet, that's something lovimals can easily accommodate. Just contact customer support and they'll make it happen, although additional charges will apply.
And in the rare case that you're not pleased with your order, lovimals will work with you to make sure the image of your beloved cat Carol Channing is perfectly portrayed. lovimals wants you to be happy with your purchase, so if for any reason you aren't, they will do what it takes to get it right.
And right now, you can get 19-percent off your purchase by using the promo code "spring19" at check out, so it's a great time to nab a pair of these custom socks. And perhaps more importantly, it's also a great time to post a photo of you wearing them on Instagram, before one of your friends beats you to it. Because if there's anything millennials might love more than their furry friends, it's starting a trend.