1. CHURCHILL DOWNS
It's amazing how many people that live in Louisville have never been to Churchill Downs. Even if you don't get a chance to go during the Kentucky Derby it's worth checking out for the historical significance alone.
2. FOURTH STREET LIVE
The 350,000 square-foot complex is a mecca for nightlife filled with bars, restaurants, and special events including concerts and festivals. It's everything you want in a big city placed in one fantastic area.
3. THE HOT BROWN
Introduced by The Brown Hotel in 1926, the Hot Brown is an amazing open faced sandwich with turkey, bacon, tomato, cheese, and Mornay sauce. It may not look like it, but it's one of the best dishes you'll ever have.
4. WAVERLY HILLS SANATORIUM
Not only is it historically fascinating, it's also considered one of the most haunted places in the world. If you've watched any of the paranormal investigation shows, you're probably already familiar with Waverly Hills. Ghost Hunters has done numerous live shows there as Halloween specials, which are always popular. You can even book your own ghost tour and spend the entire night inside.
5. THE URBAN BOURBON TRAIL
Grab a map and check out some of the oldest bars in the city while sampling some of the local bourbons. The tour has been around since 2008, but Louisville has been known for its bourbon since 1774. The trail is great for locals and tourists alike.
6. The Highlands
The three-mile stretch of Bardstown Road and Baxter Ave. is one of the best neighborhoods in America. Imagine Los Angeles' Silverlake with better parking and lower prices. You won't find more unique, fantastic restaurants in a concentrated area than the Highlands.
7. LEBOWSKI FEST
For the last 13 years Louisville has been one of the homes of Lebowski Fest. If you're a fan of The Dude, this is the weekend event for you.
8. THE TROLLEY SYSTEM
Not only does Louisville have a fully functioning trolley system, the first Friday of every month there's a free trolley hop that runs through downtown giving guests access to art shows, bars, restaurants, concerts, and events all over town.
9. THE FREDERICK LAW OLMSTED PARKS
You will have a hard time finding any other city with better parks than Louisville. The design of the 18 parks across the city are absolutely beautiful and with so many, there's always one close to where you are.
10. LOUISVILLE SLUGGER MUSEUM
Louisville Slugger bats have been made here since 1884 and are still manufactured here to this day. The museum has numerous artifacts from baseball history and you can still get a personalized bat with your name on it.
11. LOUISVILLE EXTREME PARK
The massive 40,000 square feet park includes a 24-foot full pipe as well as every other skate park feature you could possibly want. The park was opened in 2002 as part of Tony Hawk's Gigantic Skate Park Tour and is open 24 hours a day, 7 days a week.
12. ABBEY ROAD ON THE RIVER
Every year Louisville is the host to the world's largest Beatles-inspired music festival and takes place on nine different stages over the course of five days. You can find out more or get tickets for the summer event now.
13. THE MUHAMMAD ALI CENTER
Even if you aren't a fan of boxing, this six-story museum features fascinating exhibits as well as an in-depth look at one of the most outspoken and talented athletes in the history of sports.
14. THE WORLD'S ONLY FULLY UNDERGROUND ZIPLINE COURSE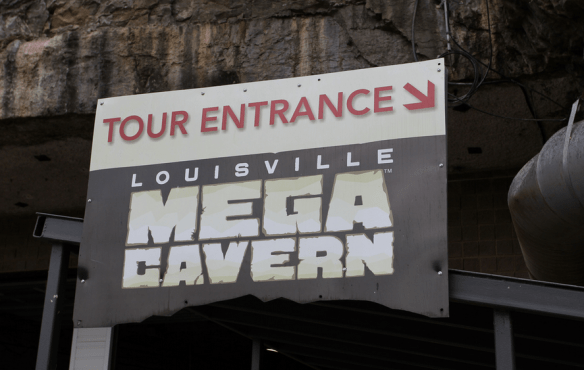 This giant cavern beneath Louisville contains six different ziplines that are all fully underground as well as the world's only fully underground drive through Christmas light show. You seriously have to see this cave to fully realize its massive size.
15. The World's Largest Zombie Walk
What started out as two friends having a zombie-themed birthday night has now turned into the world's largest zombie walk with over 20,000 participants. The event takes place every August 29th and is a free event so you have no excuse to not participate.
16. Louisville Slugger Field
Louisville Slugger Field is one of the nicest minor league parks in the country with seating for over 13,000 fans. Tickets are very affordable making it a perfect family outing as well as a great night out for a group of friends.
17. THE THIRSTY PEDALER
You and 15 friends can travel around downtown hitting all of the local bars while riding around on a giant bike unlike any other you've seen before. Seriously, if you're in town with a group, this is a must. The minimum amount of recommended passengers is six, but the more you get, the less your legs have to do.
18. HILLBILLY TEA
When I moved to Louisville I saw the name of this place and immediately dismissed it. Then I finally paid it a visit and realized what a horrible mistake I'd made by not going there sooner. The food unbelievable and the teas are ridiculously good. I was sold as soon as I found out they serve Ale8, which is, of course, the greatest soda on the planet.