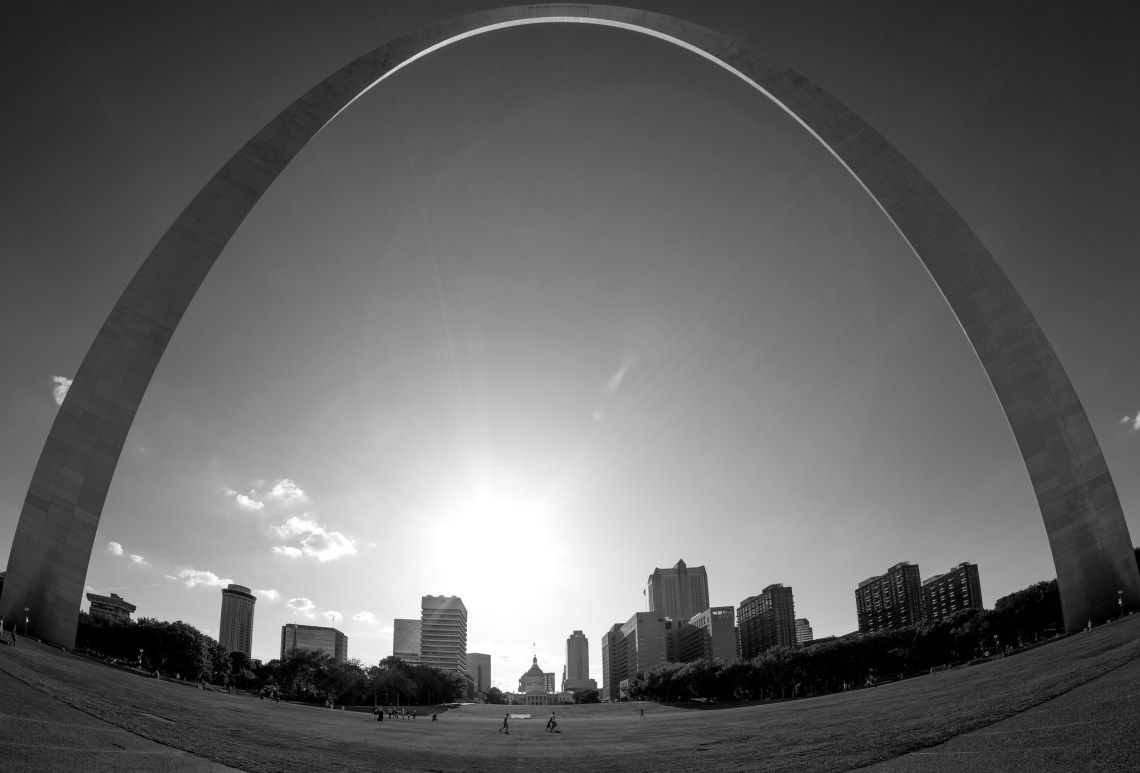 Among all the articles riddled with pride in being New Yorkers, I am speaking out for a new city. A real Midwestern city. St. Louis. Yes, that one with the arch.
I am not telling you to leave your ever-so-posh Manhattan apartment and move to Missouri, however, if feel spontaneous and feel like a road trip, I encourage you to come and see for yourself. Not to compare it to the city that never sleeps, but to experience one of the other cities out there amongst those amber waves of grain. Cities that have their own quirks like pride in baseball, beer, and westward expansion. I give you top XXX reasons St. Louis is cool, too.
1. Nelly.
Yes, I played the Nelly card, the equivalent to a trump card in Apples to Apples. You obviously already knew that Nelly is from St. Louis, and that is why it is Number 1 on the list. Not only are St. Louisians extremely proud of Nelly, but also Nelly is extremely proud to be from "the Lou." And I mean really, that should be reason alone to visit; cause Nelly. But here is a video to put you in the spirit.
[youtube=http://www.youtube.com/watch?v=Y5qKNlcUwKs&w=584&h=390]
2. It is a relatively cheap city for tourists.
Many of the cities main attractions are free. The Art Museum, The History Museum, and the Zoo are all free. There are great free events like Shakespeare plays performed in Forest Park and the Muny, the US's largest outdoor musical theater venue, has free tickets. And, while going up the Gateway Arch costs a few bucks, standing under it and taking priceless photos is literally price-less.
3. Did I mention the Zoo?
The Saint Louis Zoo is considered one of the best zoos in the country. And, it is located on the historic site for the 1904 World's Fair.
4. Yes, that movie, Meet Me in St. Louis, was actually based on true events!
The 1904 Worlds Fair celebrated the Louisiana Purchase with the invention of the ice-cream cone and introduction of Dr. Pepper.
5. St. Louis Bread Company.
Ever heard of it? No? Well, actually, the beloved chain of fast-food café-bakeries, Panera, was originally called St. Louis Bread Company, being from STL. Not only that, but in St. Louis it is still exclusively called the St. Louis Bread Company, or commonly "Bread Co."
6. Speaking of food, every city has an array of specialty foods. St. Louis's includes the toasted ravioli, gooey-butter cake, and provel cheese.
It honestly makes me sad that these are foreign to other US cities. Please, if you visit, try all of these things! Also, St. Louis style pizza is perfection – a thin, crisp crust, doused with provel and oregano, preferably from Imo's Pizza.
7. My favorite gem of the city is the City Museum.
I can't even begin to explain this place, besides that it embodies everything that is cool about St. Louis. It is like stepping into a cross between a life-size jungle gym and a Baz Luhrmann film. It is another world, where all ages can run, jump, climb, explore, play, and be free. The City Museum is not your average museum, greeting visitors with a giant whale that's becomes a tunnel into a maze of caves and containing a 10-story slide and an aquarium. Basically, you have to go to get it.
8. The St. Louis Cardinals.
Baseball is unavoidable in STL. The fans are intense, and the fans are everybody. Nothing says summer in St. Louis like sitting in unbearable humidity with a beer at Bush Stadium cheering on the Cards with bleary-eyed devotion. But seriously, since the 2011 World Series, the name David Freese has become the biggest panty-dropper the city has ever seen. If you want to be practically worshipped become a Major League Baseball Player in St. Louis.
9. It is on the Mighty Mississippi.
T.S. Eliot once wrote, "It is self-evident that St. Louis affected me more deeply than any other environment has ever done. I feel that there is something in having passed one's childhood beside the big river, which is incommunicable to those people who have not. I consider myself fortunate to have been born here, rather than in Boston, or New York, or London." Filled with Casinos and bridges crossing Illinois to Missouri, the Mississippi river brings something important in so many ways but is never really talked about to the city. There is nothing quite like watching the fireworks on the Fourth reflecting in the river with the Gateway Arch peering overhead.
10. Pride.
We St. Louisians are proud of our city. We love this city and we want everyone else to, too. Its like we share this little secret. A secret that rolls an intense love of Nelly, baseball, toasted ravs, telling people that its not really "Panera," the zoo, asking where you went to high school, baseball, and Anheuser-Busch. And we want everyone to understand our secret. We love our city. And we aren't afraid to make it known. (GO CARDS!)