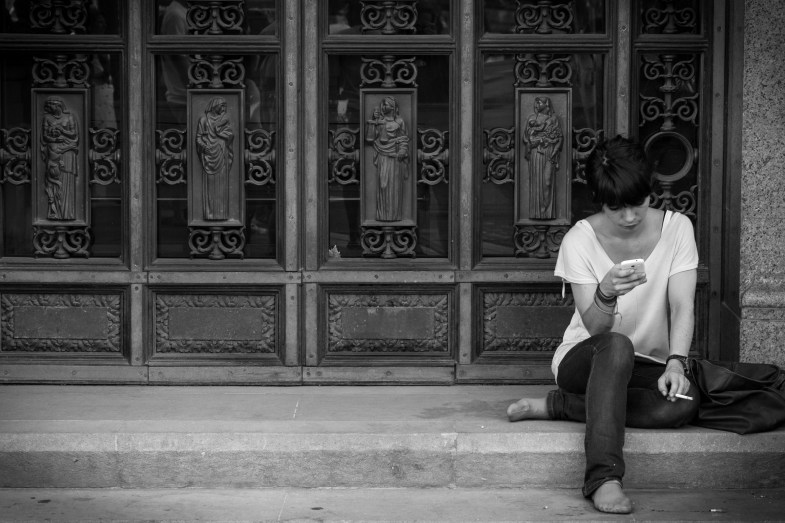 1. The Ex Who Texts You Every Time His Girlfriend Dumps Him
This guy is one of a kind. When you two originally broke up you didn't maintain a strong friendship, most likely because he stopped talking to you. All of a sudden, three months, four months, maybe even years down the road you start receiving texts from him like crazy, as if you two are old pals. You wonder why he's suddenly reaching out, and then you realize he's recycling his past girlfriends because his current one kicked him to the curb. Don't bother with the ex who only wants you when he's lonely. You aren't recyclable. You're human, not plastic.
2. The Ex Who Texts You Even When He Has A Girlfriend
His wink faced emojis do not suggest that he's texting you for coffee and doughnuts, he's texting you to see if you'll potentially hook up with him again, even though he's dating someone else. He probably never texted you when he was single, because that would just make way too much sense, but that's just how this 'smooth player' likes to play his games. It's okay to be flattered that he's potentially bored with his new girl, but don't be the other girl. You deserve someone who doesn't have to sneak around to talk to you.
3. The Ex You Thought You Would Marry
This ex was probably your longest lasting relationship ever, and you probably thought you two would have a happy ending chock full of wedding vows, babies, and retirement plans, but things clearly took a turn. You two obviously weren't meant to be, whether you're willing to admit it or not. Moving on is going to be difficult, but it will be even more difficult if you keep this ex close.
4. The Ex Who Calls You When He's Drunk
Drunken mind speaks a sober heart…? Or he's just drunk and stupid. Don't believe the 3am phone calls of, "I think I love you." Find a guy who knows he loves you, and doesn't wait until 3 am to tell you so, especially after you're broken up.
5. The Ex Who Likes All Of Your Posts On Social Media
This ex has the most discreet method of communication, if that's what you'd like to call it. His pokes, likes, whatever other weird social media outreach he can find, have all gotten your attention, but hopefully not enough to spark any flames. If this ex really wants to reach you, he will pick up the phone and ask to meet you in person. Until then, don't take his "like" on your "Beachside Beers And Bikinis" instagram photo too seriously, #lethimdrool.