1. The reason Alicia Silverstone was chosen for Cher wasn't because of her acting abilities. When casting for the part, director Amy Heckerling reportedly ordered casting agents to get her "that girl from the Aerosmith videos." Although Silverstone got her start in The Wonder Years and a Lolita-esque 90s film called The Crush, she became famous for her roles in three Aerosmith videos: "Cryin'," "Amazing" and "Crazy," the last a lesbian-tinged girls-gone-wild romp. That video also starred Aerosmith frontman Steven Tyler's daughter, Liv. This is doubly creepy, as Liv was 17 at the time.
2. Early drafts of Clueless were about a girl searching for the perfect prom dress, but Amy Hecklering scrapped that concept and based the film around an update of Jane Austen's Emma instead. A more straightforward adaptation of Emma, starring Gwyneth Paltrow and Toni Collette, would be released the following year. But because it didn't have as much plaid in it as Clueless did (Clueless reportedly used 53 different plaid patterns), the movie wasn't a hit.
3. To research the ways that high school students talk, Amy Heckerling sat in on actual classes at Beverly Hills High School. Her method was inspired by Cameron Crowe (the screenwriter on her directorial debut, Fast Times at Ridgemont High), who posed as a high school student as research for the Rolling Stone article the script was based on. However, most of Heckerling's script was loosely based on her experiences at BHHS, as the students she observed didn't dress in plaid and high heels. (According to Heckerling, they dressed more like college students.) Heckerling also created most of the slang included in the film and had to explain to her actors what terms like "going postal" meant, although many of these phrases became part of common parlance later (e.g. "As if!").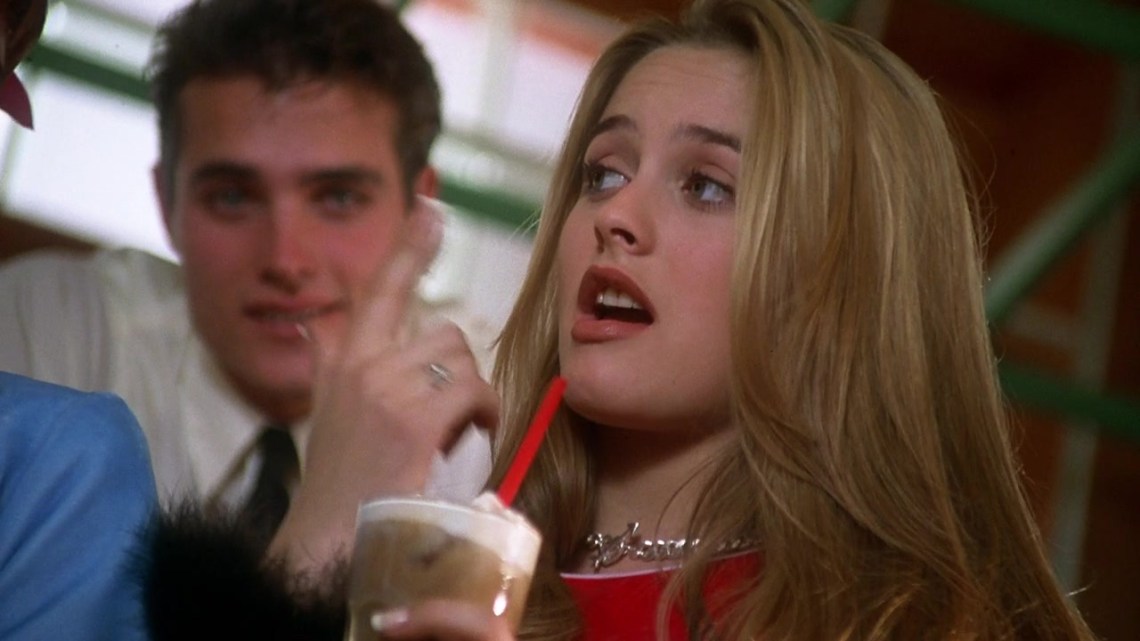 4. In addition, the film's target audience of teenage and tween girls notably did not pick up on many of the film's sly references. Heckerling's lingo masks some subversive humor, as her script refers to periods as "surfing the crimson wave" and the scene in which Tai excitedly exclaims that the students "got Coke here!" She's not referring to soda, y'all.
5. Heckerling makes a cameo in the film during Mr. Hall and Miss Geist's wedding. As the girls struggle over the bouquet, Heckerling can be seen fighting for it the hardest. She plays Miss Geist's maid of honor.
6. The entire filming of Clueless was only 40 days long, which is about half of the time that a normal film takes to shoot.
7. Mr. Hall is a real person. He was based on Herb Hall, an old debate teacher of Heckerling's. The real Mr. Hall plays the principal in the film, whose name is simply "Principal."
8. Alicia Silverstone had no idea how to pronounce "Haitians." During her speech on why "all oppressed people should be allowed refuge in America," Silverstone mispronounced it on camera and Heckerling told the producers not to correct her — because it was funnier that way. (However, Alicia/Cher was right about one thing: It does not say R.S.V.P. on the Statue of Liberty.)
9. Clueless is one of the few films about high schoolers to mostly feature actors around the same age as their characters. Donald Faison, Jeremy Sisto and Breckin Meyer were all 21 at the time of the release. Alicia Silverstone and Brittany Murphy were 18, and Murphy actually was the virgin who couldn't drive. (#wayharsh) However, Stacey Dash was 28, making her more than a decade older than her character. When the TV-spinoff of Clueless ended, Dash was 33. This makes her one of the oldest actors to play a teenager onscreen, joining the ranks of teenage 30-year-olds like Gabrielle Carteris (Andrea on 90210), Cory Monteith (Finn on Glee) and Henry Winkler ("The Fonz" on Happy Days).
10. Apparently, suck and blow is difficult, and it's not just Elton's fault. Because no one in the cast could do it with a credit card, they had to substitute fake cardboard versions with holes drilled in them to make the cards easier to suck. This was not a success either, so the cast wore heavy amounts of chapstick to get their lips to stick to the prop cards. The "suck and blow" scene was later referenced in Jeremy Sisto's sitcom Suburgatory, which Silverstone made a guest appearance on as his love interest, Eden. If that wasn't enough Clueless homage, that Suburgatory episode also features The Cranberries, whose CD Elton wanted to get from the quad.
11. In the film, Cher lives on Drury Lane, which is funny because she can't bake. To pick her up from her Muffin Man address, Christian drives a 1954 Nash Metropolitan, an automobile famously owned by Elvis Presley and Paul Newman. The car's previous ownership and vibe was a reference to his 50s style.
12. Cher Horowitz hates Radiohead. The movie, which features a mint mid-90s soundtrack of The Mighty Mighty Bosstones and Supergrass, includes two Radiohead songs, "My Iron Lung" and "Fake Plastic Trees." These were the first and third singles from The Bends, which debuted that year. Although neither was as big of a hit as the band's previous smash, "Creep," the songs were included to indicate the kind of "hip" music Paul Rudd's character would be exposed to at college. Cher does not approve, referring to "Fake Plastic Trees" as "whiny."
13. Although Cher's last name in the film is "Horowitz," that's not the name that shows on her report card, where it's listed as "Hamilton." This could have been a mistake, but it's more likely a reference to Fast Times at Ridgemont High, whose main character was named Stacy Hamilton and played by Jennifer Jason Leigh. Stacy was another 15-year-old struggling to navigate high school.
14. In the film, the characters all attend Bronson Alcott High School, which is a double reference. At the time, Heckerling was dating Bronson Pinchot, the actor known for appearing in the TGIF show Perfect Strangers. Pinchot's middle name was Alcott, and he was named after the 19th century abolitionist, transcendentalist, women's rights advocate and writer Amos Bronson Alcott. (And the father of Little Women author Louisa May Alcott.) Alcott was also one of the first people to promote a vegan diet, before it went mainstream. Silverstone would switch to a vegan diet three years after filming Clueless.
15. Paul Rudd's character's name is "Josh Lucas" and shares a last name with Charlotte Lucas of Pride and Prejudice. He also has the same name as actor Josh Lucas — of Sweet Home Alabama fame. Unfortunately, Josh Lucas didn't try out for the part. However, Rudd auditioned for almost every male part in the film — including Elton, Murray and Christian, the gay object of Cher's affection. But don't fret straight women: You (and Jennifer Aniston) would get to hopelessly lust over a gay Paul Rudd just a few years later, in the indie comedy The Object of My Affection.
16. Although almost every other actor looks very different now than they did on Clueless 17 years ago (especially Jeremy Sisto and Alicia Silverstone), the two oldest members of the central cast have barely aged. Paul Rudd hasn't changed at all (and might have a picture in the attic that ages for him), and when I look at Stacey Dash, I can't believe she'll be 50 in less than five years. As she's voting for Romney, this may be the result of a deal with the devil.
17. The film features a number of references to other movies and TV shows, like Ren and Stimpy, Beavis and Butthead, Gigi, Forrest Gump, Mel Gibson's Hamlet, The Adventures of Pippi Longstocking, Family Feud and the classic Bertolucci film, The Conformist. (Obviously.) One that many people don't pick up on is the constant labeling of people as Bettys or Barneys, which was Cher's pre-social media version of "Hot or Not." This is in reference to The Flintstones, where schlubby Barney somehow bagged hottie Betty.
18. Throughout the film, there are a number of obvious references to Christian's sexuality. In one scene, he's seen reading Junky by William S. Burroughs, the famously outlandish Beat Generation author. Christian also suggests that they watch the Tony Curtis films Spartacus and Some Like It Hot, classic films with pervasive gay subtext. (I mean, the latter is about men who dress in drag, fergodsakes.) To further indicate how "clueless" Cher is, Christian is initially introduced in the classroom doorway next to a newspaper headline that reads "On the Road to Nowhere."
19. When Christian asks Cher if his jacket is "James Dean or Jason Priestley," this line is likely a reference to the fact that Justin Walker (the actor who plays Christian) bears a striking resemblance to Jason Priestley — the heartthrob famous for his stint on 90210. Alicia Silverstone was herself often compared to former teen idol Cybill Shepherd, who later starred in the popular sitcoms Moonlighting and Cybill.
20. At the time of filming, Wallace Shawn was the most prolific of the film's actors. Known for character acting and voice work, Shawn had appeared in Toy Story, Shadows and Fog, Radio Days, Mrs. Parker and the Vicious Circle (with Jennifer Lason Leigh) and My Dinner With Andre. He also had notable arcs on Murphy Brown and The Cosby Show, which was one of the shows that gave Stacey Dash her start. His most famous role was as Vizzini in The Princess Bride, and he can currently be seen on the CW's Gossip Girl as Cyrus, where his casting is likely a reference to his Clueless character, Mr. Hall.
21. Many of the actors in Clueless came from a TV background before filming. Paul Rudd starred in the Swoozie Kurtz-Sela Ward NBC drama Sisters, Justin Walker was on Northern Exposure, and Stacey Dash appeared in St. Elsewhere, The Cosby Show and The Fresh Prince of Bel-Air. However, Brittany Murphy wins the TV race, having appeared in Boy Meets World, Sister, Sister, Party of Five, Frasier, Blossom and Kids Inc. She also was wise enough to opt out of the TV show, unlike Dash, Eliza Donovan and Donald Faison. Despite being featured in many of the promo materials, the Murphy-less Tai was barely in the TV version.
22. Many other characters in the movie either didn't show up in the TV show or were written out. Josh disappeared after the first season, as did Miss Geist and Mr. Hall. Christian never made it into the show at all, and Mr. Horowitz was played by two different actors during the show's run. Julie Brown's Coach Stoeger was renamed.  Sean Holland — whose character, Lawrence, was barely in the movie — got a different name and a bigger part in the show. His new name was probably easy for him to remember: Sean Holliday. (Note: The name change may be a reference to Billie Holliday, the jazz singer Christian was a fan of — that Cher thought was a man.)
23. The TV version of Clueless originally appeared on ABC's TGIF lineup alongside Sabrina, The Teenage Witch, Boy Meets World and Step By Step. After its first season, Clueless moved to UPN and would be cancelled two years later. When the show was pulled, Rachel Blanchard (who played the Cher on TV) moved onto the WB's 7th Heaven and Eliza Donovan transferred to another WB show, Sabrina, The Teenage Witch. Sabrina also gave David Lascher (TV Josh) a role on the show, as Sabrina's boss and on-again-off-again boyfriend. His character's name? Josh.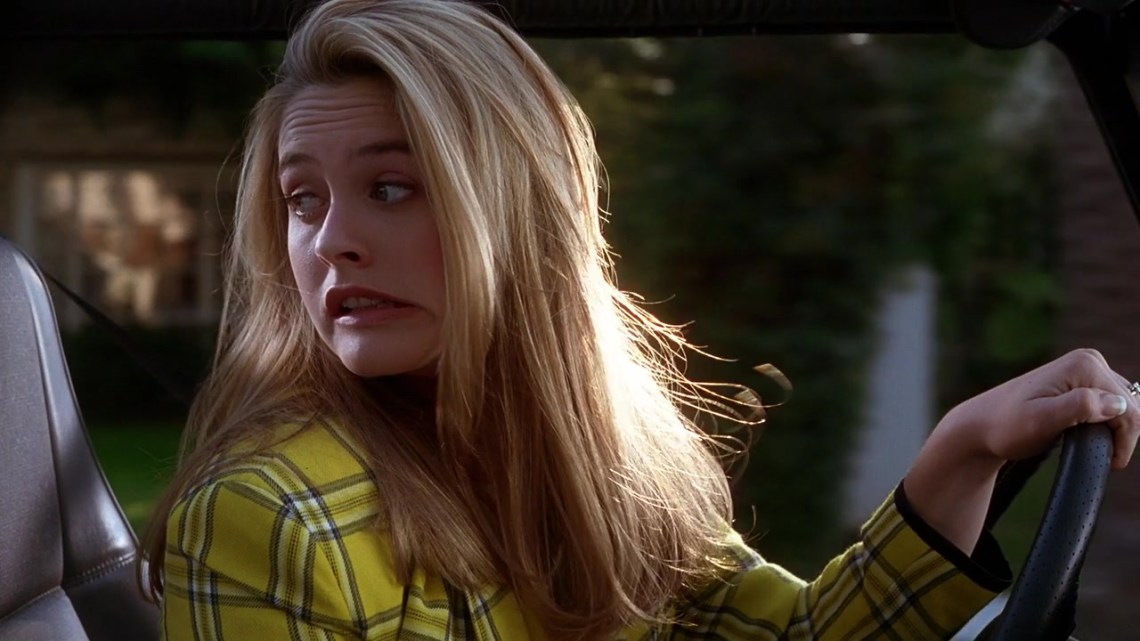 24. Because there weren't enough connections to Sabrina, The Teenage Witch already, Melissa Joan Hart was almost cast for Cher, before she settled on Sabrina Spellman instead. (Also considered for the role: Sarah Michelle Gellar, later the star of the WB's Buffy The Vampire Slayer.) The producers eventually went with another Nickelodeon alum, Rachel Blanchard, who starred in Are You Afraid of the Dark? After Clueless ended, Blanchard went onto get dat indie cred by starring in two Atom Egoyan movies, Where The Truth Lies and Adoration, and nabbing guest spots on Flight of the Conchords and the UK's Peep Show.
25. Although the TV show was not a huge success at the time (despite becoming very profitable for ABC in re-runs, who then tried to get to the show back from UPN), the movie was a massive sleeper hit. The movie was also a critical darling, as critics lauded the film's tongue-in-cheek humor and meta-referentiality. Thus, if you have a friend who claims not to "like movies that critics like," point to Clueless. Quality is just quality.