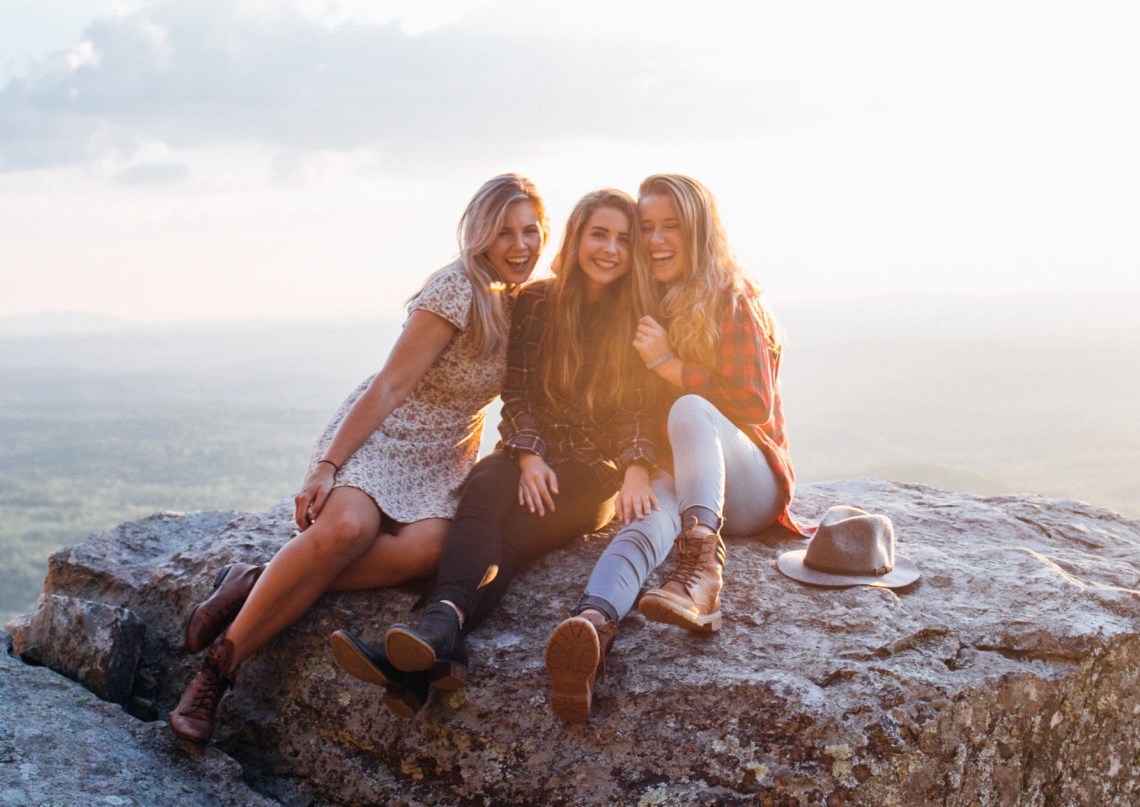 Sometimes we put on this happy exterior, this I-don't-need-a-man-I'm-fine-on-my-own smile on our faces and go about our days acting like relationships are the farthest things from our mind. Sometimes we push people away and act tough, as if our independence is the only thing that defines us, and we're totally fine in our stubborn, selfish ways.
And sometimes we are fine. We are comfortable in our own skin, happy walking at our own pace. Sometimes we go days, weeks, years without longing for a special someone, without hoping for attention or wishing we had a hand to hold.
But sometimes we look around and see happy couples lost in conversation, we see people slow dancing in a crowded bar, so close it's as if they don't realize there's anyone else around. Sometimes we see romantic kisses at sunset, or watch two people walking hand-in-hand, matching step for step and we feel so terribly alone.
And it's on those days that we lean on our girlfriends, our ride-or-dies, our ladies, who constantly remind us how worthy we are, and how, even on our most loneliest of days, they're always by our side.
This is for the girlfriends who answer our phone calls on the first ring. The ones who drop everything just to chat or to make sure we're alright. The ones who never judge when we're crying over a crush or zone out when we're rambling on and on about a problem.
This is for the girlfriends who spend time with us. The ones who don't make excuses but pencil us into their schedules, even when life gets crazy. Who somehow always find a moment to talk, to vent, to listen. Who are selfless when it comes to being there. Who love, and never stop loving.
This is for the girlfriends who give. Their time and attention, their constant support when our lives are crumbling, their last slice of pizza or last sip of Margarita. The girlfriends who aren't selfish or self-focused, but are always willing to put us first as we do to them.
This is for the girlfriends who teach us what real love is. The ones who don't run at the first sign of trouble, who don't put their romantic relationships before their friendships, who fight with and for their girls in order to stay strong, despite distance or obstacles. Who are there and never leave.
Sometimes we get caught up in love or lack thereof. Sometimes we forget who we are because we're so focused on what we don't have, or what we're missing. Sometimes we can't help but think that we're defined by our relationship status, and we're so damn lonely when we're on our own.
But it is our girlfriends who pull us out of that hole every time, reminding us that we are loved so much, and that having a romantic partner does not, and will not define our happiness. It is our girlfriends who teach us to love ourselves, our lives again.
So this is for the girlfriends we forget to thank. The ones who have been there for us since day one and will always stand by our side, no matter what life throws in the way. For the girlfriends who meet us for Sunday brunch when they have a million things to do, who always call on Tuesday nights even when they're tired.
The girlfriends that teach us that we are never alone, and love us at our best and at our loneliest just the same.

Marisa Donnelly is a poet and author of the book, Somewhere on a Highway, available here.