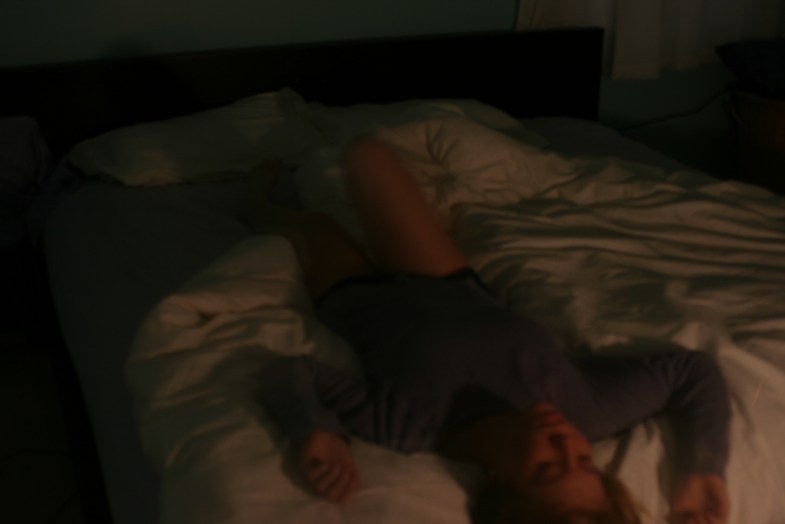 Okay, guys. I'm going to lay it all out here, silly as it sounds. No holding back. Just the facts, ma'am.
It started with the lady at the counter at the Rail Haven Motel.
She was watching me with a weird kind of intensity from behind her cat-eye glasses. I'd started to wonder if maybe she was stroking out when she stuck one red-lacquered wrinkly finger in the air and declared, "Room 211."
Fine, whatever. I didn't really give a shit what room she gave me as long as the old broad gave me a room. I'd been on the road for almost seven hours by then and I was exhausted, stinking of stale sweat and the medicinal scent of energy drink that had spilled on my shirt.
"Sounds great," I told her, shifting one of my bags from one shoulder to the other. Truth be told, any room with a bed in it sounded great. The motel looked pretty shitty from the outside but I didn't think it was out of line to assume there were at least beds inside.
The old gal behind the counter gave me a smile and slid the red plastic tag that read "211" in stamped white letters.
"Ice is down the hall, check out is 11." She paused, squinting at me from behind her thick glasses. "I like your shoes."
I glanced down at the stylish cork wedges I'd worn straight from the wedding reception. I'd been in Kansas City to celebrate Chelsea's nuptials and jumped straight on the bus after the first dance; I had to be in court the next day for a case I was covering and never even thought to change in my haste to get to Springfield. They were comfortable, more comfortable than they looked, and until just then I'd forgotten all about them.
"Thanks. Payless." I gave her a brief model-esque pose before snatching my key off the counter. I managed to get all my bags up again and headed out of the front office. I hadn't meant to be rude but it was late and like I said, I was tired. If I hadn't been so tired I might've turned around when I heard her add,
"He'll like them, too."
---
It was a weird thing to say. Hell, the whole place was weird. A roadside dive motel that reminded me of movies from the 1950s, little matchbox-sized rooms with a bed, a bathroom, and nothing else. Why wouldn't the blue-haired old lady with cat-eye glasses say something ominous as I made my way to room 211?
I couldn't think about that. I couldn't think about anything, really. I'd reached that awful point of road weariness where you can't really hang on to a solid concept, follow a line of thinking, but I was so tired I was also afraid I might spend all night awake on what passed for a motel bed so I raided the mini bar. Washed back a generic sleeping pill with one of those tiny bottles of Smirnoff vodka, kicked off my stylish-yet-comfortable shoes, and collapsed on the mattress.
Springfield has a pretty high level of weirdness — a lot of murders, a lot of disappearances. There was so much to do the next day in regards to the latest bout of violence I was covering. Witnesses to interview, leads to track down. A guy had murdered his wife in cold blood and was claiming home invasion but I was pretty sure I knew who to talk to, a business partner who likely knew more than he was letting on —
Shit. I'd known my mind was going to wander. I needed sleep.
I flicked off the bedside lamp and didn't bother to crawl under the covers. Closed my eyes. Tried to let go of all the thoughts that crowded my skull like rats in the last dry corner of a sinking ship —
Softly, almost tenderly, something touched my hair.
I sat straight up and glanced wildly around the room. No one there. And the place, well, it was so small it wasn't like someone could be hiding…
Jesus, my head was heavy. They always say not to mix alcohol with those pills but I just wanted to get some sleep.
Besides, I'd imagined it. I was sure.
I put my head back down on the pillow as my eyes began to drift closed. Just as darkness fell, I could've sworn I saw someone step out of the bathroom, but it was too late to see his face.
---
You know how in dreams, you just sort of go with the flow? You don't question anything because hey, it's just a dream, after all.
This was one hell of a dream.
He was on top of me, the guy from the bathroom, I think. We were still in the little matchbox motel room with the cheap mattress. He was touching my hair, running it through his fingers, smoothing strands of it between his thumb and knuckle.
"Who are you?" I asked him, and for some reason that made him laugh.
Instead of answering he buried his nose in the curve of my neck and exhaled deeply, sending a puff of warm air across my skin. I couldn't see his face, not really, just a shock of dark hair and smooth, tan skin.
I mean, it was a dream, right? And I'd had my share of the sex variety. Go with the flow.
I reached up to run my hands along his shoulders and —
Woke up.
Enough, at least, for him to vanish. For the dream to shatter. I was alone in the motel room again.
I couldn't move, though. I mean sure, I was awake, but not quite all the way I guess? Sleep paralysis. I'd had it before. It keeps you in this weird twilight state where it's impossible to move, you can see your surroundings but your limbs feel like they're packed with wet cement. All you want to do is go back to sleep.
So I did.
And he came back.
Slid right back on top of me like he'd just been… waiting. Waiting for me to go back to sleep. And I was sleeping, right? Just dreaming?
My train of thought derailed as the mystery man returned to my neck and began suckling the skin there gently. Goosebumps shot through my system like icewater.
I reached up tentatively, aching to run my fingers through his dark thick hair, and —
Woke up.
What the fuck?
Still couldn't move. Still couldn't wake up all the way. The man was gone again.
What the hell was happening in this hotel?
I willed myself to slip back into the dream — or fantasy, or whatever it was — and as soon as I did there he was again, the dark-haired man whose face was hidden by shadows.
"That's not how this works," he murmured in my ear. His voice was deep, sexy. Almost… familiar somehow? "Sorry, sugar, I don't make the rules."
"What is this?" I managed, but this time I left my hands on the sheets and remained still. Behind the shadows, I thought I caught a flash of a white-toothed grin.
"Just enjoy it." He returned to my neck and started working his way down, kissing and sucking, tugging down the collar of my thin sleep shirt for better access to my collarbones.
One of his hands crept up to squeeze my breast. I let out a quiet moan as his full lips closed over a particularly sensitive spot where my throat met my shoulder. I could feel him, hard and insistent, against my thigh.
I spread my legs because who holds back in a sex dream? I mean, right?
The man leaned back and took both my ankles in his hands, staring intently at my feet.
"Oh, she done picked good," he murmured.
He'll like them, too.
As if shit couldn't get any weirder, he began licking the arches of my bare feet like a man possessed. I mean, he was really going at it.
I was about to tell him to stop, that I wasn't really into… that, but…
Okay, guys, I promised I'd be honest with you here. No holding back, right?
It felt absolutely incredible. Like, I'd expected it to be sort of odd and uncomfortable, but… it was like all my nerve endings had been relocated to my feet. So instead of asking him to stop, I rolled my head back and moaned again.
"That's it, sugar," the man mumbled against my sole, running one hand down along my calf. "Just enjoy it. Been a long time, long time coming. Mmm."
It was a dream, just a weird fucking sex dream, but he kept licking my feet, nipping lightly at the pads of my toes, and before I knew it something was building deep inside, an intense pulsing sort of heat. He may as well have had his face between my legs the way I was starting to tremble.
I gripped the sheets in my hands, wanting to grab some part of him, any part of him but he doesn't make the rules, sugar, just enjoy it, he doesn't make the rules.
Suddenly his tongue ran along the very center of my right arch and I was coming hard, pleasure ripping through my core, a low moan escaped my throat and just as I felt my back arch when the orgasm hit its peak I —
Woke up.
And, as you've probably already guessed, he was gone again.
It was a dream, sure, just an out-of-the-ordinary sex dream, but my thighs were still trembling and the last few waves of pleasure rolled over me as I lay on the cheap motel sheets, covered in a thin sheen of sweat.
I didn't sleep again that night.
---
Checkout was 11, like the lady said, but I decided to get an early jump on work. There was plenty to do for the case and besides, I couldn't get over the feeling of being watched.
The woman with the cat-eye glasses gave me a strange look as I handed over my credit card.
"Sleep good?" she asked.
I had a feeling she knew damn well I hadn't.
"I've slept better," I shot back irritably. She pretended not to hear my tone and processed the payment.
"Room 211 is a special room," the lady said, not making eye contact with me. "Used to be my favorite." A small smile played along her wrinkled lips.
Okay, this was just too fucking weird.
"Why did you give me that room?" I demanded, snatching back my card and the receipt. She kept smiling that strange smile.
"We hope you enjoyed your stay at the Rail Haven," she said brightly.
Whatever. Between the odd motel, the spousal murders, and the freaky front-desk woman, I was itching to be done with Springfield for good. I loaded up my bags and headed for the door.
"You know, I had beautiful feet, too," the lady called after me. "In my day."
I hesitated, a cold chill slithering through me. I considered turning around, asking her what else she knew about Room 211, but something told me she knew everything I did.
The bells above the door tinkled cheerily as I pushed it open and headed out to the cab that was waiting for me. I wanted to put the Rail Haven and Room 211 far in the rearview mirror.
As we pulled out of the parking lot, I did glance in the rearview mirror at the big flashing sign above the motel. In reverse, the electric red letters promised these three things:
CONTINENTAL BREAKFAST.
CHARMING ROOMS.
And then, just as the motel began to disappear behind me:
ELVIS STAYED HERE IN 1956.
Just the facts, ma'am.
I'm not saying that it wasn't just a dream. I'm not saying that the front desk lady wasn't crazy. I'm not even saying that I'm not crazy. But I did some googling when I got home.
I never saw his face, that's true, but… let's just say Elvis had a preference.
And I do have pretty nice feet.