The following is purely speculation and in no way should be considered concrete facts unless future evidence proves otherwise. Spoilers ahead for "Making A Murderer."
Amy went through an email full of photos to read. I switched things up a little and included some new photos, particularly ones of highly suspicious characters. Highly suspicious characters such as:
Scott Tadych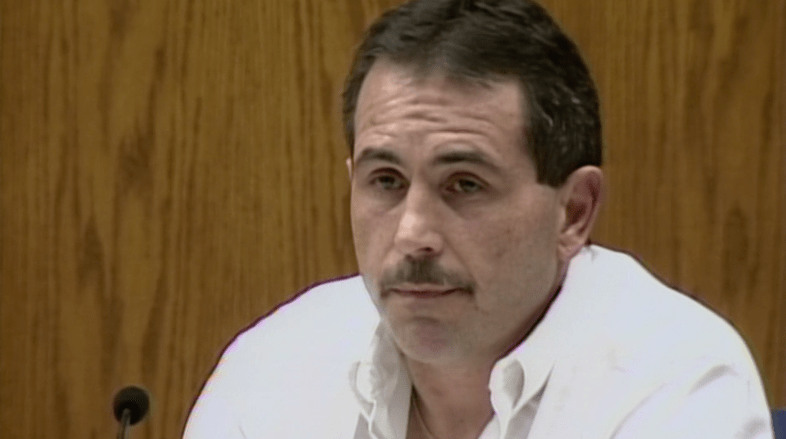 People in the comments have been begging Amy to take a look at Brendan and Bobby Dassey's stepfather. He acted very strange on the stand — why is his face twitching so much? — and as I mentioned before, his over-the-top reaction to Steven Avery's conviction is alarming to say the least. ("What happened yesterday is the best thing in the world. He got what he got comin' to him.") So what did Amy have to say about Mr. Tadych?
The mustache man in the next picture…he is lying as well. It is incredible how much deceit I pick up in everyone of these pictures. To me, this man…mustache man…would be easy to tell he is lying. Like, others could hear what he is saying and out of all of them…could tell he is full of BS.
"Mustache Man", I love it. Anyway, the "tell" she brings up could very well be the twitching I referenced earlier. His face jumps all over the place while being questioned. I remember upon first viewing that I didn't trust him — and neither, it seems, did most of you.
He is not doing a very convincing job of backing up in confidence what he is saying here. Whatever that may be. I also feel he is a witness to seeing people or cars or things that place people and objects at certain places at certain times. He also feels like he was at the crime scene…so a cop as well or something to do with that.
As a refresher, Tadych says on the stand that he was hunting during the time the crime would've been committed. He mentions the "big fire" on Steven Avery's property. He then says he saw Steven Avery near the fire. He also says he passed Bobby Dassey on the way to hunting — weird that he's setting up an alibi for his stepson for no reason, eh? Everything in his statement is exactly what Amy sees: he's trying to place Steven Avery at a suspicious fire, Bobby Dassey on the road, and himself hunting during the time of the crime.
No one other than his mother and his stepson saw him that day. So the only alibis either Bobby Dassey or Scott Tadych have are each other? You're right, Amy, I'm not buying it. I'll call BS.
And if he was at the crime scene — since we are all aware Tadych is not a cop, what would he have been doing there? The pieces are starting to fall into place.
My first official theory: two of the five men Amy sees being involved with Teresa Halbach's murder are Scott Tadych and Bobby Dassey.
Referring back to a read Amy performed of Bobby Dassey:
I feel there is a lot of lying…of course! Lying to each other's faces. A lot of fake family loyalty that is really just all this grossness of hate and judgement brewing under the surface. Fake loyalties and fake allegiances too. A lot of game playing. It is exhausting to tune into. I don't know how these people lived life this way. More backstabbing and fake faces forward and lies and competition and cover-up than I have ever seen.
Between the Jandas, the Dasseys, and the Averys, this all seems to fall in line with what we've seen. Why is Tadych so against Steven Avery? Barb Janda's loyalties ping-pong back and forth the entire series. Why did Bobby Dassey make up the line about Steven Avery joking about getting rid of the body?
Second official theory: someone in the Janda/Dassey/Avery clan hated Steven Avery and wanted to put him in prison for good.
The question here, of course, is why?
Let's look at some of the key evidence from the case:
Teresa Halbach's Key And Steven Avery's Blood

We all know that these two pieces of evidence are considered the most damning in the case. The key was found in Steven Avery's bedroom after DAYS of searching and not finding anything, wiped clean of all DNA except Steven Avery. The vial of blood was taken from Avery during his incarceration for the 1985 rape case (I believe) and was found to be tampered with. The evidence file had been cut open and resealed with scotch tape; the top of the vial had a puncture mark.
It's been speculated that the vial was used to plant Steven Avery's blood/DNA in Teresa Halbach's car and the key was planted in his bedroom. Another key point — ha ha, get it? — is that in most photos, Teresa has a bundle of keys, not a single key on a single ring. Where did her other keys go?
I have sent these items again to get a deeper read on them but here's Amy's initial read for reference:
I see posing. Things being posed. Objects. The first thing that flashed with the picture of the vial of blood and the key was a person placing it carefully, but quickly in different places. I actually feel the man in the first picture I read…Baldy…has something to do with placing things?
"Baldy" refers to James Lenk, who Amy previously read as being very involved with the case and essentially in a corner, doing what he is told, protecting himself. I want to know more about these things, how and why they were placed how they were. And what about the FBI tests that said the blood DIDN'T come from the vial?
---
We're drilling down to details now. I've sent more photos of Scott Tadych, a shot of the Janda/Dassey clan in court, Len Kachinsky, and a shot of the Avery garage. And yep, you bet — Mike Halbach at last. (I promise I haven't been keeping him from you, just that I wanted a wider variety of photos to send along to Amy to get a very in-depth read.) Time to look into the nitty-gritty to start potentially figuring things out. I finally feel like we're getting somewhere.

If you love true crime and mysteries, check out Amy's series titled
"A High School Friend Is Being Charged With Attempted Murder And, As A Medium, I'm Going To Use My Gifts To Help Her"
here.