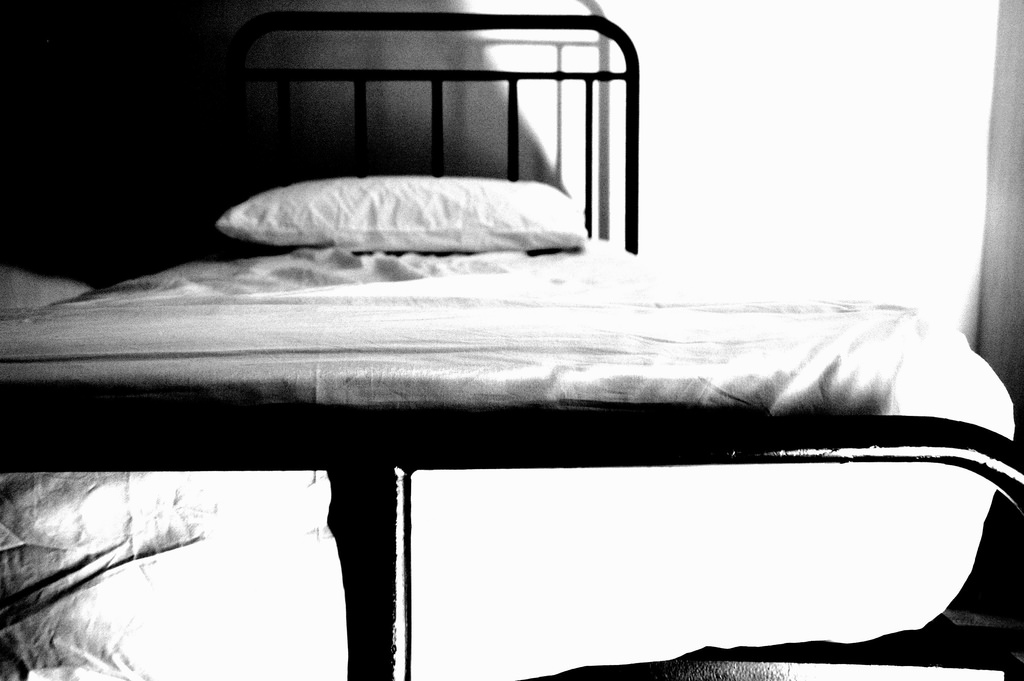 I shook my head slowly as I looked down at the patient lying under his white sheets. I could see the sweat coming off of his brow and I couldn't help but feel a little sorry for the man. I am surrounded by these people all day, every day, so you would think that after four years, I would be used to speaking with patients, but it never seems to get easier. Maybe I'm just too nice. I don't know.
"You look like you've had a rough night, Mr. Thompson. Did you get any sleep or were you up all night?" I asked the pale, skinny man.
"I think I got a few hours, but not too much. I'm feeling awful this morning and I think there is something wrong. I don't have much of an appetite and I am having a hard time remembering things from any farther back than last week or so."
"You were here last week." I replied. "Mr. Thompson, you have been here for a few months now. Do you happen to know why? Any recollection at all?"
"I – I think I might remember a little bit. Something about a car? Something about an accident, maybe?" His voice trembled as he spoke. He was able to adjust his head to turn and look at me before speaking again. "Am I even close? Was I in an accident?"
I picked up the clipboard that hung loosely over the foot of his bed. The yellow and white papers were scribbled on in what was only barely legible handwriting.
—
NAME: VINCE THOMPSON
AGE: 47
EASTON, MARYLAND
MR. THOMPSON WAS BROUGHT UNDER FEAR OF HIS MENTAL STABILITY AFTER ATTEMPTING TO MURDER HIS EX-GIRLFRIEND, FURTHER KNOWN AS MS. REDDING, WITH HIS CAR. AT APPROXIMATELY 1:03 AM, MR. THOMPSON AND MS. REDDING HAD AN ARGUMENT INVOLVING HER FIDELITY. MR. THOMPSON, IN A FIT OF WHAT MS. REDDING CALLED "BLIND RAGE", GOT INTO HIS CAR AND ATTEMPTED TO RUN HER OVER IN THE FRONT OF THE RESIDENCE THEY SHARED. AS MS. REDDING ATTEMPTED TO FLEE, MR. THOMPSON FOLLOWED IN PURSUIT, EVENTUALLY STRIKING MS. REDDING, RENDERING HER UNCONSCIOUS AND BADLY INJURED. MR. THOMPSON THEN RAN HIS VEHICLE INTO A TREE, INJURING HIMSELF IN THE PROCESS. NO ALCOHOL WAS DETECTED IN HIS SYSTEM UPON ARRIVAL OF PARAMEDICS.
MR. THOMPSON IS KEPT FOR TREATMENT OF HIS INJURIES, FOLLOWED IMMEDIATELY BY PSYCHOLOGICAL EVALUATION AND ARREST.
—
So this guy was a murderous nut-job. Great. I see a lot of ugly things here, but that is just part of the scene, I suppose. It's the norm.
"You could say you were in a type of accident." I said to him, using a napkin from his side table to help him wipe the drool that rolled from his mouth off of his cheek. "There was a car and you were in it. There was a wreck and you were involved. Tell me, is there anything else that comes to mind when you try to remember that night? Anything at all? Maybe things before the accident?"
"Ummm…" he started, "I feel like there was a girl. Is that right?
"Good job, Mr. Thompson. There was in fact a girl. Do you remember her name?"
"Oh, God no." he said. "I don't really recall anything like that. Did I know the girl? Is she ok?"
"She is." I replied. "She was hurt pretty badly though. You did a number on her. Seems she is going to be ok though, from what I can tell." I flipped through the other pages and read over the specifications of Mr. Thompsons injuries. The bastard had made it out alright besides the bump to the head and a broken leg. I lifted up his sheets to look at the leg, wrapped tightly inside of a plaster cast. "Ouch. How's that leg feeling? Any better?"
"It's not too bad, I don't think." he answered. "They said it snapped. Shit, I can tell you that it sure felt like it snapped yesterday. It is a little better though as long as I don't play with it. Not exactly ready to run a marathon on it yet, you know?
"I certainly wouldn't recommend that, in my opinion." I said, running my hand over the man's leg. "Are you feeling any pain anywhere currently?"
"Not much – just a little under the cast, but I think that is normal." he lifted his head a few inches off of the pillow to look down at his leg. "You're not gonna ask me to wiggle my toes, are you? It might make me cry." He chuckled.
"No, no." I said. "Nothing like that. But I did want to give you a little something to ease the pain. Would that be ok?"
"Of course." he replied as I began to fasten the straps on his bed snug around his arm. "Are those really necessary?" The sweat started coming from his brow even more now.
"Just a precaution. We do it for everyone." I pulled the leather padded straps tighter and tighter. "Just relax for me." I could hear his breathing get heavier as I finished his legs.
"I've changed my mind." he sputtered out, rapidly. "I don't want any meds! Please don't!"
I finished yanking the bindings and buckling him down. He struggled harder, but soon realized that it wasn't worth the energy. These restraints were made to hold the strongest of men. I peered around the room to find the clippers used to remove plaster from a patient's appendage. I found them with a large smile and began cutting the cast off of Mr. Thompson. He screamed, but I fixed that little problem with one of his own hospital socks shoved deep down his throat.
Once the cast was off, it only took one swing to snap the leg that lay flushed and damp from sweat. The noise came from right under my closed fist as I brought it down. The second swing changed its shape and made it cave with the pressure, pushing his foot forward like the leg of an ostrich. Mr. Thompson tried to holler from the pain, but the sock choked back the yells. I shook my head at him more.
"This will help the pain, Mr. Thompson." I said. "This will make all of it stop. I promise."
I shot the syringe of cleaning fluid I had brought with me for just the occasion into Mr. Thompson's neck. I could tell I got a vein since he was writhing and trying to put pressure on the entry point after I drew out the needle.
I stood there until he was dead.
I turned around and headed towards the door of his room, leaving the doctor's coat I had stolen thrown over the foot of the bed where I had found the clipboard. Now back in my standard patient's gown, I started back towards my room. Why I had chosen Mr. Thompson, I don't know. I was just trying to have a little fun and us here, in the Cheddington Institute – we all deserve to die. Every last sick one of us.
"Amanda Jensen!" called out a voice behind me. "What have I told you about leaving your room?"
"I'm sorry, nurse. I was just heading back now."
"Don't let me see you roaming the halls again. All patients have to stay in their rooms until escorted by a staff member."
"I know, ma'am." I said, turning my back to the nurse. "Only doctors can roam the halls…and I'm no doctor…"