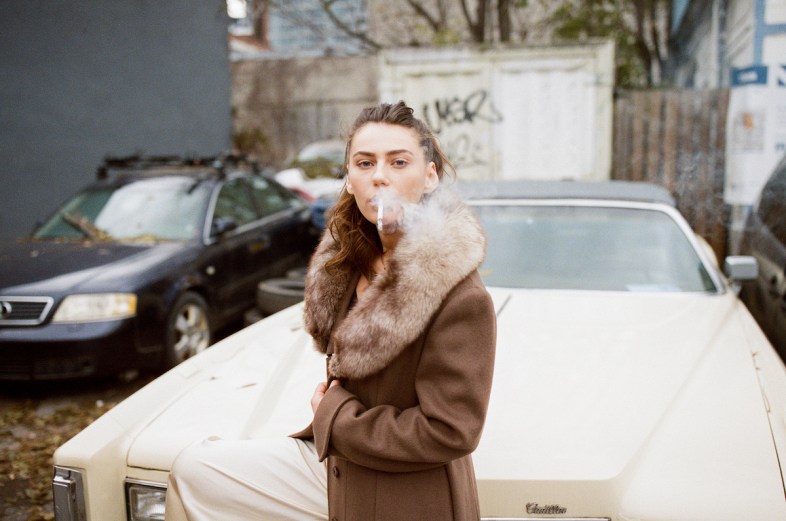 1. PLAYING HARD TO GET
"As soon as a girl would play hard to get, I would just immediately assume they were extremely high maintenance and not even bother."
---
2. TALKING. ALL. THE. TIME.
"Talking. The average woman speaks approximately 25,000 words a day. The average man speaks around 10,000 words a day. We can't keep up, and we don't want to."
---
3. HAVING US SOLVE ALL YOUR PROBLEMS
"Having me solve all their problems. I get it, I'm a man. I like being helpful every now and then, but when you can't open a can with a can opener it isn't my job to do it for you."
---
4. ALWAYS EXPECTING US TO MAKE THE FIRST MOVE
"Personally, I hate when a woman doesn't initiate any sort of sexual contact or show any kind of interest in it. They say it's because they want us to just 'go for it,' but if it doesn't look like you want it the last thing I'm gonna do is 'go for it.'"
---
5. WEARING TONS OF MAKEUP
"Ridiculous amounts of makeup. I don't expect anyone to wear makeup, and I'm more attracted to women who are confident and own their features. I want to gag when someone gives me a hug and there's crusty makeup smudges on my shoulder. Some women get mad if you ask if they're sick when they go a day without make-up and all I have to say is 'what did you expect?' When you wear glasses everyday for 2 years and then walk into the office without them, I'm going to notice. Just relax, you are beautiful the way you are. Makeup is fun and sexy at times, but I might forget what you really look like if it's constant/overdone."
---
6. THINKING YOUR PROBLEMS MAKE YOU 'QUIRKY'
"Acting like all your problems make you cute and quirky so you hold onto them, like, 'Lol I'm so reckless I bought a $900 phone, why am I so bad at finances!?'
'Omg I just at two cheesecakes after my doctor said I'm borderline diabetic, what a mess I am lol!'
Fuck off, you're not quirky, you just have bad impulse control and this is why we broke up."
---
7. TICKLING
"NO means NO when it comes to tickling."
---
8. PRETENDING YOU LIKE OUR HOBBIES
"Acting like they're 'into' your hobbies or interests. I watched my Dad marry 2 different women that 'loved hunting and fishing' too. The old man spent every free weekend in the woods or on the water. Those two women tagged along for 6-8 years thinking they were being a good wife. Eventually both of them grew to not only resent going with him, but were angry that he never took them out or did anything else. I'm not saying he was perfect, but he was the honest one in those relationships. Don't pretend, just be honest up front. My chick has zero interest in most of my hobbies and because I know that, I find other ways for us to spend time together. And I knew that from jump street so there's no resentment or anger bubbling under the surface that will culminate in an angry divorce at some point."
---
9. STEALING OUR HOODIES
"Stealing your hoodies/sweaters and not returning it.
Not cool man.
It is my hoodie."
---
10. FAKE EYEBROWS
"Sharpie eyebrows."
---
11. NOT TELLING US WHAT YOU WANT
"TELL US WHAT YOU WANT! Whether it be food, sex, material possessions, WHATEVER. This will build a list of things we KNOW you like and will allow us to surprise you with similar things in the future.
It is so damn infuriating to constantly hear 'surprise me' and then catch attitude for a week afterward when our surprise wasn't what you actually ducking wanted in the first place!
Should your partner know you well enough to surprise you with your favorite food/clothes? Yes. But only after they know what those things are."
---
12. NOT TELLING US WHAT'S BOTHERING YOU
"Trying to work out what's upset them rather than just telling us. We're not mind readers, we work best with facts. Tell us why you're pissed off, when you're pissed off and who pissed you off. That's the three salient facts we need then we can give you a constructive answer. And if it's us that's pissed you off, then tell us at the time. If I've asked you three times what the matter is and you still say 'nothing' with that shitty look on your face then I'm going to play the game too and pretend like all is well with the world and get on with what I'm doing. If you turn to me at two in the morning and shake me awake to explain that I did something to upset you don't expect a great reception. I can't be dealing with the emotional minefield you ladies like to lay out-either tell us what's upsetting you at the time or it will become invalid after 3 days!"
---
13. PLAYING DUMB
"Playing dumb and acting like it's cute to not know how to do things. I'm not a fan of that."
---
14. 'PLAYFUL' HITTING
"Physical contact. Don't hit me just because I'm a guy. It irritates me. Yes, I can take it, but do I want to? No."
---
15. DROPPING HINTS
"Hints. We are dumb. We don't pick them up. Be blunt."
---
16. HAVING NO FEMALE FRIENDS
"Being one of the guys and having no girlfriends. Anytime I hear a girl state, 'I hang out with guys because I don't get along with most girls,' I GTFO. It's a HUGE red flag.
There is a difference between a girl that makes natural friendships with guys, and the one who feels the need to belch out the statement above. The former doesn't need to state that, because frankly it's irrelevant to them. The latter is quite the opposite. In nearly all the cases when I've heard this statement, it's coming from some girl holding court with her latest circle of random dudes. She's typically loud and obnoxious, and the guys spend the entire evening cock-blocking each other, hoping for a minute of her attention."
---
17. BRAGGING ABOUT BEING 'SARCASTIC'
"After I moved back to America from many years away in Europe, I noticed a trend in all dating profiles, etc. They list being SARCASTIC in top billing like it is a highly sought-after quality in a grown woman.
I have no idea whom or what started this.
I (and we) would rather you just portrayed yourself as an adult…"
---
18. BABY TALK
"Baby talk. I want you to sound like a woman, not a child. If your man wants you to baby talk to him then in your best baby talk voice you should say, 'Bye-bye, Roy boy!'"