---
1. THREE CHILDREN VANISH FROM BEACH
"The Beaumont Children still does it for me. Three children disappear from a crowded beach and haven't been found in the 44 years since.
An interesting side note, it happened not 15 minutes walk from where the Tamam Shud body, another creepy unsolved crime someone else has already linked, was found."
---
2. SHE DISAPPEARED ON HER WAY TO THE ICE-CREAM TRUCK
"Mikelle Biggs. On a busy street, in the middle of the day, within a block of her house, vanished on her way to the ice-cream truck.
They found her quarters and her bike.
We were the same age and lived in the same neighborhood. The ice cream truck didn't come around for a few years.
I think about her every few months…wishing that they would find her. Our neighborhood was covered in yellow ribbons that slowly tattered and fell away. But I haven't forgotten her."
---
3. THE LOST BOYS
"Happened in my hometown back in 1995. 6 teenaged guys went for a drunken joyride out on Lake Ontario with a boat they stole and were never seen again. The only piece of evidence ever found was a gas can from the boat they took. Other than that there have never been any bodies found, or the boat or anything else. The search for them was extensive, spanning from the U.S. boarder up to areas in Northern Ontario and it turned up nothing. It's been the biggest mystery in our town ever since."
---
4. BOY ABDUCTED BY A MAN WITH BLACK PANTYHOSE ON HIS FACE
"The Disappearance of Jacob Wetterling in 1989. Jacob 11, his brother Trevor 10 and his best friend Aaron 11 leave the Wetterling house to go get a movie after calling Wetterling parents for permission. Parents were about 30 minutes away, this was the first time the boys were allowed out in the dark by themselves. They make it to the store which is about 20 minutes away but on the way back, a man steps out of a dirt driveway with black pantyhose on his face holds up a gun and tells boys to lay in ditch. One by one he asks their ages then dismisses Aaron & Trevor and tells them to 'run to the woods and don't look back or I'll shoot.' Jacob Wetterling has never been seen again.
Interesting to note that there is only one way in and out of this neighborhood and at the time, very few homes. Also, no cars passed the boys on their trip. The owner of the dirt driveway was a 34-year-old teacher who lived (and still lives) with his parents on a huge farm. His parents happened to be on vacation during the abduction. Many years later this man is named POI after a search of the property yields a trunk with blood and other items that a cadaver dog hit upon. Law enforcement also found a journal detailing the events surrounding the kidnapping, newspaper articles and videos of the news regarding same. They state that they are still holding items until technology advances enough for further testing. The Wetterlings have to drive by the abduction site every time they leave and come back to their home as it is still a one way in and out situation. So creepy."
---
5. A YEAR LATER, A POLAROID WAS FOUND OF HER BOUND AND GAGGED
"The disappearance of Tara Calico of Belen, New Mexico.
Calico, aged 19, went missing on September 20, 1988. She went out on her usual bike ride in the morning but did not return by noon, so her mom called the police. Found on her path was her Walkman radio and cassette tapes. Witnesses reported a Ford pickup truck following her, but none were identified.
The following year, (1989) this Polaroid of an unidentified young girl and boy, both bound and gagged, were found in the parking lot of a convenience store in Port St. Joe, Florida. The photo was believed to be of Calico and Michael Henley. Henley went missing from NM around the same time as Calico. However, Henley's body was found in the Zuni Mountains of New Mexico, not far from where he disappeared.
The picture is thought to be of Calico because it features her favorite book and the girl in the photo had the same scar that Calico has."
---
6. GIRL GOES MISSING DURING A CRUISE WITH HER FAMILY
"Disappearance of Amy Lynn Bradley.
Basically, a girl goes missing during a cruise with her family in 1998. A year later, a guy reported being approached by her at a brothel. She told him her name is Amy Bradley and asked him to help her. Before he could do anything, she was escorted upstairs. That guy ended up reporting this to the police… Several months later. By the time he reported it, the brothel had been burned down.
To make things worse, this picture (NSFW) had been emailed to her parents…"
---
7. INHABITANTS OF AN ENTIRE BOAT GO MISSING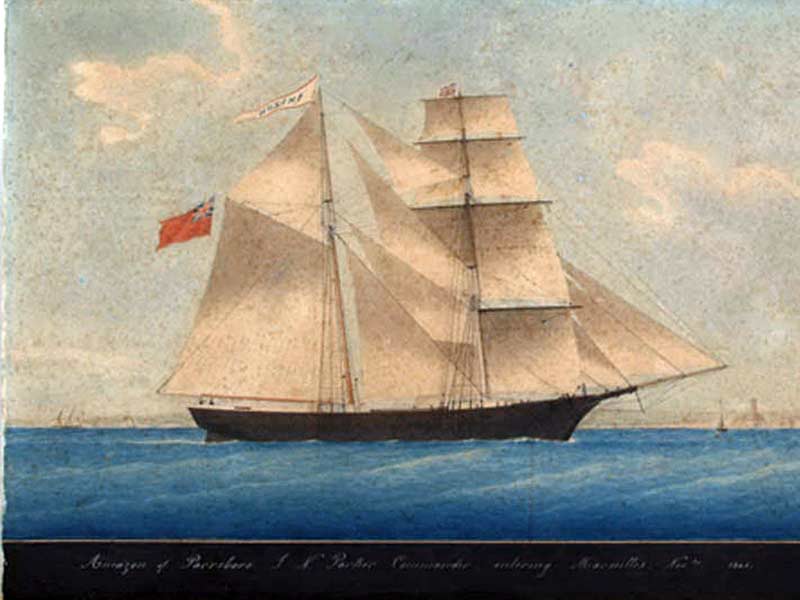 "The Mary Celeste. Being raised on a sailboat, there were always ghosts stories told about the mysterious Mary Celeste.
So the story is, back in the 1800's, a British supply ship departed from New York en route to Europe. They had full stores on board, enough to last them over six months. The ship, however, was found adrift off the shores of Nova Scotia with not a soul on board. Everyone's belongings were untouched and all the cargo was still accounted for. Nobody on board was ever seen or heard from again."
---
8. SHE HAD AN ACCIDENT, THEN DISAPPEARED WITH HER CREDIT CARDS AND PHONE
"Maura Murray disappeared the evening of February 9, 2004 after crashing her car on Route 112 in Haverhill, New Hampshire. She was in college, emailed professors she had to go home due to a family emergency (false), packed her bags and left. She withdrew $280 from an ATM. She then bought $40 worth of alcohol. She got into a car accident at approx 7:30, someone pulled over and offered to call the police. She refused and asked them not to. The witness drove home and called the police. By the time they arrived she was gone, and all her belongings were left in the car except her debit card, credit card, and cell phone none of which have ever been used or found."
---
9. HE LEFT BEHIND EVERYTHING, EVEN HIS SHOES
"The disappearance of Michael Negrete is creepy to me because it hits close to home. I know people who were hanging out with him the night he disappeared, and they refuse to talk about it now after having to answer questions from the authorities for months.
At 4:00 AM on December 10, 1999, an 18-year-old UCLA freshman named Michael Negrete logged off his computer after playing video games with his friends all night. At 9:00 AM, Michael's roommate woke up and noticed that he was gone, but had left behind all his possessions, including his keys, wallet, and shoes. He was never seen again."
---
10. SHE WENT MISSING AT NINE MONTHS PREGNANT
She was a 12-year-old that went missing at 9 months pregnant. Her Aunt ran this cult and she lived in a house with 15 other relatives. She was home-schooled and her life tightly controlled. The Aunt was abusive and very controlling.
No one knows who the Dad is, her OB/GYN said she never named that Dad but mentioned that her BF was 16…
The kicker is she and the baby are probably dead because there she has a decent inheritance from her Mother's death but no one has claimed it."