---
1. CREEPY FACE
"This creepy face in between my great-grandparents' heads."
---
2. TWO EYES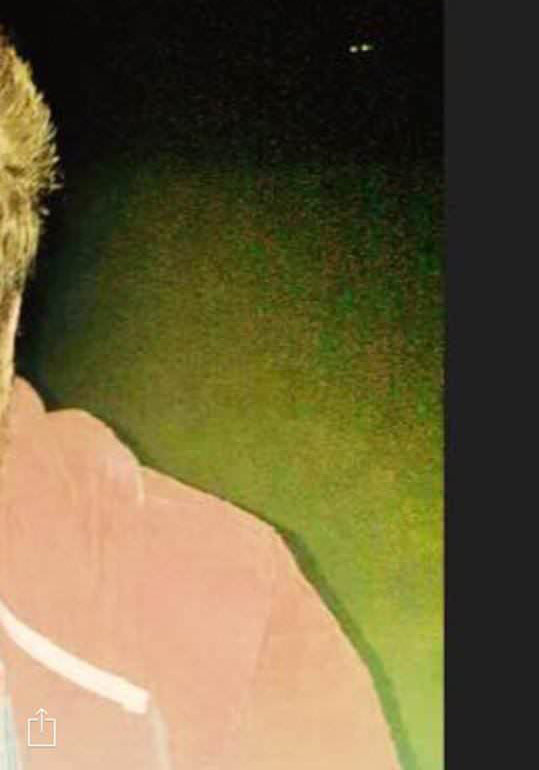 "My friend lives on Portland (a small island off the southern coast of England), and there's a creepy area called the Grove where loads of weird things have supposedly happened. She was there one night with her friends just messing around, and took this picture. She has no idea what it could be—there were no trees that high up, nothing around for a while apart from an old quarry. What freaks us out is you can see the outline of a person matching the eyes."
---
3. THE PHANTOM PREACHER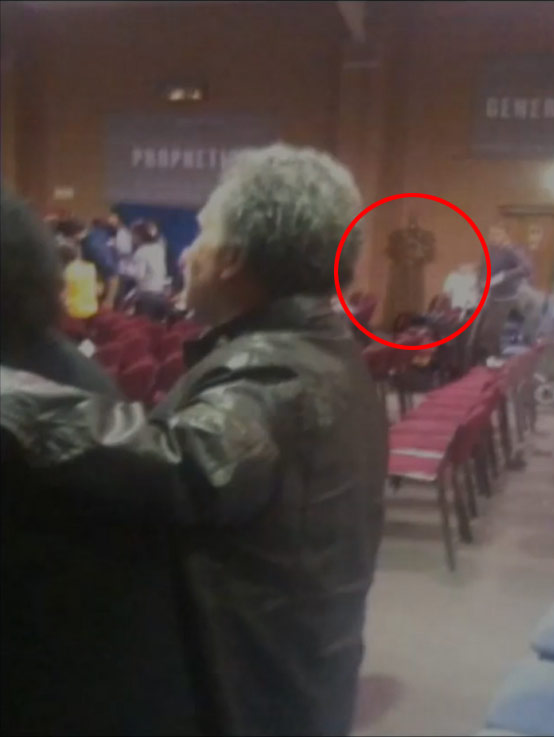 "This…was taken at my church around 2008…figure was invisible to the naked eye."
---
4. THE FIGURE LOOKING AT THE CAMERA

"An image caught in my former apartment in the upper floors of a centennial house on a cheap digital camera using timer shot on my PC, while I was at work in 2006. I was living alone at the time, second floor apartment, and this is NOT my landlord. Nothing stolen, nothing disturbed, all doors and windows locked and intact. The thing that really creeps me out about this picture (aside from the image) is that it's the only one of a time lapse (from, yes, a very shitty camera) that was set to take a photo once every minute (if I remember correctly). The camera was somewhat hidden—it didn't have a 'shutter sound,' and yet the figure appears to be looking directly at the computer desk, where the camera was hidden, the very moment it was taken."
---
5. WEIRD SILHOUETTE IN THE DOOR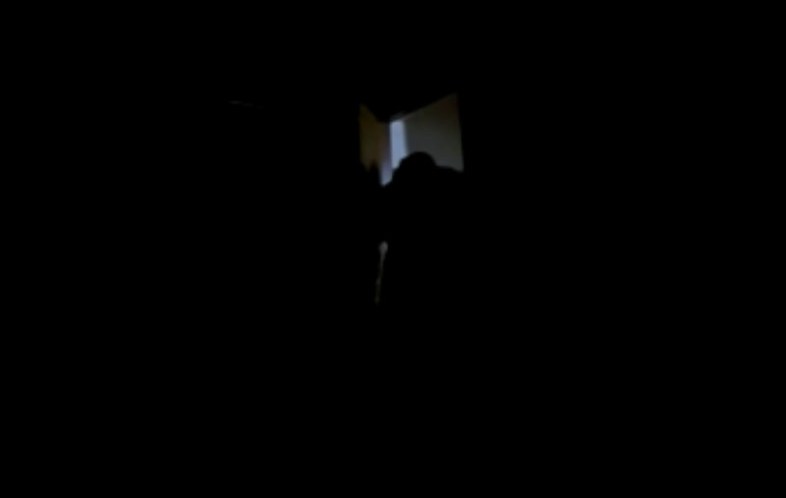 "I converted an old Android phone into a IP security cam that starts recording and send me an email on motion. Set it up before going out of town. One night I got a 'motion detected' email at 3 AM. In the morning I went through the video, recording somehow got jammed and it shows a single frame of a weird silhouette standing in front of the door, with the door open (I left it close, and it was closed when I got back home)."
---
6. GHOST IN THE SANATORIUM

"Took this picture in room 502 of Waverly Hills Sanatorium while on a tour of the facility during the evening. The picture was completely black due to lack of light, but this showed up when I cranked up the brightness and contrast. I took hundreds of pictures that night, but this was the only one with anything of note. Pareidolia?"
---
7. HESSDAL PHENOMENON
"Heard of the Hessdalsphenomenon? Here's a wiki article. I recorded this in 2007. It's a natural phenomenon occurring in Hessdalen, Norway. Every now and then, these light orbs will float through the valley before disappearing. Scientists have been trying to figure this one out for many decades but still don't have a clear answer as to what it is.
My middle school was picked to assist some college students and their professor in their research on this thing in order to 'promote science' or something, and I was one of the students who volunteered. I got the role of cameraman and ended up recording the footage. It's been in documentaries that have been shown on Scandinavian television, as well as in the UK and North America.
Please excuse my nerdgasm, I was 15."
---
8. SHADOW GIRLS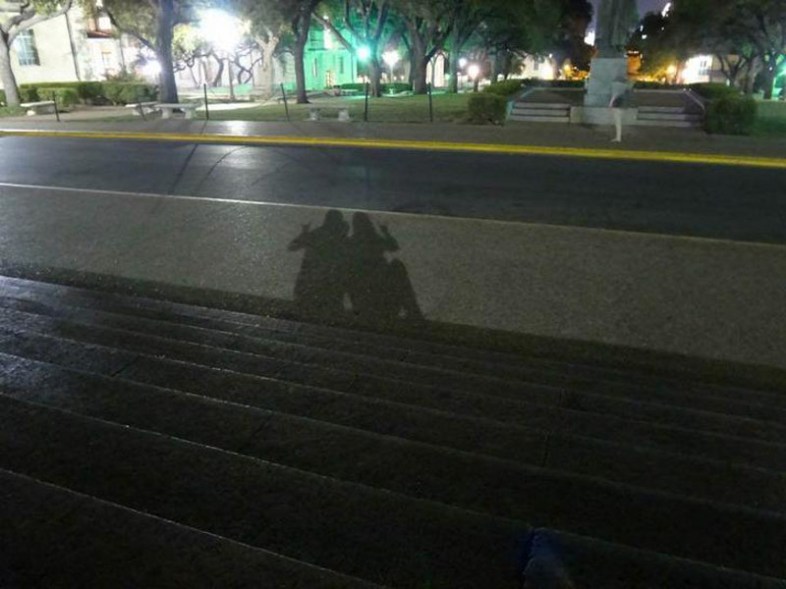 "Was walking around The University of Texas campus my freshman year there (2011), snapping random pictures with my new camera. Looked at the pic and ran away scared. There was no one around except me and my friend. This photo has given me chills ever since.
Photo was taken in front of the tower.
Hook 'em!"
---
9. STRANGE WHITE OBJECT
"I pulled up some carpet at the apartment I grew up in Queens, NY because I knew there was perfectly good wood floor under it. After putting the room back together I noticed a dark stain that kind of looked like a body. Almost like a body was left there for a long time and stained the floor so I snapped this pic. Sorry for the quality; it was taken 2008ish on a Blackberry Bold. The white object is what is strange or 'unexplained' about the pic, not the stain."
---
10. GHOST IN THE AQUARIUM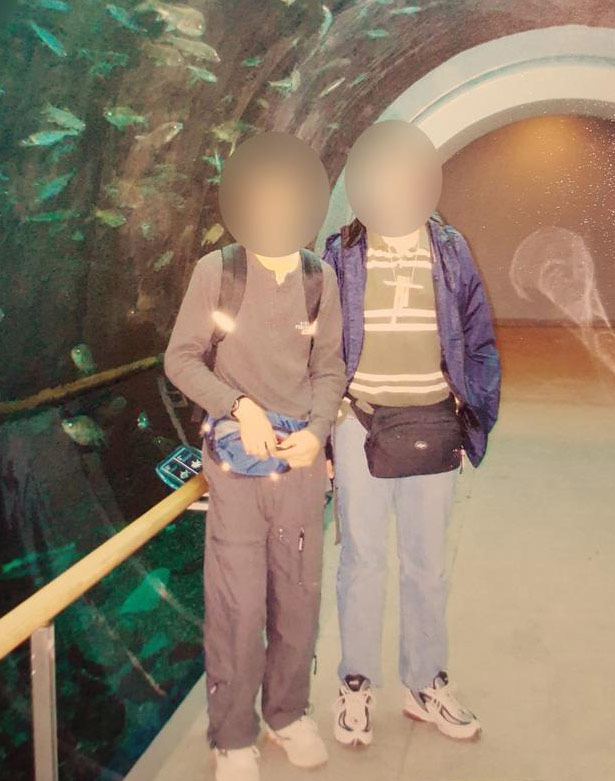 "When I was in Japan for a mini-exchange program trip, we went to an aquarium and I, of course, being a nerd who love museums took a ton of pictures. I got a picture taken of me with my Japanese counterpart and in the picture is this fully formed image of the face that kind of reminded me of a really old man with a long, thin neck winding off to the right side of the camera. It's blue and partially transparent but really well formed."
---
11. THE 'HAG' OF PHILADELPHIA
"I didn't take these photos, but one of the guys who was with me did—he showed them to me when they were still on his camera, and they were taken maybe a few minutes apart at most. It was on a ghost tour through Old City, Philadelphia where a 'Hag' is supposedly seen. I've been trying to figure out what could have caused the shadow for a while."
---
12. GHOST IN THE HALLWAY
"A few years back I was on my own walking around my house using my phone. For whatever reason I accidentally used burst camera (where it takes like ten photos at once) while I was walking across the hallway.
In a couple of the photos you can see a weird dark figure stood at the other end. I had no idea. Not until I saw them in my gallery a few days later."
---
13. DOGS OVER A WORMHOLE
"Just walking along the creek with the dogs…"
---
14. ANOTHER REASON NOT TO DRINK
"Woke up from a night of drinking to this picture in my phone. Not sure what the hell that thing is."
---
15. GHOST DURING THE GHOST TOUR
"Photo taken on a ghost tour of Bobbie Mackey's. This was not visible to the eye. Other pictures of the same room show nothing."
---
16. PHANTOM FOOTPRINTS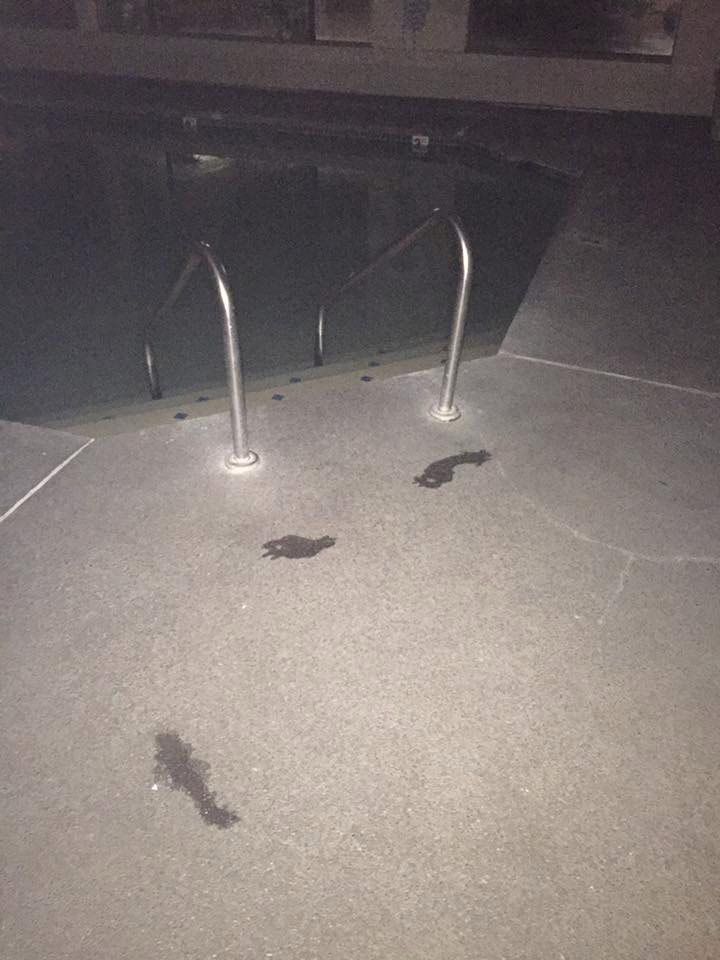 "I worked for a company that provides patrol services in Portland, Oregon. Since I've recently left that company I've decided to share some stories from my time working there. In between responding to calls for service, we would provide 'lockup' services for clients. That means we would show up and lock the offices, gates, pools, or whatever they wanted locked.
On this particular night, I had been on the job for only a few months. I was in a very affluent area called Lake Oswego performing a property patrol of one of the many apartment complexes there. Well, this specific apartment has a pool house that they like us to lock up after 1 AM.
It was about 12:45 so I decided to lock it up early since I was leaving the area after this patrol. I go inside and sweep the pool house. It looks like it does every day. Nothing particularly out of the ordinary. I had always gotten creepy vibes inside of that pool house, though. I never felt as if I was alone and I'd always encounter cold spots. My supervisor reported having the same issue on several occasions. Anyhow, everything looks business as usual. There is no water outside of the tub, no spare towels left lying around, the chairs and tables are all in order. I go check the side door and find it secured.
I go back to secure the main door and as I'm doing so I hear the water move. I then heard two quick footsteps (like wet socks squish when you walk in them), and felt something tap my shoulder.
I jumped and turned around, with the crap scared out of me because I thought I was alone, and there was nobody there. All I saw were two fresh prints of bare feet on the concrete floor.
Throughout the following months I told my story to residents and showed them the pictures. I had a few that reported similar instances of things happening to them. One resident said that on one occasion he was drying off after getting out of the hot tub on a late night. He was alone in the pool house when suddenly there was a huge splash in the pool as if somebody had just jumped in the pool. But he was alone and had no idea what caused it.
I never personally had any issues after that besides the feeling of being watched and cold spots in the pool house. Definitely one of the spookiest things to ever happen to me."
---
17. GLOWING EYES IN THE BUSHES
"I took this picture in Waukesha, WI back in January of 2013 on the day of my dad's funeral. On our way to the church we drove down this street full of Victorian houses and I was snapping a few shots of them. I was looking at the pics later on that night and noticed something weird about this one. At first glance it's just a pretty house, but look closer in the bushes by the window. You can see what looks like glowing red eyes."