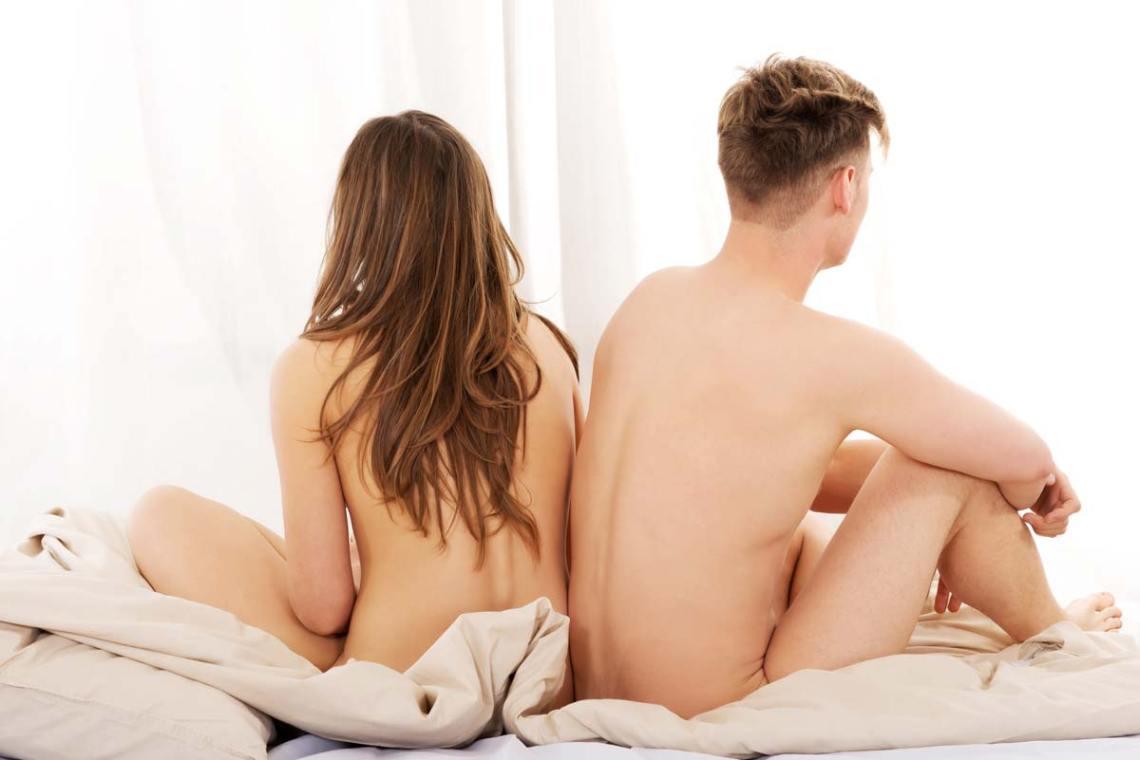 At some point, sex became a chore for her. Not to sound stereotypical, but that point seemed to be right around the time that ring hit her finger. I'm divorced.
We're not together anymore but man, it made me feel really guilty. She didn't really tell me for a while, and when she did it made me feel like a fucking perv. She bottled it up, never actually telling me she didn't really like sex, then when it came out, she made me sound like a goddamn rapist.
My ex had a very low libido (once every few weeks) while I had a regular to high libido (once every week would have been acceptable).
It was this stream of constant rejection that left me feeling insecure and unsettled. The worst thing that happened was, one afternoon, we had sex—it had been about two weeks—and I just broke into tears afterwards. I couldn't understand why he didn't want me like that more often.
Don't mean to sound rapey, but when I was with my ex whenever I wanted to have sex, I would just go for it. Even if she wasn't in the mood, I made her get in the mood. The only times I didn't get laid was when I wasn't feeling it, or she was on her period. Eventually I just got bored of her because I could get some whenever I wanted.
I am the partner with higher libido. It's absolutely destroying my self-esteem. It's become difficult to masturbate as I can't seem to shake the feelings of rejection and I'm becoming disgusted with myself. My partner has started masturbating and viewing pornography when I'm not available which has only furthered the issue. I've been seeking release elsewhere but feel so guilty about my thoughts of infidelity and so disgusted by the idea of being naked with another person that I haven't been able to go through with it.
It has ruined my life and my confidence. I have no idea what to do…
My husband has a pretty normal sex drive, I guess. Mine is very, very low. I could have sex once a year and be fine. Thankfully, he's very understanding about it, and he'll ask for stuff like blowjobs and handjobs and rimjobs and stuff, and I'll happily do that to help him get off and then I don't have to have sex when I'm not feeling it.
I've started talking to him about the fact that I'd be cool with him having a sexual relationship with another woman, because I don't want him to feel like he's missing out on anything. As it is right now though, he says he's satisfied with the way things are.
I'm on antidepressants that have pretty much destroyed my sex drive. Overall, I'm not too upset about it because I can live life without the constant effects of depression.
But I just got out of a long-term relationship where my boyfriend had a really high sex drive. I felt really bad that I couldn't muster up the energy or desire to have sex. I would still do it, but I felt bad that my brain wouldn't let me enjoy it or want it.
I have almost no libido due to depression meds so I just give him blowjobs all the time.
My girlfriend doesn't have that high of a libido and rarely initiates sex. But she doesn't decline sex when I'm in the mood, ever. Asked her about it and she said that's just something that she doesn't want to do and that she enjoys the intimacy and love we share even if she's not feeling like it or doesn't get an orgasm.
I have a really low libido. I was also sexually abused as a child so I have a lot of hangups about sex. My bf and I have been together 4 years, and we used to have sex all the time, but for some reason I just don't want it anymore. In fact, sex makes me downright uncomfortable a lot of the time, and when he initiates I immediately feel threatened. I get anxious and scared and I don't know why because this was never a problem before and he's never hurt me or anything. I carry a lot of guilt over it because, even though we've talked about it, it still makes him feel unwanted, unloved, etc., so I try to give in as much as I can. Sometimes I really enjoy sex, sometimes I even initiate, but his sex drive is much higher than mine and for some reason him initiating just turns me right off 99% of the time.
I'm with someone who will accept all kinds of foreplay but refuse to reciprocate, and when fucking just kind of lays there panting a little in pleasure. And I've had more than my fair share of sexual partners who have thoroughly enjoyed the experience so I know I'm not atrocious, I've had sex for 6 hours straight before and it felt like at most 2 hours. But now it just seems boring and forced and 30 minutes seems like forever, I've nearly given up sex. If she wasn't such a fucking wonderful person in most other areas I wouldn't know what to do but in the bedroom it's almost worthless.
Yeah. I have the high libido and my boyfriend doesn't. I worry that he thinks that I only want him for sex. I feel like when I ask him, he's just obliging me. It took us 2 years to lose our virginities to each other, not for my lack of trying.
Before we screwed for the first time, I started getting really weird dreams like him making me wait until marriage then making excuses for the night and the next day until I sat on the ground and cried. Oh god I'm so glad we finally fucked so those dreams stopped.
I've been with my significant other for 9 years, we're unmarried, have lived with each other 7 years with 2 children. I'm 32, she is 28.
I have a high libido; she does not. When we were 'courting' we had sex regularly and notably more frequently when we drank. In the early part of our relationship however alcohol became an issue in how we communicated with each other, so we stopped excessive use. From time to time we still drink together; we basically just stopped getting shitfaced all the time. It was a healthy decision for us both.
For the last several years I've been without consistency in our sexual relationship; she doesn't seem to have issue with it and I have on more than one occasion made apparent my frustration; it's even edged on distress and even distrust. When talking about the issue she's made it clear that she just doesn't have the drive to and while I believe her, I admit I'm skeptical sometimes. She does not put the moves on me, nor initiate intimacy. I might get a butt pinch from time to time though it never leads anywhere, particularly within the last year I've felt very sad and quite lonely. I'm at odds with myself over the issue because I love her. I used to be very flirty with her and constantly tried, it used to be I would just flirt with her, then it turned into pestering, and after asking a couple times and being downright rejected I myself have started to lose interest in trying. Since early this last fall I have practically stopped all attempts due in part to always being rejected; largely just feeling like I'm no longer attractive to her. The last time we had sex was last year, October-ish maybe…
We've been married 7 years, and she has a much higher sex drive than I do. We've never clashed over it, but it used to embarrass me all the time.
It doesn't any more. We still have sex, the sex is great, and I try to focus on her needs as much as possible when we are both in the mood. When I don't want it, and she does, I like to tease her a bit. Kisses where they don't normally go, hands rubbing just a bit too close to certain areas.
At this point, it's become part of our sex life. We both like to change between dominant and submissive roles (nothing extremely kinky, just who is going to be fucking/teasing who). Sometimes I tease her so hard that I get turned on by it and have to fuck her.
She does it back to me when I'm horny and it's a rare occasion when she isn't. Or sometimes just to pay me back. Instead of being upset about the frequency, we've turned the downtime in to a bit of a game to see how hard we can rile each other up before one of us gives in.
We also both understand that sometimes we just have to masturbate. Can't always get what you want. We help each other masturbate, but neither of us gets offended if the other has to go rub one out. People have needs.
Honestly, when we first started dating I had a high sex drive and he didn't and sex was a bit of a learning curve for us. It used to really get on my nerves but due to birth control changes I have a low libido now and I'm much more empathetic. I talk to him openly about how I feel and tell him if there's ever any problems to talk about it. Communication is key, and it's how we've managed through both our highs and lows.
High-libido male here married to a low-libido female. Let me do a little back story here. When my wife I first started having sex it was very often and long. We would have sex 1 to 3 times per day and on weekend we would have several hour sessions. After 3 months of constant sex she decided to get some birth control and got a 3-month injection. This was the end of our normal sex life. She had a hard time getting wet enough for sex…to me it was uncomfortable. A few months of this and she developed vaginismus and vestibulitis. Vaginismus is the uncontrolled tightening of the vaginal wall so bad that any penetration can be impossible. Vestibulitis is the increased sensitivity of the vaginal opening. These two conditions made sex nearly impossible. We had sex 2 to 3 times per year, usually after an argument about sex frequency. We both felt like shit, me for asking her for not being able. These conditions went undiagnosed for 5 years, when I finally found out about the condition and showed my wife. She was diagnosed and got therapy on how to consciously relax her vaginal wall and lots and lots of lube to not irritate her. Since the therapy we have sex maybe once every 3 to 8 weeks, mostly with the use of a Hitachi magic wand. When she is not in the mood there is nothing that can change it but sometimes she will be in the mood just to masturbate and sometimes this turns into more.
I think the worse it got was when my wife started asking if we could do a threesome so I could enjoy sex or discussed maybe getting divorced. Her logic was to satisfy me and my sex drive, I turned her down on both accounts. To this day we have sex maybe 8 to 10 times per year but I would never leave her or stray from her. As more times goes on we are learning more and more how to deal with her condition.
Lost a 5-year relationship partly because of her lack of sex drive. I have a high libido (sex every day? Yes please, I'm up to try anything) and I'm very affectionate, so naturally I like being physical, touching, and kissing a lot (in a non-sexual way) when in private. It eventually got so bad that any sign of affection was just turned down, because if she reciprocated she thought I'd try and turn it into sex, hell we only had sex maybe 10 times the last two years of our relationship and it was pretty terrible, she was just not into it and never had fun with it.
I actually developed a pretty harsh depression because of it, I felt wrong for being sexually attracted to my girlfriend, (seriously it sounds so crazy years later) and she just didn't care about that side of our relationship at all. She would accuse me of treating her like a piece of meat, and would manipulate situations like that to stop my advances. A guy can't survive on the occasional disinterested handy every week or so!
I now won't let myself get into a relationship that isn't fulfilling both mentally AND sexually. She was a really nice person, smart, and hilarious but it turns out that wasn't enough to satisfy me if she just wanted no part in a sexual relationship. A great learning experience but a strong caution for my future relationships as well.
I'm dating a redhead that wants sex 24/7. Even when we cuddle to go to sleep she's trying to hold my dick like a teddy bear or some shit. Of we see not having sex, wants to blow me.
I'm almost never interested in sex. Not even cuddling. Started feeling this way two years ago. I'm 27, and I feel like something is wrong with me….
I love my gf, and plan on spending the rest of my life with her, I just have very little interest in sex. Thinking back, even growing up had little interest. I remember the first time I has sex I thought, "Oh, this is what all the fuss is about? Eh."
My ex-wife had such a low libido she almost seemed asexual. The constant string of rejections over the course of years messed my self-esteem up big time, to the point that it took me a couple of years and about 10 different girls after our divorce to realize that I wasn't just bad at sex. When you can count the number of times you and your spouse have sex in a year on one hand, that's a problem, I think. At least it was for me. Unfortunately it isn't one I handled well. I eventually cheated, and got caught, and got divorced.
But at least I did learn a few things. The importance of sexual compatibility, communication, and honesty.
Female here with a low libido. My last two relationships actually ended when they kept pushing and pushing me for sex and both times I sort of snapped and broke it off there and then. There are other reasons of course but it made me feel like nothing but a piece of meat for their pleasure. There had been heaps of times where they would just push and push and I would give in just so they would leave me alone and, like a bitch that I was, I faked my end of the orgasm. Just so they could leave me alone. Call me anything you want but they literally would never leave me alone unless I gave in. My current SO is such a sweetheart, he understands my low libido and we've talked a lot about it and tried a lot of things to get things going. I've had A LOT of stresses recently and every time I seem to be going again something comes up and it's just the last thing on my mind. I do feel very guilty sometimes, but doesn't push me and he even has those sleeve-like masturbator things you can buy. I don't care if he masturbates, its healthy and won't drive him insane :) He's always willing if I initiate and sometimes we just end up having a moment randomly. I'm just happy he isn't pushing…
One of the loves of my life ended because of this.
She was never particularly aggressive or even assertive in the bedroom. But at the beginning of our relationship, I didn't really notice/care as it was all new to me and I was glad to be making all the effort and initiating sex.
Eventually, the realization that we would never be having sex unless I initiated it left me feeling very unhappy. I don't want obligated sex. I don't want one-sided sex all the time. Don't get me wrong, she seemed to enjoy it at the time. And she'd even oblige 90% of the time so it wasn't a matter of flat-out rejection. There was no negativity about the act—it was just something that she seemed to be able to take or leave rather than an important part of a healthy relationship.
We talked about it. Many times. And sometimes it'd change for a week or 2. But eventually it became a sore topic. It was the elephant in the room and bringing it up meant risking opening old wounds.
In the end I felt I had a choice—either move on (away from this relationship) or find a way to be ok with it. Not wanting to end our relationship (because I truly loved so much about her) I gave "being ok with" a shot. That didn't last more than a few months and I felt the tension growing again. I didn't want resentment.
Ultimately, I made the choice to end it. It seemed to be making both of us unhappy. It was the toughest relationship decision I'd made. But I felt I was out of other options and didn't want her or me to be unhappy anymore.
Now, sexual chemistry is something I pay closer attention to at the beginning of a relationship.
People can learn and grow together…but this is how I look at it:
It's like your favorite food. You love it. You could eat it anytime. You want it regularly. Having it makes you happy. Sharing it with someone else makes it all that much better—seeing them also love this thing you love. Someone making this food for you and bringing it to you to enjoy together is as good as it gets!
But your new partner doesn't like that food. Just doesn't like the taste. Gave it a try. Wanted to like it. Heck, even pretended to like it a few times just because she knew how much you like it. Maybe even grew to tolerate it a bit and got to the point where she'd eat it if you put it in front of her. But there was none of the interest/passion/feelings that you had about it so it was really a bit hollow. She's not going to prepare it for you. And she knows and feels bad about the fact that you aren't getting to eat it as much as you would like.
You can't make someone like a certain food.
My relationship to my girlfriend is of this category. We are of different ages, I am 34, she is 27. I came from a sexually abusive background as a child and it had a dampening affect on my sex drive the older I have gotten. She has the sex drive of a cougar who hasn't had sex in a decade.
It is difficult, there have been times in our relationship where she thought I was seeing someone else or I had lost interest in her. It took some serious heart-to-heart talks in order for us to be happy and stable.
What does it feel like? Well, for me it can be stressful. It's somewhat like waking up in the morning, really tired and your cat is meowing for food and you just don't feel like getting up and feeding it. The whole time you feel really guilty and will encompass all of your thoughts until you get up and do it. When it comes to her and getting in the mood, she is now aware of what is going on and takes the time to warm me up. Lots of 4play and kissing. This will slowly but surely get my sex drive up and running.
It has been a rough journey and has caused ups and downs, but they key to our relationship has been communication and a strong love.
My SO and I have been together for 3 years, and her sex drive is lower than mine. She would traditionally turn me down almost every time I would try to initiate sex. Each time we would have sex, she would want things done her way, and would stop me if I tried anything different. I tried to talk to her about it, and even though she acknowledges that there is a discrepancy, she hasn't tried to change her behavior.
At first, I was really disappointed; I don't want sex to be a routine, where we only do one position in the exact way every single time. So I started masturbating more. She got angry that I would look at porn, but there's no fun in the sex we have—even if it is a rare occurrence. I still look at porn and masturbate; we now have a kind of "don't ask, don't tell" masturbation protocol, where she doesn't ask me if I have been masturbating, and I don't tell her if I have.
Lately, I have been getting into better shape, and I'm now at a weight near what I was when I was in high school athletics. She has gained almost as much weight as I have lost. We don't have sex anymore; I couldn't even tell you the last time we had sex. I was surprised when she started coming on to me a few days ago, but I didn't want to have sex with her. She told me that she didn't understand why I didn't want to have sex… I'm a guy, I should always be ready. I just told her that the combination of constantly being told "no." as well as the routine of sex being so dull, that I wasn't up for it. I am sure that it hurt her feelings, but that is how I feel. I had addressed my issues with her plenty of times, but now that she wants to have sex and gets rejected, the situation is unbelievable.
She only experienced once what I experienced multiple times per week, for years. Sometimes after being told "no" for so long, people just find other ways to scratch the itch. I masturbate. It doesn't hurt anyone, and it feels a hell of a lot better, and there's tons of variety.
My girlfriend has a pretty weak libido, but she knows that sex is important to me on an emotional level as well, so she reciprocates even when she's not in the mood (unless she's in a particularly bad mood). Initially, when she didn't understand how important it's to me, she used to tell me to go masturbate whenever she wasn't in the mood, but now she understands, she doesn't do it anymore.
I was raped when I was a young teenager, and it left me with some intimacy issues. When I started my first relationship after my rape with my new boyfriend (now an ex-boyfriend), I told him upfront about my issues, and he assured me he would be patient and understanding.
That didn't last for long. My libido was very low, and sex was emotionally taxing. When he would attempt to initiate sex, I'd decline probably 70% of the time. He grew increasingly frustrated with me, to the point where we would get in a screaming yelling fight whenever I declined sex.
This made me feel pressured to say yes every time he asked, which just exasperated my pre-existing issues since I didn't feel like I had a choice. He'd constantly tell me how abnormal I was for not wanting sex all the time and that I was a terrible person for "denying him in his prime." Usually, at the end of his yelling and berating, I'd have sex with him just to get him to stop screaming at me, and he'd get even more angry because I "wasn't wet enough."
It was really, really awful. I know that it was wrong of me to deny him as often as I did, but I can't help but think the way he handled rejection was wrong.
I do not experience vaginal orgasms and I have a really low libido. I honestly don't ever just randomly get horny more than maybe once a month. When I was a teenager I was horny all the time, but once I hit like 20-21 it just stopped. I really even masturbate. I just don't think or care about sex/orgasms.
My past LTR this was a HUGE issue. Sex was borderline rape with my first long time ex. He'd whine like a 2-year-old if I didn't jump on his dick at least once a day. He'd manipulate me into having sex every time we saw each other. I remember once being so tired and not in the mood I literally fell asleep while giving him head.
The second guy wasn't as pushy but he still wanted sex daily. If I really didn't feel like it we would do a lot of "blowjob for back massage" trade offs. Still sex can be great and intimate for me but rubbing crotches once a day got old and it got to the point where I'd just daydream through it or watch TV or something.
My current s/o has a very physically tiring job and back problems. So we only have sex probably 3-5 times a month. This works out for me a lot more because even though I still don't enjoy physical penetration or crave clitoral orgasms it's still nice to be intimate those few times a month.
My current partner and I have super different drives.
For example: I (female) want him all the time.
When we first started dating we were all over each other, he masturbates all the time but doesn't like having sex anymore. It could be due to my being pregnant, but he is constantly telling me about how "he's just not in the mood" and then he just jerks off at night.
It makes me feel like I'm not good enough or like I can't please him. So my self-esteem is tanking. But ya, that's my story.