The amount of diversity around the globe never fails to overwhelm me in a good way. And one of the positive realities of our information age is being exposed to that diversity at the tip of a finger. Recently I got exposed to some beautiful pictures of an Afro-Iranian community. With permission from the photographer, some of those pictures are shown below. Additionally, I wanted to find out more from the man behind the camera,
Mahdi Ehsaei
, and get to know his interest in photographing this particular little-known community. You can order Mahdi's Afro-Iran collection 
here
.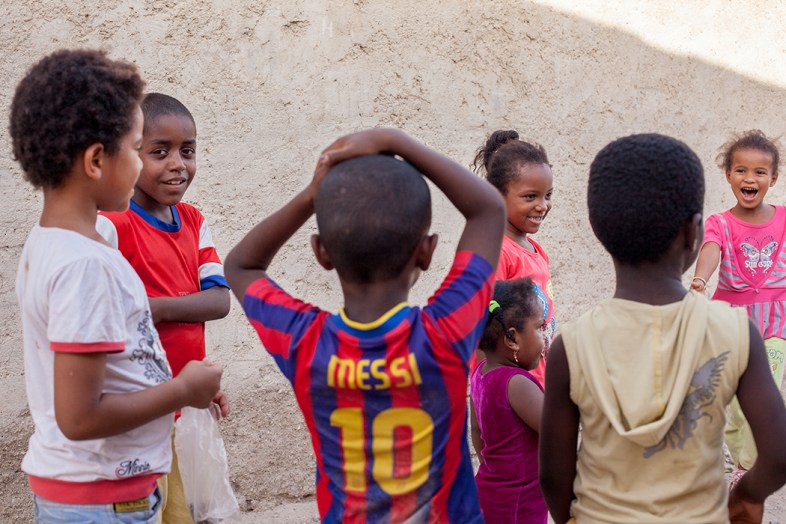 A group of children playing in a narrow alley, which was built to cast shadows due to the nearly constant high temperatures in Bandar Abbas.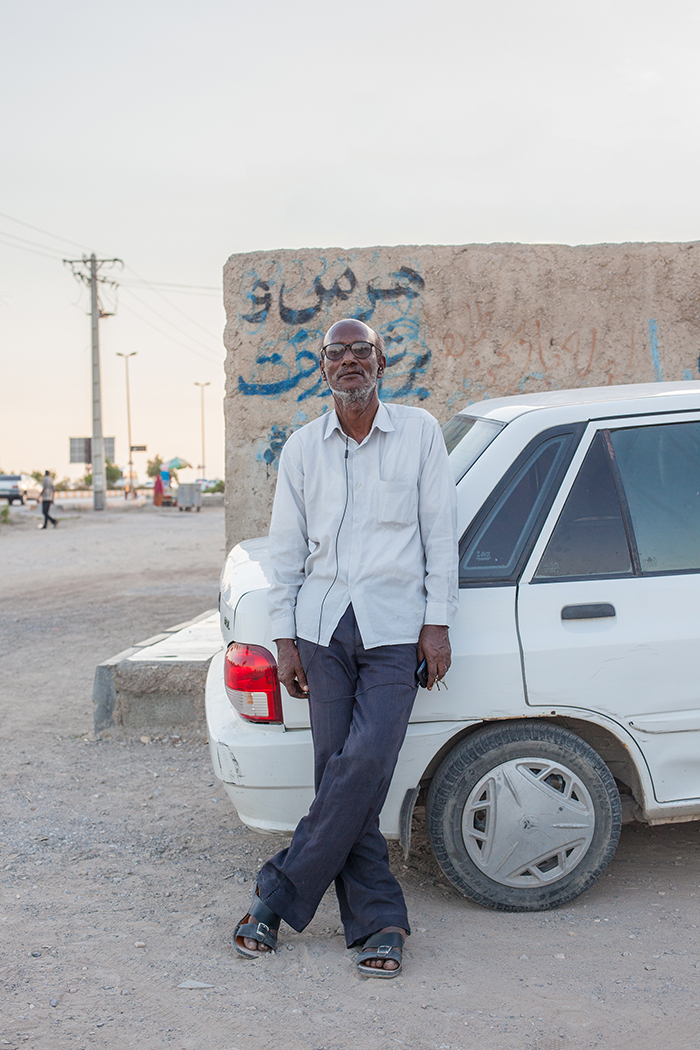 A man leaning against one of the most sold cars in Iran, a Kia Pride. The nearly extinct cult car is the Peykan.
The Khaj-e-Ata Beach in Bandar Abbas rests against the Persian Gulf. It is a popular place for inhabitants and tourists. Afternoons are filled with children playing on the beach.
The southern area of Iran is a very vibrant place with unique and vividly colored clothing, usually among women.
Mixed marriages are common in the southern region of Bandar Abbas, resulting in numerous bi-racial children.
The 'Chador Bandari' is a lightweight garment worn on the outside by women in the southern parts of Iran. This beautiful Afro-Iranian woman with her baby is a perfect example of Persian and Western culture colliding.
These two children in one of the villages near Bandar Abbas are cousins. They show the present cultural diversity in Iran.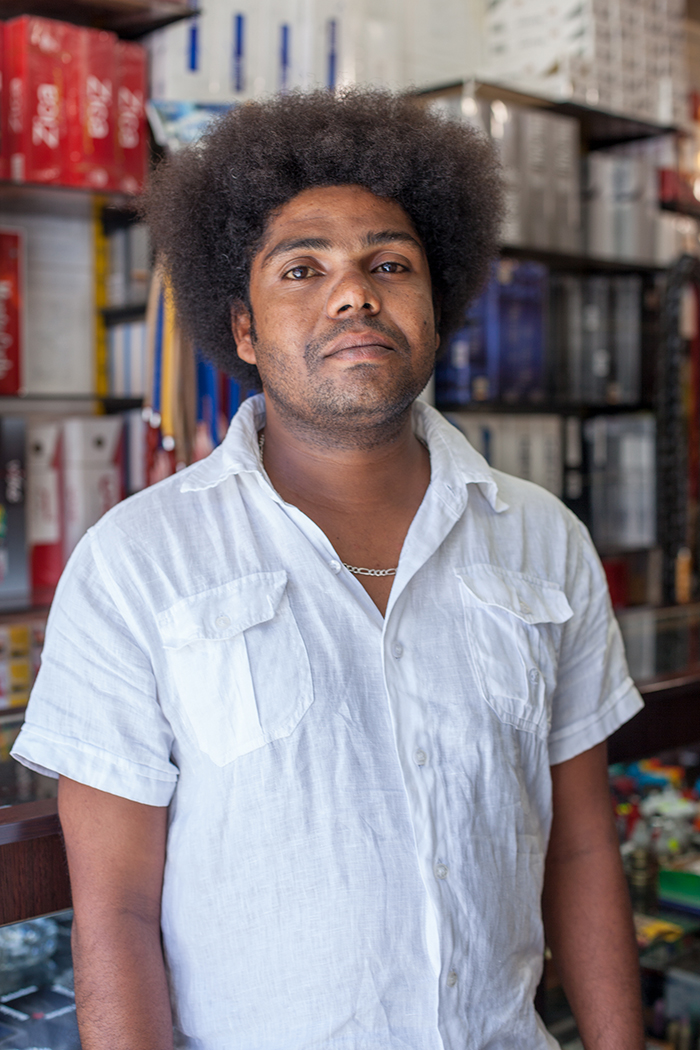 Here you can see a visual representation of the word 'Afro-Iran' by a man with an afro hairstyle.
Iran flags waving behind a man standing nearby a street sign reading 'Persian Gulf Alley' in Minab. Minab is another city in the Hormozgan Province with a large community of Iranians with African ancestors.
The Man Behind The Camera: Mahdi Ehsaei
Born in Germany to Iranian parents, Mahdi Ehsaei (25) is no stranger to living life between different cultures and navigating his dual heritage identity within these worlds. He is a graduated designer and photographer from the Faculty of Design at the University of Applied Sciences in Darmstadt, Germany. For his work on Afro-Iranians he set out to shed some light and visually document a community of people that, like him, represented the complexities of their own hyphenated identities, using his passion for photography.
Thought Catalog: Who is Mahdi Ehsaei? Can you tell us a little bit about your personal background, as well as your artistic background? When did you know you wanted to be an artist and a photographer?
Mahdi Ehsaei: My name is Mahdi Ehsaei. I was born and raised in Germany 25 years ago. I am a design and photography graduate of the Faculty of Design at the University of Applied Sciences in Darmstadt, Germany. As my parents are Iranian I grew up in a bi-cultural environment with a heavy influence of Persian culture and tradition, in the context of a Germany society. It was through the complexities of my dual heritage that the foundation for my ever-growing interest in Iran developed. I have a special connection to Iran, which has constantly been my second homeland, but never my home like Germany.
Born in Germany to Iranian parents, I am no stranger to living life between different cultures and navigating my dual heritage identity within these worlds.
The affection I developed towards graphic design and photography has been an ongoing thing throughout my life. I was always attracted to the intimacy of capturing experiences and moments in drawings or photographs. Drawing is something I've done since childhood. I wanted to recreate characters and objects I saw in cartoons. Nowadays, places, emotional moments, and people are the main subjects I like to capture in my artistic work. This led to the decision to study Communication Design in Darmstadt as a way of perfecting my likings and gaining more experience and skills.
TC: What are the things and experiences in particular that drive and motivate your photography? Do you get inspired by anything and everything, or are there particular human conditions?
ME: There are moments and places you don't just want to save them as a memory in your mind, but you want the world to see, as well. I wanted to do a project which has never been done like this before. When I was doing research on ethnographical photography, I found out that Iran had very few photographers who made this their topic. One of them who inspired me was one of the first photographers in Iran, who was of Russian descent. Antoin Sevruguin was one of the only artists who captured the demographic and ethnic groups which lived in Iran, and visually documented the diverse population of Iran for the first time. Sevruguin decided to create his own survey of the people, landscape, and architecture of Iran. Sevruguin's work shows how much potential ethnographical photography can have in order to understand a population better, even after more than 100 years.
That was the moment when I decided to work on the topic of Afro-Iranians. My inspiration strengthened me more to document the widely unknown minority. A photo series which shows a firsthand account of the current presence of the often overlooked Afro-Iranians for the first time.
TC: Can you tell me how you specifically discovered the Afro-Iranian community? And why were you drawn to capture the lives and experiences of those in this community in the way you did?
ME: There are two main reasons, I can think of, that led to my awareness of Iranians of African descent living in Iran. One of these occasions was through the Iranian New Year' Nowruz, where people get entertained by a red-robed herald named Haji Firuz. He brings a smile to people's faces and amuses the celebratory crowd with good wishes and good vibes for the coming year. It is addressed to his master whom he encourages to remain hopeful and happy. The main characteristic that makes him one of the most famous Iranian figures is his blackened face. This figure symbolizes the beginning of the new year. Some sources state that the happiness of Haji Firuz is based on the termination of slavery in Iran, 1928.
Then, there was the first time I saw an Afro-Iranian man. It was some years ago when we were on summer vacation in Iran with my family and some friends. We went to watch a football match in the Hafeziyeh Stadium in Shiraz, where my father is from. It was the match between Bargh Shiraz FC' and Aluminium Hormozgan F. I was there with my uncle, brother, a German friend of his, and a good friend of mine. For the first time ever I saw a black Iranian man. He also happened to be the fan leader of the opposite Team from Hormozgan. I was quickly appealed by the way the opposite fans joyfully and rhythmically chanted for their team. Being someone who likes to record things on camera, I decided to capture that moment on video.
After this, I began to become more aware of not only the term 'African-Iranians,' but also of the experiences of the individuals who were part of this community. The subsequent closer look surprised me a lot. It let me get to know another and fascinating portrait of Iranian culture. This is what I wanted to pass on with my photographic work.
TC:  What were some of your experiences that the camera didn't capture when interacting with Afro-Iranians? What is your opinion of their experiences as a minority in the country?
ME: During my first days there, I was very cautious with how I approached people. The approach you have to European and Western subjects is different to people in Iran. At first, I didn't take any pictures whilst I was there. I simply took the occasion to get to know the people and place better, by living everyday life there and letting my emotions guide me.
After about one week, I had made friends with locals from Bandar Abbas (capital of Hormozgan Province). Through them, I found out the way to approach the people. Some of them, especially women, did not allow me to portray them. My successful approach was based on trust which I had to establish first. I explained the background of my project and my intentions. After that, the majority were surprised to meet someone from Germany who wanted to portray them with such an unexpected motivation and enthusiasm.
Since the domination of the Portuguese over the Persian Gulf region in the 16th century for more than 100 years, a lot of Africans were enslaved and brought to Iran. Most of the enslaved people and a minority of African traders stayed in southern parts of Iran and made Iran their home even after their freedom and the termination of slavery in 1928. Ever since Afro-Iranians were fully integrated and accepted by the Iranian society.
I can say that the Afro-Iranians not only fit into the Iranian society but they have even shaped the culture in southern parts of the country. Iran has a culturally diverse population, and in the two months I spent in the Hormozgan Province, I didn't see any kind of discrimination, whereas I think you experience these kind of behaviors in Europe more often. Afro-Iranians belong to the cultural diverse society of Iran just like any other ethnic group such as the Azeris, Kurds, Arabs, Baluchis, Armenians, etc.
TC:  What, in your opinion, does this type of work tell us about diversity in any and all parts of the world? And how do you think photography and art play a role in diversity and representing diversity and culture?
ME: I think this kind of work and sharing it can be very beneficial in creating an alternative way to a better world. We need to understand that each part of the world can also be a home to people from other parts of the world. Like the African people who were exposed to inhuman conditions by the foreign slave traders several centuries ago and stayed in Iran even after their emancipation.
This kind of thinking is unfortunately not in the minds of the majority of the people. Having in mind that each nation can and should have cultural diverse people and other ethnic groups who make new homes. We need to create opportunities, whether with the help of humanity, or in my case photography and art. The latter invites people to imagine an alternative practice for collective human existence which leaves coercion outside the frame. I hope that I can leave a lasting mark in the minds of the viewers, which will hopefully lead to a better understanding and coexistence.
TC: Is there anything you'd like to add about your experience with your Afro-Iran collection? Something you want to say about it or you want us to know about in general?
ME: I am now working on the release of my book, which is going to be published by 'Kehrer Verlag' in Germany later this year. The publisher is highly regarded in the field of fine art photography publishing. They will help to promote the book around the world. I am very excited about the book, especially with the enormous demand and positive feedback I've received lately. Alongside the book I've had inquiries for exhibiting my photographic series in several countries. For now, you can sign-up to pre-order the book at Afro-Iran.com, which will be released later this year.
To find out more about the Afro-Iran community as captured by Mahdi Ehsaei, as well as any of Mahdi's collections, visit his site at Mahdi-Ehsaei.com. 
For more cultural dialogues from Kovie Biakolo, follow her Facebook Page:
---
Like this piece? Get more great writing by liking TC Zine here.