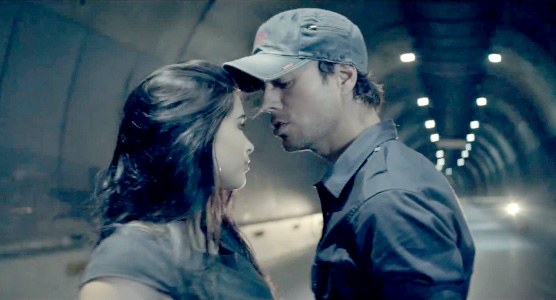 A couple months ago I wrote about how I fell in love with Romeo Santos on my last trip trip to Central America and that's where I basically discovered my #passion for all things Romeo Santos and bachata. A few months later and I'm gearing up for another short trip to Latin America. In the essence of all things bachata here are some great songs I hope will inspire you to take your own trip to Latin America someday. Or, at the very least, have you up and dancing bachata in no time.
1. Romeo Santos – "Eres Mia"
New York City! A wedding! Apples! Romeo's sexy lil' smirk! I'm not exactly sure what's happening in the video but the song is A+++.
2. Enrique Iglesias – "Bailando"
I think this is probably my favorite Enrique Iglesias song, mostly because the dance to this is just so much fun.
3. Marc Anthony – "Vivir Mi Vida"
What I love about this video is we really see Marc Anthony in his element – in the streets with his fans, singing and dancing. Everyone having fun and enjoying themselves in the moment. I love how passionate his fans are for him.
4. Prince Royce – "Darte un Beso"
Ya know, until I saw this video, I never thought a guy could be hot playing the ukulele but Prince Royce has completely changed the game.
5. Romeo Santos – "Propuesta Indecente"
In this video we see Romeo showing up to a party, taking a dude's girl away from him, dancing with her in front of everyone. Does this stuff really happen IRL? I'll probably never know but at least a girl can dream.
6. Toby Love – "Tengo Amor"
This song is very boy bandish but that's probably because Toby Love is a breakout star from the Dominican-American boy band Aventura. Toby Love's style is a perfect mix of bachata, R&B, and pop music. This song kind of reminds me of a saucier version of something the Backstreet Boys would have done back in the day. I'm into it.
7. Leslie Grace – "Will You Still Love Me Tomorrow?"
https://www.youtube.com/watch?v=USrflLJfZBE[https://www.youtube.com/watch?v=USrflLJfZBE
I am completely obsessed with this bachata version of the 1961 Shirelles hit co-written by Carole King. Leslie Grace puts her own style into in a completely flawless way. The singer hasn't released any music in a couple of years but I'm hoping she puts something new out soon.
8. Hector Acosta – "Me Puedo Matar"
https://www.youtube.com/watch?v=SQ5llxZbDMU
Elements of hip hop, R&B, and bachata make this an incredibly beautiful song.
9. Prince Royce – "Te Robaré"
This is the kind of song a guy could put on to make any girl swoon.
10. Romeo Santos Feat. Drake – "Odio"
Nothing makes me happier than knowing The King of Latin American bachata music happens to be best buds with Drake. Like, it just makes perfect sense to me. This is a great song and I hope the two collaborate more in the future.