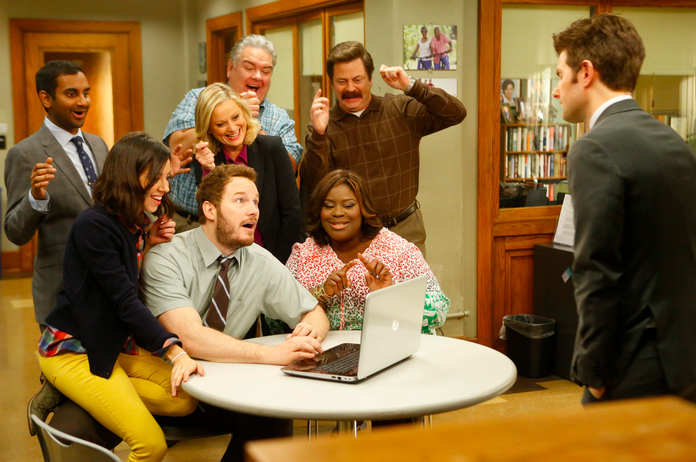 1. The pilot episode was initially scheduled to air in the coveted post-Super Bowl slot. But then Amy Poehler got pregnant, which meant filming would have to be delayed. She initially thought this meant she was out, but co-creator Mike Schur said, "By this point, with the idea pretty fleshed out, Greg (Daniels, co-creator) and my general feeling was: Poehler or bust, pregnancy be damned."
2. Mike Schur said that Leslie Knope initially had a "guarded caution" relationship with the cameras because she was conscious of her political career. But as time progressed, Amy Poehler stopped looking at the cameras, because, as Schur stated, Leslie Knope was a character "for whom there was no difference in her private and public thoughts, motives, or feelings. Amy had made her into a completely consistent, heart-on-her-sleeve character."
3. Rather than following the usual method of shooting a pilot and then spending several months editing it and going over details, the Parks and Recreation cast and crew shot six episodes in a row.
4. The show was almost canceled after the first season. Critics compared Parks and Rec to The Office, and not in a way that was complimentary. They thought it was a carbon copy of The Office and that the character of Leslie was too ditzy.
5. Eventually critics and viewers started to appreciate the show a little more, but as season two progressed, Poehler said it still seemed like "we were often on life support. We would finish a season never really knowing if we would have another one."
6. Because Poehler got pregnant for a second time in the middle of season two, the show got an early pickup for season three and simply kept rolling and shooting episodes for season three immediately after season two had finished filming.
7. At the end of filming episodes, the crew would leave time for "fun runs" so that the actors could improvise several takes.
8. Rashida Jones (Ann Perkins) and Amy Poehler were known for singing and dancing between takes.
9. Amy Poehler and Nick Offerman (Ron Swanson) met in Chicago in 1997. Apparently Offerman's beard was dyed bright orange and his hair was shaped into two devil horns for his role in A Clockwork Orange.
10. Nick Offerman is actually a woodworker in real life. He's a professional boat builder and frequently makes canoes and boats in his woodshop.
11. Aziz Ansari (Tom Haverford) graduated from NYU's Stern School of Business with a degree in marketing. He got involved in the comedy scene by performing stand-up when he was in college.
12. During filming of season one, Ansari got stuck under a shelf in his trailer, so he emailed Amy from his Blackberry and asked her to help him get out. Amy took a photo of him first and emailed it to the whole crew.
13. Aubrey Plaza was an NBC page. She used to make up facts while she was giving tours of the studios – something April Ludgate would no doubt be proud of. She was also an intern for SNL.
14. Both Plaza and Ansari attended Upright Citizens Brigade, the improv theater and training center that Poehler co-founded.
15. Chris Pratt (Andy Dwyer) was only supposed to be on the show for six episodes, but the writers and producers liked him so much that they wrote him into the show as a series regular.
16. Pratt is a musician in real life, and even wrote a few of the songs that Andy sings on the show.
17. Retta Sirleaf (Donna Meagle) is a trained opera singer. In the episode where Leslie and Ben get married, she sang opera music at their wedding.
18. Some of the original possible names for the character of Leslie Knope included: Leslie Knerm, Leslie Knute, Leslie Bornkvetch, Leslie Knooz, Leslie Knoop, Leslie Knornt, Leslie Knaint, and Leslie Gnope.
19. To give the show a genuine feel, the writers researched a lot about California politics and even attended some local city council meetings.
20. The writing staff tried to weave current political events into their episodes, such as the government shutdown that occurred in Pawnee, inspired by the real-life government shutdown.
21. Much of the inspiration for the character of Ron Swanson came when Mike Schur met a Libertarian government official who openly admitted that "I don't really believe in the mission of my job."
22. The bass guitarist in Andy's band Mouse Rat is Alan Yang, who was a screenwriter for the show.
23. Poehler wrote four episodes of the show: "Telethon," "The Fight," and "The Debate." She also wrote the series finale, "One Last Ride," with Mike Schur.
24. In the season five premiere, Leslie visits Washington and gets the chance to meet Vice President Joe Biden. The scene was shot in the Vice President's ceremonial office on the grounds of the White House. Poehler said he was "charming and funny and a true pro."
25. On this same day, the cast and crew found out that the show had not even been nominated that year for an Emmy for best comedy, even though critics had talked about it being a front-runner.
26. Rather than getting upset over it, Mike Schur decided to go back to his hotel room and write the scene where Ben and Leslie get engaged.
27. In 2012, Parks and Rec was named the #1 television show of the year in Time Magazine's year-end issue. This is just one of many nominations and various awards that the show received.