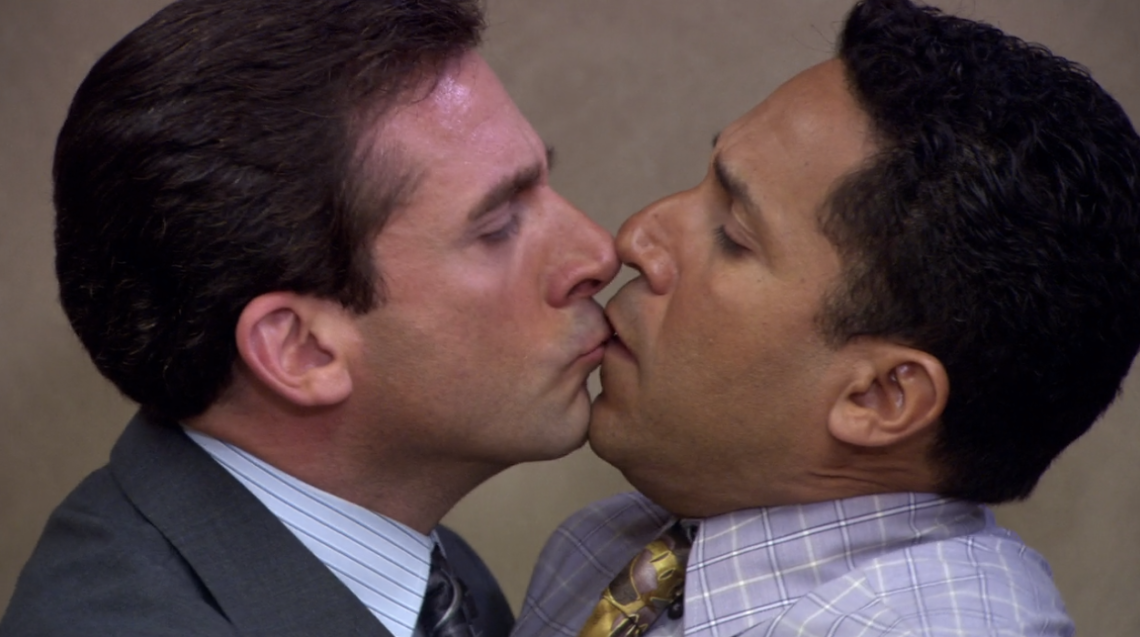 1. The pilot was written by Greg Daniels (who was responsible for creating the American version of The Office), along with The Office UK creators Ricky Gervais and Stephen Merchant.
2. But the initial team of writers for the rest of season one consisted of just five people: Mindy Kaling (who played Kelly Kapoor), B.J. Novak (who played Ryan Howard), Paul Lieberstein (who played Toby Flenderson), Mike Schur, and creator Greg Daniels.
3. Before joining The Office, most of the writing staff (B.J. Novak, Mindy Kaling, and Mike Schur) had never had any kind of actual writing job before.
4. Mindy Kaling was hired on The Office after Greg Daniels saw her perform her two-woman show called Matt & Ben (about Matt Damon and Ben Affleck) with her roommate Brenda Withers at the New York International Fringe Festival.
5. Mindy's roommate made an appearance in season two of the show, playing Brenda Matlowe, an executive from Dunder Mifflin corporate who came to evaluate Michael's "leadership training exercise" in season two's "Booze Cruise" episode.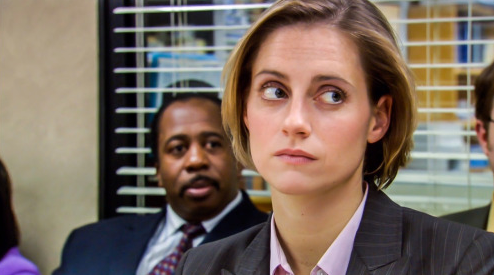 6. When Kaling was a sophomore at Dartmouth, she was an intern on Late Night with Conan O'Brien. 
7. Before B.J. Novak was hired on the show, he was working as Ashton Kutcher's lead accomplice on MTV's Punk'd in 2003.
8. Writer Mike Schur actually plays Dwight's bizarre cousin Mose, who barely ever speaks.
9. The casting directors initially wanted to bring John Krasinski in to read for Dwight. But Krasinski continually insisted that he felt that Jim Halpert was a better fit for him. He turned down the option to read for Dwight and said, "if they don't find a Jim, I'll come in and read for that."
10. When they didn't end up finding a Jim, John Krasinski was brought in to audition. While he was waiting to go in, 'some guy' in the waiting room sat down next to him and Krasinski began chatting with him. He said, "The British show is perfect and I just really hope we don't screw it up."  The man then introduced himself as creator Greg Daniels.
11. The first question John Krasinski asked when he got the part of Jim was if Jenna Fischer got the part of Pam.
12. When Jenna Fischer got the part of Pam, the first question she asked was if John Krasinski got the part of Jim.
13. Some (now) well-known people that also auditioned for parts include: Seth Rogen (for Dwight), Bob Odenkirk (for Michael), Eric Stonestreet (for Kevin), Kathryn Hahn (for Pam), Judah Friedlander (for Dwight), Patton Oswalt (for Dwight), John Cho (for Jim), and Adam Scott (for Jim). You can watch some of the initial auditions below:
[youtube https://www.youtube.com/watch?v=S73Nzksy6rU%5D
14. John Krasinski and B.J. Novak played little league together as kids, and also knew each other in high school.
15. Phyllis Smith, who plays Phyllis Lapin-Vance on the show, was actually working as a casting associate on the show and was always the one reading with actors who came in to audition. At one point, director Ken Kwapis asked her go in to do some more reading, and she had no idea she was actually auditioning for a part that was created specifically for her.
16. Creed Bratton initially was just cast as an extra in the background; they had already cast all the parts but they allowed him to get involved in the show because they found him so "odd." Eventually, they gave him a few lines at a time and it was all history from there.
17. His name is actually Creed Bratton in real life.
18. In one episode, the character of Creed talks about how when he gets in trouble, he transfers his debt to "William Charles Schneider." This is actually Creed Bratton's birth-given name in real life.
19. Steve Carell has written two episodes of The Office: the season two finale "Casino Night" and season four's episode "Survivor Man."
20. Carell actually won a Writers Guild of America Award for "Casino Night."
21. Jenna Fischer kept the engagement ring that Jim gave to Pam after The Office finished filming.
22. Michael Scott's infamous kiss with Oscar in the season three premiere "Gay Witch Hunt" was actually improvised by Carell. The shocked and surprises on the faces of the cast were real reactions. You can see B.J. Novak hiding his face and trying not to laugh and Jenna Fischer actually smiling.
23. Angela Kinsey, who plays Angela Martin on the show, was working at 1-800-Dentist when she was cast in the show.
24. Brian Baumgartner, who played Kevin Malone, initially came in to read for the character of Stanley Hudson.
25. Although Pam and Angela constantly butt heads on the show, in real life Jenna Fischer is the godmother of Angela Kinsey's daughter Isabel.
26. The first season was actually met with very mixed reviews, and the cast and crew consistently thought they were going to be canceled. Steve Carell even supposedly said at one point something along the lines of, "Hey, at least we got to make six." The show ended up airing for nine seasons and 201 episodes.