I firmly believe that you can't have a fulfilling romantic relationship until you're okay spending time with yourself. Learning how to be alone with yourself, your thoughts, your emotions and your crazy brain isn't always easy, but it's worth it. It will make you a more secure, chill partner to someone in the future. You're stuck with you for the rest of your life, so reward yourself for stickin' around with fun solo dates. Like Marilyn Monroe said in The Prince and the Showgirl: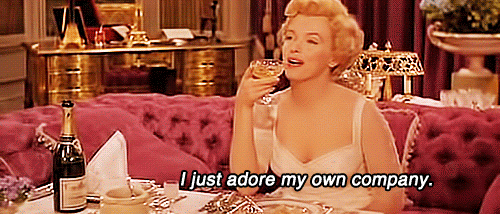 1. Have a beer and spend some time browsing Pop Culture Died in 2009, the greatest Tumblr of all time.
2. Leave your phone in the car and go for a walk without any distractions.
3. If you really, truly can't leave your phone for more than an hour, make a really dorky playlist of all of your favorite songs from junior high on Spotify and then listen to it while you walk.
4. Netflix and chill – without a grabby-hands partner trying to distract you.
5. Buy yourself a new dress, wear it out of the store and take yourself to dinner. Or at least for a fancy cocktail.
6. Do something you'd only do on your own, like eating (X) while watching "House Hunters" for hours.
7. Stop by the MAC store (or your favorite cosmetics counter at Nordstrom) and get your makeup done, just for fun. You don't have to go anywhere, just get prettied up and take a few selfies.
8. Marathon your favorite TV show – but do it without your phone by your side. Pay attention!
9. Watch an old movie. I recommend anything with Marilyn Monroe or Carole Lombard, or "It Happened One Night."
10. Is your favorite guilty pleasure band coming to town? Take yourself on a date, dress up and have fun.
11. Spend an hour or two wandering through one of those huge, legendary used book stores. Read a few pages of poetry.
12. Get a box of wine, perch it on the corner of your tub, fill said tub up with bubbles and enjoy. I like to prop my laptop up and watch PBS documentaries on Netflix while I soak.
13. After you're done soaking, do a face mask, paint your nails and fulfill all your childhood fantasies about being an adult woman. You know, the green face mask, towel turban and cucumber slice montage kind.
14. Buy yourself flowers. Make an event of it and visit the fanciest florist you can find near you, then splurge on the extra-large bouquet.
15. Go to the movies alone. No friends, no partner, no nothin' – just you.
16. Spend the afternoon with your vibrator. It's always there for you, and you don't even need to make it a fancy meal.
17. Take as many selfies as you want. Change outfits. Change up your hairstyle. Have a glamorous photoshoot like you did as a teen in your Myspace days.
18. Are you feeling extra fancy (and flush?) Spend the night in a slightly-nicer-than-Holiday-Inn hotel. Order a mimosa or a glass of wine from room service, then watch "SVU" until you fall asleep. Get a room with a Jacuzzi if you're in need of extra pampering.
19. Do you have an Aveda Institute in your area? Book a facial and massage and relax for less than a fancy spa.
20. Sit at the bar alone and talk to the person next to you. Bonus points if it's an old person! Don't stare at your phone and scroll through Twitter. Make a connection with someone.
21. Take a weekend trip to visit a friend or family member who lives an hour or two away. Listen to all your favorite music on the drive and sing along – no one's there to hear you warbling.
22. Cook something crazy for yourself. Pick a recipe from Martha Stewart, Chrissy Teigen or the Pioneer Woman and make it, then enjoy it by yourself at the table like a proper young lady.
23. Bring the book you can't put down to the park. The last time I visited New York, I legit spent almost two hours on a park bench reading "Fates and Furies." It was awesome.
24. Go see a psychic.
25. Indulge your inner Monica Geller and clean your house. No one will ever know that you spent an hour organizing all your clothes by type, texture and color. Isn't that the beauty of a little alone time?