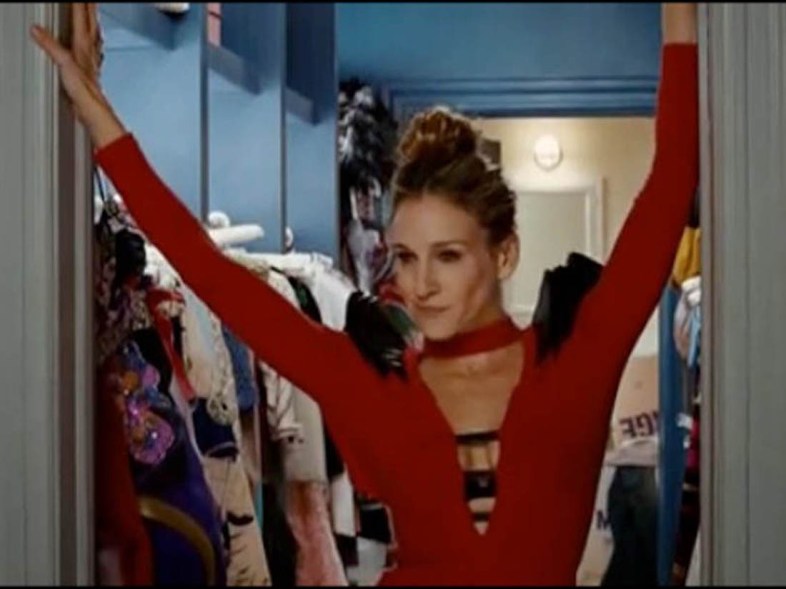 I have three closets in my apartment. I live alone. I spent years working retail and I'm a really good thrifter/consignment shopper. You do the math. My closets are constantly packed with clothes, shoes and accessories. And while every girl's style is different, there are a few things that I think deserve a spot in your closet, too.
A black dress. Because duh. Actually, you could make a wardrobe of only black dresses if you were so inclined: a sexy one, an office-appropriate one, a casual one … the possibilities are endless.
Three skirts: one pencil, one A-line, one maxi. You can have more, obviously, and you should, but these are easy basics that you can wear a thousand different ways. Purchase them in hues that are easy to mix and match.
Something appropriate for church. You never know when you're going to have to go to a baptism or a funeral, so it's good to keep a knee-length, relatively-modest dress on hand in a subdued shade.
A slip. Actually, let's make that a collection of proper undergarments to wear underneath those tricky garments like sheer white dresses and shirts. Beige bras are the Most Boring Item ever, but they do have their place. And so do Spanx!
Something to wear to an interview – I'm not saying you need a suit. A slim skirt or dress with a jacket is just fine, and far more modern than showing up in a business suit.
Something sentimental. Maybe you've grown out of it or it isn't your style anymore, but you hang on to it because it meant something to you once.
Something that makes you feel 100% yourself. I have a few items that I reach for when I want to feel most like "me," including this insane black Celine dress I got for cheap a few years ago, a pink gingham vintage dress and a big, hideous gold sweatshirt that says "North Dakota: Party on the Prairie." I feel like myself when I wear these things, and that's comforting.
A pair of jeans that fit you perfectly. As someone who spent four years selling premium denim, I know that finding the perfect pair is really, really hard. But it's definitely doable, especially if you have someone to help you. I think there's an argument for having one pair of dark denim skinny jeans, one pair of black and one pair of casual, easy boyfriend jeans, but whatever silhouette you prefer, find The One and maybe buy it in multiples.
A dressy coat. Wool and knee-length in black, navy or charcoal grey is a good option.
One pair of black boots, black flats and black pumps. I don't care what style or heel height you prefer, but these are easy, go-anywhere basics. This is a pretty good way to pack for a trip, too. Of course, substitute black for brown if you're not the "I wear 70% black" type like me.
Sweatpants. You can go Kim Richards fancy-style with a pair by Monrow or get them for $5 at Walmart. But every girl needs a pair of sweats for Sundays, cold nights and extended bouts of the flu. The baggier the better.
A piece of clothing that makes you feel super hot. Maybe that's a killer dress or a pair of cutoffs. But you know the feeling when you've been slacking or you're kind of sad and it shows in your clothing? That's when you put on this magical item – and then bam! You feel amazing once again. That's the best part about clothes, isn't it?