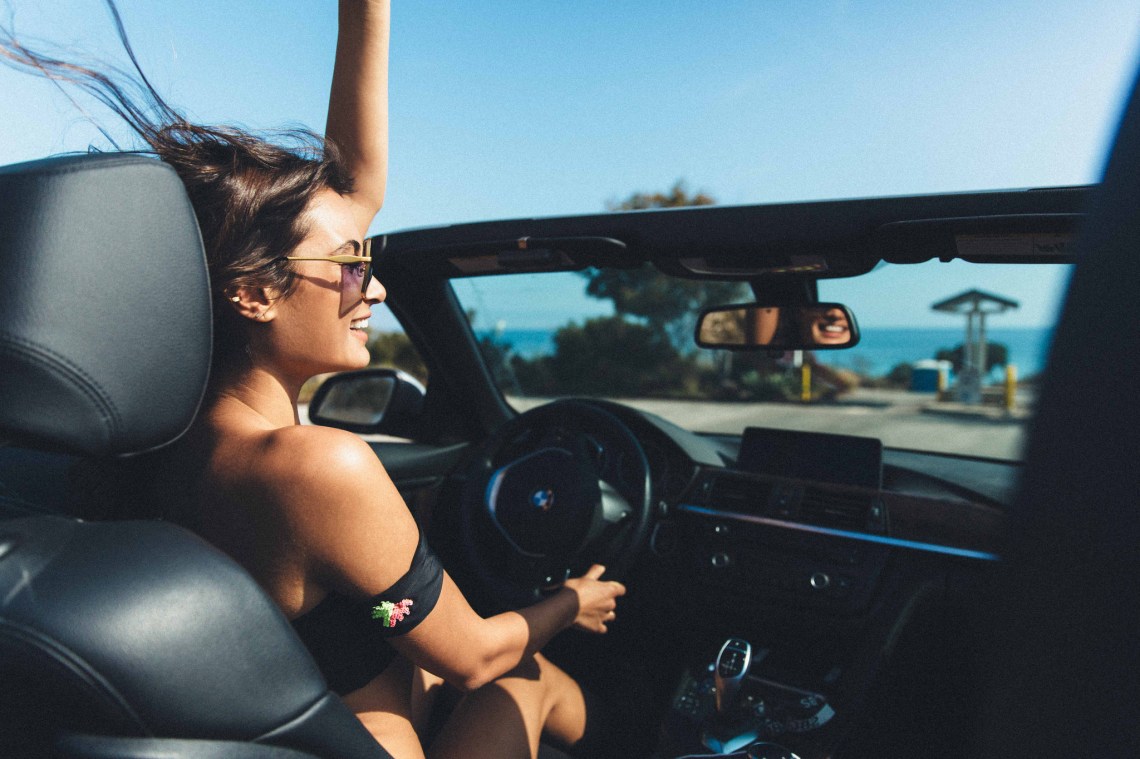 Here are 14 ways to treat yourself on a $0 budget for any occasion, whether it's a personal celebration or a visit from the ghost of capitalism. It's not about spending less – it's focusing on what you already have.
1. Change Up Your Style
Sometimes, the way you feel is related to the way you look. If you have the itch to go shopping, dig through your closet. Craving a different haircut? Style yourself a different way; people will notice little changes. Brace yourself for questions and compliments on how nice you look, bangs or curls sweeping to the left or any which way*.
*Literally any way, if you want more questions than compliments. They'll be wondering if there's "Something About [Insert Your Name Here]."
2. Explore Your Neighborhood
Yes, it's always nice walking through that young neighborhood to window-shop and flaunt foam art in hand, but do you know what's down the street from where you live? Have you adventured into that store on the corner? Spend one afternoon exploring the nooks with grannies in your suburb or neighborhood.
3. Get Some Exercise
Endorphins make you happy*. Get outside and sweat under some Vitamin D. Get back inside, do a sensual strip on your own, and dance in front of the mirror. My goodness! A few hundred more mornings like this and you'll be getting paid to do so. Just so you keep going, develop a reward system. I may suggest a beautifully balanced breakfast**.
*Don't shoot your husband(s).
**Avocado.
4. Discover Free Things Around You
There is so much happening around you. If you're in a small town in Michigan, trust me I've been there, start something. Do you have some stale books you've been meaning to finish? Leftover wood from that camping trip? Mobilize a little group for a little circle or* bonfire.
*Don't burn the books! Only do so if they are titled "Zero To One."
5. Volunteer For A Local Cause
Are you good at something or want to learn a new skill? Volunteer around your local community. Write for others' rights or dress others for a job interview. When I first moved from college, I organized low-income families' tax papers for free — something I've never done myself and thought I could do for a living. Guess what I learned*. Try it out, exercise your knowledge, learn something new, help someone out.
*I can't be an accountant.
6. Call A Friend
When one see's a phone vibrate from a phone call, he or she can assume there's something wrong or it's the testing clinic, which means there's something wrong. This is what makes 21st century calls more exciting, especially when they turn out to be from a long-distance or everyday friend. Be surprised by how much your introverted or extroverted self can comfortably talk without needing to shower or put on pants. Use that plan*!
*The one everyone has and is completely non-negotiable with any carrier for the skewed reason that you'd be horrified by paying that much for simple data.
7. Get Started On A Personal Project
If you're human or a slightly interesting organism, you have or want a hobby. Besides the mundane life of maintaining your existence, branch out and possess something creative or off-beat. Brainstorm a second life, a free life, from your recycled day and make a move towards it. Get a culinary start by telling your friends you will cook anything they want, and have them come over with the ingredients. You can do anything.
8. Re-Organize Your Living Space
A change of scenery can be as simple as moving your couch. Your brain craves change; that's how it quickly notices differences in your neighborhood or routine. Do some cleaning to free up creative space or pile your trash in another corner. Sprucing up your living area by arranging your art or fixtures can breathe new light and life on your daily habits and thoughts.
9. Refresh Your Goals
Remember that "goals" sheet you made a month, maybe a year ago? It's probably completely different by now. Put aside some time to draft a new one, using either a vision board or Google Docs. Once you have your dreams mapped out, make sure to put them somewhere visible this time. Remember what you're saving or working towards and you will start making conscious decisions to make magic happen. This is serious.
10. Plan Something To Look Forward To
They* say planning a trip is more of a stress-reliever actually than booking one. Scrolling through your calendar and imagining things in the big empty spaces is one of my favorite activities. Even better, make notes on those squares as reminders for things that are already happening. Looking ahead at your year, you'll see that you have a lot of exciting things coming your way.
*"They" is me. I said that.
11. Complete ONE Thing On Your "To-Do"
So you make a list and then take the rest of the day staring at it. Go ahead and write your tasks down and, this time, immediately complete the first bullet-point. Think about the first object as an obstacle in the way of even considering procrastinating. Chances are, you'll be on fire and run through the rest of it. If you don't, that's fine: you got something done.
12. Dig Into Your Music Library
Yes, there are some pretty hot tracks out right now available on Spotify and Tidal, but who isn't down for a throw-back into 90's bubble-gum pop or some 80's synth? Remember those songs that you bought* in the 00's. Take a quick look and make a playlist for chilling, cleaning, working, or exercising. You'll be that person with a fat smile on their face, strutting to Avril Lavigne or Pet Shop Boys. Sick.
*The song you actually bought with real money.
13. Read — It's Always Free
Someone once told me "an education is a library card." You don't need to be in a classroom to learn, or have a tablet to enjoy a classic or bestseller. Owning a book is nice, but what would you do after you've read it? Rather than re-gifting bent paper to your friend, suggest a trip to the library and pick something together. You're more likely to finish a book with a return deadline or when reading with someone else.
14. Watch Your Savings Grow
Look at that green number. It means more possibilities, more stability, and more cash. Sure, it might dip low sometimes, but that's how life works. Don't let that fear take you away from having fun. After all, we do have this list! Now you can spend that saved money on enriching the lives of people around you or those you can't see.