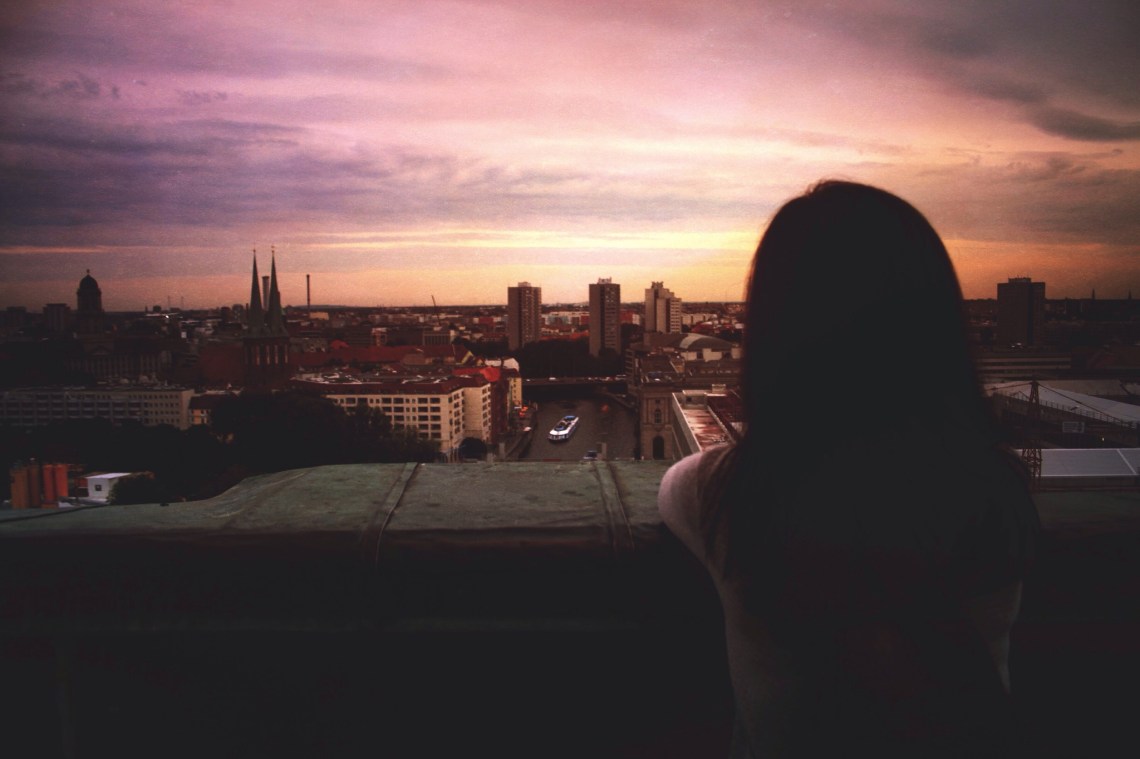 1.
"Sometimes good things fall apart so better things can fall together."
—Marilyn Monroe
2.
"The best way to mend a broken heart is time and girlfriends."
—Gwyneth Paltrow
3.
"Pour yourself a drink, put on some lipstick, and pull yourself together."
—Elizabeth Taylor
4.
"The longer you're with the wrong person, you could be completely overlooking the chance to meet the right person."
—Taylor Swift
5.
"If someone breaks your heart, just punch them in the face. Seriously. Punch them in the face and go get some ice cream."
—Frank Ocean
6.
"Patience is key for getting over a breakup. That, and trailing off your interaction after the breakup."
—Drake
7.
"Never allow someone to be your priority while allowing yourself to be their option."
—Mark Twain
8.
"Don't cry when the sun is gone, because the tears won't let you see the stars."
—Violeta Para
9.
"I miss your smile, but I miss mine even more."
—Kid Cudi
10.
"Dont worry, girls, one day you will find a guy who ruins your lipstick, not your mascara."
—SumNan
11.
"Sometimes it takes a heartbreak to shake us awake & help us see we are worth so much more than we're settling for."
—Mandy Hale
12.
"There is no need for hyperbole. I did NOT dump you. I peeled your mask off like a banana peel, did not like what was inside, and tossed it in the trash."
—Donna Lynn Hope
13.
"Pain is certain, suffering is optional."
—Buddha
14.
"He brought out the worst in me, and was the best thing that ever happened to me."
—Coco J. Ginger
15.
"He loved me. He loved me, but he doesn't love me anymore, and it's not the end of the world."
—Jennifer Weiner
16.
"Don't allow someone not worth it to have the power to occupy your thoughts. If they don't find you worth the effort or the time, why should you waste yours?"
—Donna Lynn Hope
17.
"Your pain is the breaking of the shell that encloses your understanding."
—Kahlil Gibran
18.
"Get up, dress up, show up & never give up."
—Genevieve Rhode
19.
"Breakups hurt, but losing someone who doesn't respect and appreciate you is actually a gain, not a loss."
—K. Fields
20.
"You have to go through the pain before you have the strength to see the sunshine."
—Anonymous
21.
"Sometimes the person you fall for isn't ready to catch you."
—Anonymous
22.
"Life is too short to spend time with people who suck the happiness out of you."
—Steve Maraboli
23.
"The biggest mistake I have made in my life is letting people stay in my life far longer than they deserve."
—Erik Grosset
24.
"Remember, you can't reach what's in front of you until you let go of what's behind you."
—Anonymous
25.
"The pain you feel today will be the strength you feel tomorrow."
—Ritu Ghatourey
26.
"If you are reading this, you have survived your entire life up until this point. You have survived traumas, heartbreak, devastation, and different phases of life. And here you are. You go, motherfucker. You're awesome."
—Anonymous
27.
"It doesn't matter who hurt you or broke you down. What matters is who made you smile again."
—Charles Ebanit-Opolot
28.
"You are one heartbreak closer to being with the person you are meant to be with."
—Anonymous
29.
"You can't start the next chapter of your life if you keep re-reading the last one."
—Michael McMillan
30.
"Be strong enough to let go and patient enough to wait for what you deserve."
—Anonymous
31.
"Life isn't about waiting for the storm to pass, it's about learning to dance in the rain."
—Vivian Greene
32.
"Your past is just a story, and once you realize this, it has no power over you."
—Chuck Pahlaniuk
33.
"Respect yourself enough to walk away from anything that no longer serves you, grows you, or makes you happy."
—Robert Tew
34.
"It is better to have loved and lost than to live with a psycho for the rest of your life."
—Anonymous
35.
"That's the best revenge of all: happiness. Nothing drives people crazier than seeing someone have a good fucking life."
—Chuck Pahlaniuk
36.
"The emotion that can break your heart is sometimes the very one that heals it…"
—Nicholas Sparks
37.
"Think about any attachments that are depleting your emotional reserves. Consider letting them go."
—Oprah Winfrey
38.
"I never wanted but your heart–that gone, you have nothing more to give."
—Mary Wollstonecraft
39.
"No matter how bad your heart is broken, the world doesn't stop for your grief."
—Faraaz Kazi
40.
"You can victimize yourself by wallowing around in your own past."
—Wayne Dyer
41.
"Stop being a prisoner of your past. Become the architect of your future."
—Robin Sharma
42.
"I can still love an ex as a person, regardless if the breakup was bad. I would never wish anything negative on them. It takes more energy to hate them than to wish them well."
—Ashley Greene
43.
"I am never writing a breakup record again, by the way. I'm done with being a bitter witch."
—Adele
44.
"If someone constantly makes you unhappy, then you must build up the courage to let that person go. Your memories will always live on, but it's time to move on."
—Anonymous
45.
"New clothes are a great way to deal after a breakup. A good mix CD also helps you get through it and… you know, 72 hours of ice cream."
—Jennifer Love-Hewitt
46.
"Relationships are like glass. Sometimes it's better to leave them broken than try to hurt yourself putting it back together."
—D. Love
47.
"Ever looked at your ex and wondered, 'Was I drunk the entire relationship?'"
—Anonymous
48.
"I'm going to smile and make you think I'm happy, I'm going to laugh, so you don't see me cry, I'm going to let you go in style, and even if it kills me—I'm going to smile."
—Lone Star
49.
"Watching you walk out of my life does not make me bitter or cynical about love. But rather makes me realize that if I wanted so much to be with the wrong person how beautiful it will be when the right one comes along."
—Nicholas Sparks
50.
"Life is like riding a bicycle. To keep your balance you must keep moving."
—Albert Einstein
51.
"When one door closes, another opens; but we often look so long and so regretfully upon the closed door that we do not see the one which has opened for us"
—Alexander Graham Bell
52.
"I was never one to patiently pick up broken fragments and glue them together again and tell myself that the mended whole was as good as new. What is broken is broken, and I'd rather remember it as it was at its best than mend it and see the broken pieces as long as I lived."
—Margaret Mitchell
53.
"Some relationships when finished should be celebrated. You never know how many psychopaths God has freed you from!"
—Anonymous
54.
"Letting go doesn't mean that you don't care about someone anymore. It's just realizing that the only person you really have control over is yourself."
—Deborah Reber
55.
"We must be willing to let go of the life we have planned, so as to have the life that is waiting for us."
—E. M. Forster
56.
"Letting go has never been easy, but holding on can be as difficult. Yet strength is measured not by holding on, but by letting go."
—Len Santos
57.
"No man is worth your tears, but once you find one that is, he won't make you cry."
—Dwight D. Eisenhower
58.
"It hurts to say goodbye to someone you love but it's the best for both of us to move on."
—Anonymous
59.
"Don't cry because it's over, SMILE because it happened."
—Dr. Seuss
60.
"Move on, it's a chapter in the past, don't close the book, just turn the page."
—Anonymous
61.
"If someone you love hurts you, one of the best things you can do is to move on and find happiness elsewhere. Don't give them the satisfaction of seeing you suffer."
—Anonymous
62.
"Once you realize you deserve better, letting go will be the best decision ever."
—Anonymous
63.
"I'm letting go…so I can be free."
—Anonymous
64.
"Cupid needs to get shot with his own damn arrow and see how it feels!"
—Anonymous
65.
"Respect yourself enough to walk away from anything that no longer serves you, grows you, or make you happy."
—Carol Sizemore
66.
"Never regret. If it's good, it's wonderful. If it's bad, it's experience."
—Victoria Holt
67.
"If someone you love hurts you, cry a river, build a bridge, and get over it."
—Anonymous
68.
"It's better to be alone than with someone who makes you feel like you're alone."
—Anonymous
69.
"The wound is the place where the light enters you."
—Jalal Uddin Rumi
70.
"Letting go isn't the end of the world, it's the beginning of a new life."
—Anonymous
71.
"Things end because something else is ready to begin."
—Anonymous
72.
"Some of us think holding on makes us strong, but sometimes it is letting go."
—Hermann Hesse
73.
"Sorrows are our best educator. A man can see further through a tear than a telescope."
—Bruce Lee
74.
"You weren't a mistake, you were a lesson. Thanks for teaching me not to fall easy."
—Anonymous
75.
"Breaking up is a natural evolution when you try to figure out what you want in life."
—Usher
76.
"I have lost and loved and won and cried myself to the person I am today."
—Charlotte Eriksson
77.
"Let go of those who have hurt you, and make room for those who actually deserve you and want to treat you well."
—Anonymous
78.
"I thought I lost something this summer, but I just realized, I never needed it."
—Nicole Christie
79.
"Someone I loved once gave me a box full of darkness. It took me years to understand that this too, was a gift."
—Mary Oliver
80.
"Never be afraid to fall apart, because it is an opportunity to rebuild yourself."
—Rae Smith
81.
"We need never be hopeless, because we can never be irreparably broken."
—John Green
82.
"A bad love experience is no reason to fear a new love experience."
—Anne Hathaway
83.
"Turn your wounds into wisdom."
—Oprah Winfrey
84.
"You can keep your love, I will keep my respect."
—Amit Kalantri
85.
"Only time can heal a broken heart, only time can heal his broken arms and legs."
—Miss Piggy
86.
"Reject your sense of injury and the injury itself disappears."
—Marcus Aurelius
87.
"Life always waits for some crisis to occur before revealing itself at its most brilliant."
—Paulo Coelho
88.
"One day they'll realize they lost a diamond while playing with worthless stones."
—Turcois Ominek
89.
"There will come a time you'll see with no more tears, and love will not break your heart, but dismiss your fears…"
—Mumford & Sons
90.
"You are one heartbreak closer to being with the person you are meant to be with."
—Anonymous
91.
"Sometimes you miss the memories, not the person."
—Maria Beaulieu
92.
"No relationship is ever a waste of your time. If it didn't bring you what you want, it taught you what you don't want."
—Anonymous
93.
"No girl should ever forget that she doesn't need anyone who doesn't need her."
—Marilyn Monroe
94.
"I used to hope that you'd bring me flowers. Now I plant my own."
—Rachel Wolchin
95.
"There are far, far better things ahead than any we leave behind."
—C. S. Lewis
96.
"What a revelation it was when she realized she didn't need to settle."
—Anonymous
97.
"I used to think that the worst thing in life was to end up alone. It's not. The worst thing in life is to end up with people who make you feel alone."
—Robin Williams
98.
"Above all be the heroine of your own life, not the victim."
—Nora Ephron
99.
"What the caterpillar calls the end of the world, the master calls the butterfly."
—Richard Bach
100.
"No matter the amount of happy memories we created together, once we broke up, we become strangers."
—Anonymous