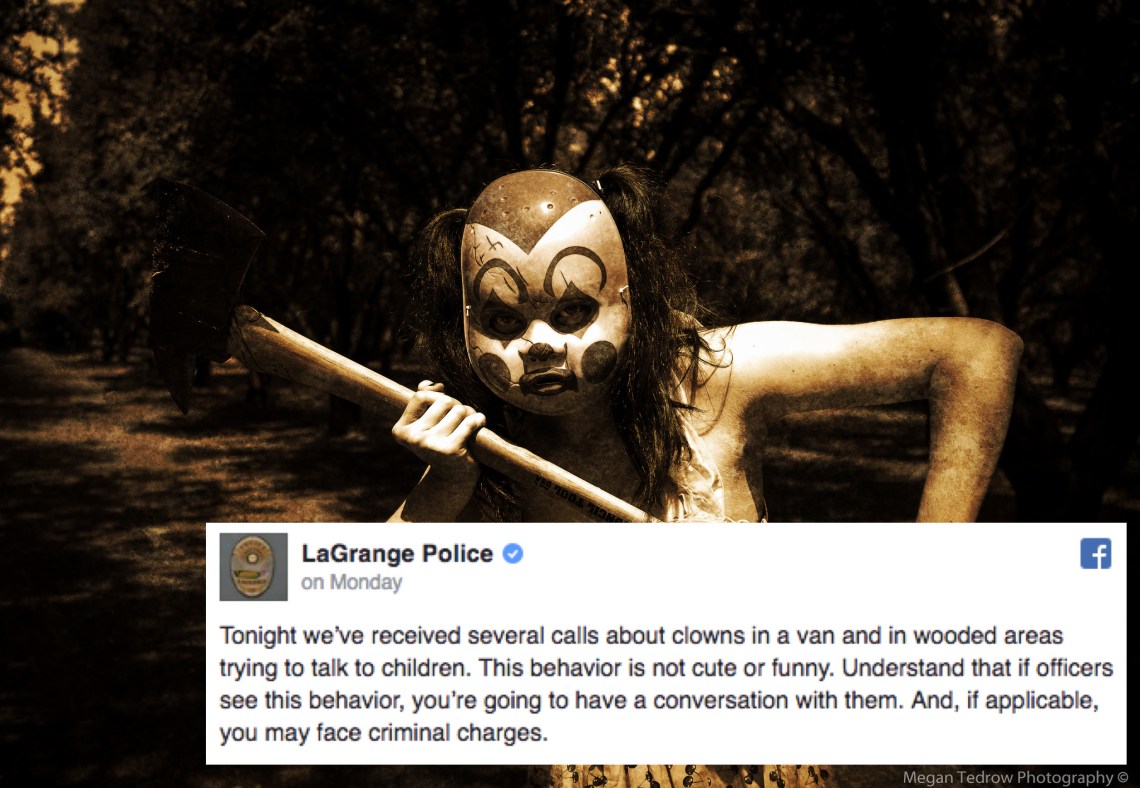 (MACON, GA) — For the last couple of weeks, the nation has been gripped by the terror of a rapidly spreading clown epidemic.
The original story
The creepy clowns originally appeared in South Carolina, where they were reportedly harassing children of an apartment complex. Children say that the clowns worked to "lure" them into the nearby woods, promising money or candy. Others also reported seeing individuals in clown garb shining laser pointers and engaging in other disruptive behaviors. The reports eventually lead to a notice from the apartment complex management: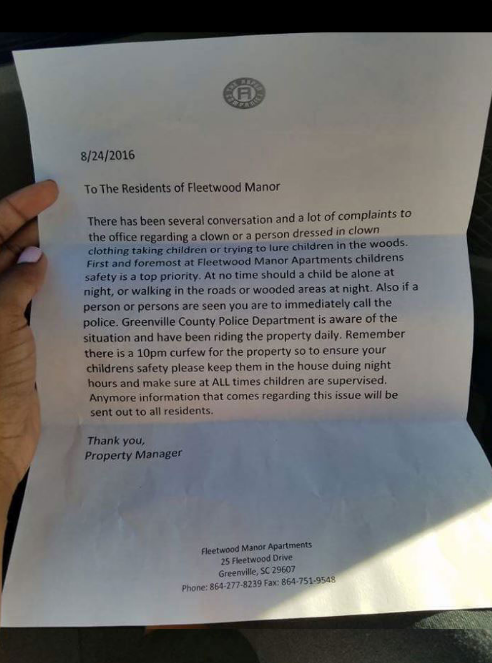 The epidemic spreads
However, that wasn't the end of it. Roughly forty minutes away, the clowns managed to crop up. A woman reported seeing a clown in her backyard, staring up at her window.
Then, in one of the most disturbing reports, a 14-year-old in Columbus, Ohio reported that a man in a clown mask chased him down the street with a knife while he was en route to his bus stop.
@huffingtopost Creepy clown with knife chases kids at bus stop
Details: https://t.co/5kdefFBnhE (via @NBC12) pic.twitter.com/EH3zUXa78C

— Rayhan Daudani (@RayDomEnergy) November 2, 2015
And it's not over yet…
Now, clowns have been sighted in the state of Georgia, and this story also involves a bus stop. According to the children involved, they were waiting at the bus stop to head to school when multiple clowns emerged from an abandoned house and began chasing the kids. Observing adults also reportedly saw the clowns, however, the masked terrors managed to escape before anybody intervened. None of the kids reported any physical contact with the clowns, but they were shaken by the encounter.
Unfortunately, this was not the only report of out-of-control clowns in the state of Georgia. A motorist in Dublin, Georgia actually caused a traffic collision trying to avoid a clown who was allegedly standing in the middle of the road. Additional clown reports have come from Dublin, with Michaela Brooks saying she saw a car full of clowns around 11:00PM in a University parking lot:
"A car came up behind us and parked. I didn't think much of it, until my sister started freaking out, and she told me they were dressed as clowns. We could only see part of them because they were parked to the back of us […] you could see the big hair." (Source)
An hour away from Dublin, in the city of Lagrange, there have also been some particularly hostile clown interactions. Police in Lagrange have claimed to have "several" calls from residents complaining about clowns in vans trying to talk to children near local wooded areas.
And other (unverified reports) have been posted on social media:
@TheDaleJackson creepy clowns are real. There was one in Green Cove Springs, FL who sat on the corner with a butcher's knife.

— JR (@TheJayUNF) August 31, 2016
As police clampdown, many people have wondered if there is the clown sightings are some sort of publicity stunt. However, these reports are getting so widespread it is difficult to imagine that. Nobody, as of yet, has come forward with photographic evidence nor has any arrests been made in any of these cases.