wikiHow is one of the most interesting websites out there. Users get to create their own "How-To" guides to help inform the people of the internet. Sometimes, however, the usefulness of these guides…could be in dispute.
Here's some interesting pages we stumbled upon, clicking on the header will take you to the full page! See what you think.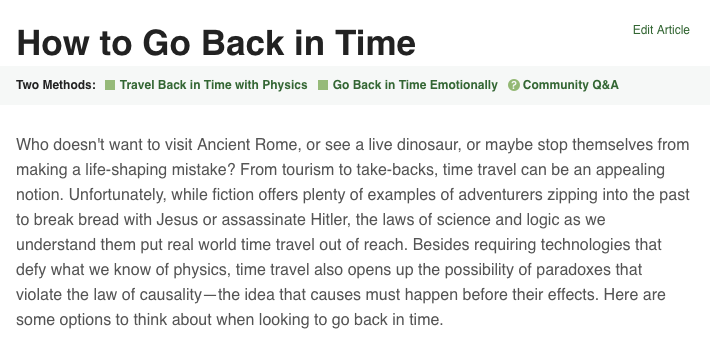 Who wouldn't want to go back in time? But even for its appeal, this wikiHow seems unlikely to make it happen. The article does go through an extensive list of time travel options, but like, still probs not gonna happen.
---

Okay, granted, this makes a little more sense once you read the article. But this could have been headlined a bit better…
---

Why didn't I read this entry before college finals?
---

These aren't "magic tricks" these are real magic spells. Read on, if you want…
---

Is this really something we want to be promoting?
---

This article takes you step-by-step on how you could be the next Superman. Step one: be born on Krypton.
---

I would've been impressed with an article about how to read minds, but this article is just about how you can trick people into *thinking* you can read minds.
---

Step Two: Inhale through nose.
---

If you don't know how, you don't need to.
---
This picture is too much for me. Moving on.
---

Step One: Find a good time to apologize.
---

"Rock her world."
---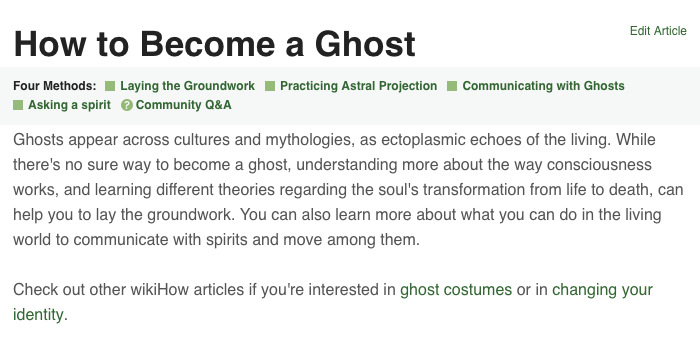 Who would want to stay in this world??
---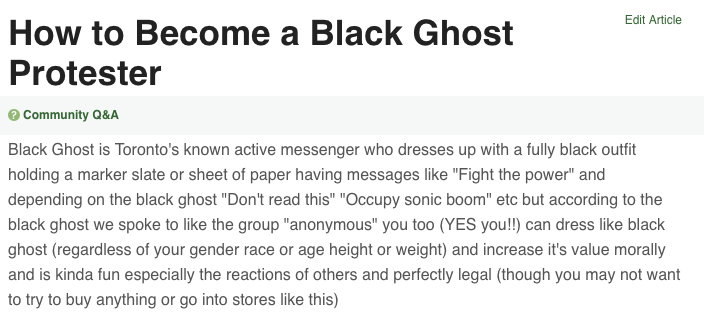 I honestly don't know what's going on here.
---

Step One: Open your mind.
---

---

This article has SEVEN steps. SEVEN.
---

Step One: Locate your third eye…
---

Learn more about making toast here.
---

Step five: suggest a "fake" wedding.