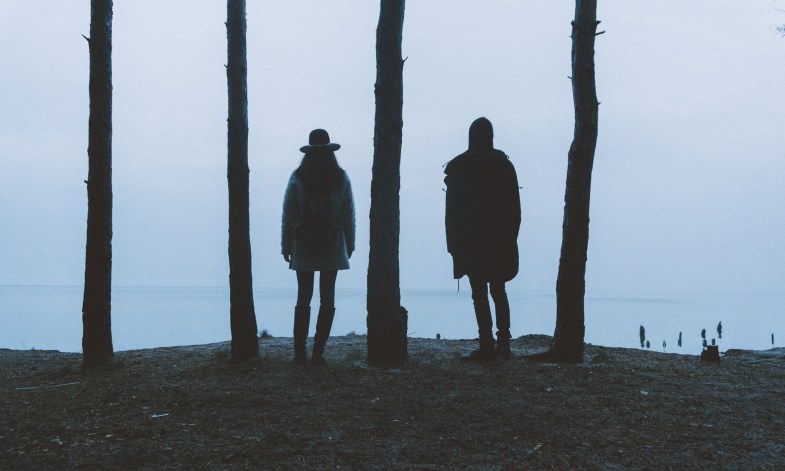 1. While you're learning a new thing
Congrats, to begin with, for finally deciding to learn how to cycle, drive, horse ride or swim. You probably hate it and you think you're a mess at the whole thing, but did you see that guy? No? Well look again, he's on Tinder too.
2. When you think you're on such a dry spell that your vagina's depressed
He might be just around the corner, at that nice cafe you pass by each day on your way to work and never notice him because you're too busy ruminating over the months, weeks, days, seconds since you haven't gotten laid. But he did. Notice you. You know?
3. At IKEA
You shop, I shop, you man, me woman, you couch, I curtains, what can go wrong?
4. When you are super preoccupied to do enjoyable things just for yourself
And most definitely, when you're not obsessed about dating. It can happen that a guy will notice you eating ice cream with your fingers straight from the cup in a diner and ask if he can have some, or that artist at the opening you just landed at to want to paint you. These things happen when you don't care, and not only in the movies.
5. In the club
when you're still dancing on your own at 5 in the morning and you open your eyes and notice the DJ has been only looking at you for the past 3 hours and everyone's left and the two of you share a drink and he kisses you and you can't sleep anymore because you feel all your body being pumped by serotonin.
6. When the guy you used to love in your twenties gets a divorce
and you wait for months before attempting to casually fake an encounter with him on the street, in front of his office building, because you know the bar he used to take you to 10 years ago is still four blocks away, even if they changed the furniture and the name.
7. At yoga camp
Don't worry, he won't tell anyone you're the girl who farts at yoga class. He'll tease you about it for the first six months though.
8. In the back of a shared car ride
This works well if you're currently travelling, hitchhiking or simply heading home from a party and splitting the Uber with that friend of a friend who gazed back at you all night long.
9. At the airport
While this may sound surreal, move like to you, your next favorite person may almost literally land next to your lap as you've just taken your seat in the plane. You may meet them in transit, or waiting for someone at the gate, or they might surprise you with a real cool story from their journey. Airports are packed with strangers, tourists, and sometimes the coolest looking guys on the planet, so remember to freshen up and wear that long lasting dramatically different moisturiser that keeps your cheeks in perfect pale pink condition.
10. At work
As much as this sounds cliche, people still find other people to date at the office, at the client's, or doing research for their next journalistic masterpiece. If this happens, however, be prepared to lay low for a long time before you go official, while the tension is hot in the beginning, office environments may not be the best scene to vent your relationship issues or complaints on the longer run.
11. At the gym
This is pretty much a classic. Don't sweat it out, you might actually meet nice people in there.
12. At a wedding
You don't need to catch the bouquet or dance on the table to get yourself noticed. Wear black and your favourite fragrance and relax. You look brilliant tonight!, he will reckon.
13. Posting online about wanting a boyfriend
Artist Wasted Rita once advertised she was looking for a date via social media. She was basically introducing herself, throwing a few hints about how the person should be and promised to analyize all incoming offers as thoroughly as if they were real estate. I'm not sure if Rita found her boyfriend, but I can tell you plenty of people followed her gesture and openly admitted to the same procedure. I was one of them. Plus, with everyone nowadays hooking up on social networks of all sorts, there is absolutely nothing to be ashamed about in expressing your romantic concerns on Facebook or Twitter. If you have an overly active life, little space to date outside your premises and a generous social media following base, it can't hurt to try.
14. In the supermarket
You won't believe how many hot people shop all day long, especially in cool neighbourhoods. When I first moved to Berlin, it only took 15 minutes for me to get stuck at a neverending queue with a funky French guy who was next in line and who managed to flirt me, amuse me and keep me entertained for the next half hour until we reached the cashier's.
15. When you go alone on holiday to soul search (but you're kind of hopeful to get laid too)
This is a fantastic time to meet someone who may be up to the same quality time as you. Even if you go to the beach in November in Northern France to sit alone and watch the ships and eat fried fish and drink Absinth in the evenings in a cozy place with just your books and your laptop, you may bump into that stranger who will want to know what's between the covers.
16. When you're actively trying to forget the one who got away
Life is surprising. It may give you lemons, rebounds, fuckboys, and then some good hearted fellow who will watch you pick yourself from your own misery and bounce back to your spirited sidekick.
17. When you suddenly find your flat mate hot
…and decide living together with someone as hot as they are may actually be a good idea.
18. The day you meet that shy, weird guy you haven't seen since school and they are fantastically attractive, charismatic and nice, and they offer to take you to dinner in a different town
That, my friend, is the day you forgive junior high's mean girls for sticking gum in your hair during every given class.
19. When you bump into the ex you never really forgot
and they are single, available, and looking forward to catch up. Then, you kiss them in the car and they tell you they almost had an accident after they dropped you off, and you're lying naked in bed the next day and you giggle.
20. When you crash a wedding with your friends
and just before you get caught by the host, you make sure to appear in all those strangers' party photos, have a couple of Martinis and a pile of cake, and pretend you're the groom's late niece from another continent, and his mate finds that funny and asks for your number.