They say you don't really know your significant other until you spend six months in a relationship with them. I say that you don't know someone until you spend 60 minutes in a car, trying to work as a team to get to your destination without crashing and burning (in more ways than one). Here are a few fights you might have with the one you love, on the road to Forever. (Or just to Taco Bell.)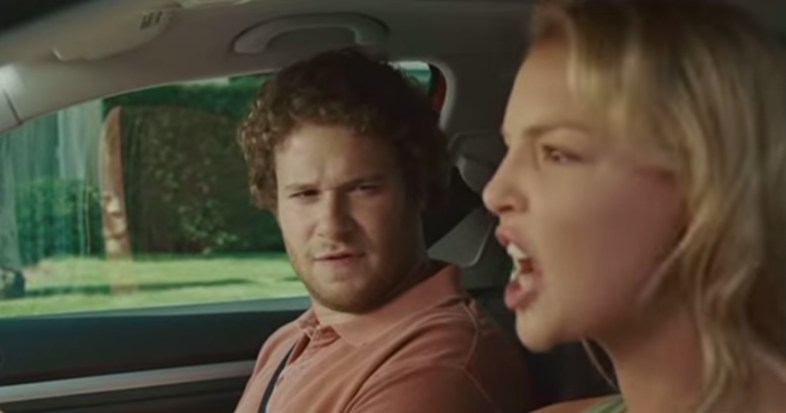 1. The parallel parking pettiness
You'd think the four most important words in a relationship are "I love you, *insert name here*" but they're actually, "let me do it." Once you've said those words, you've forever insulted the other person's entire being and you will never live it down.
2. The AUX cord DJ struggle
One AUX cord, two humans, a sound system, and an electronic device with access to millions, perhaps even billions of songs. Will the driver get the luxury of controlling the wheel and controlling the music? Will the passenger, who has two free hands run a DJ dictatorship? Will they settle somewhere neutral and agree on a radio station? Find out, on the next episode of 'The Couple Who Has Significantly Different Tastes In Music, Or At Least, On This Particular Occasion, Are In The Mood For Very Differing Songs, And They're Driving Somewhere And Getting Irritated At Each Other Because Both Want Complete Control'
3. The GPS misread during a high-stress situation
"It says to turn left… no, turn right actually TURN RIGHT!"
"OMG WHICH ONE IS IT?"
"I CAN'T TELL! IT'S A RIGHT TURN HERE!"
"HERE? OMG BABE YOU NEED TO TELL ME ABOUT THE TURNS BEFORE THEY COME!"
"THE GPS IS CONFUSING! I DON'T KNOW."
"HOW CAN I TRUST YOU TO DO THIS? JUST GIVE ME THE GODDAMN PHONE, I'LL DO IT, JUST LIKE I DO EVERYTHING IN THIS RELATIONSHIP."
4. The windows down Vs. Nicely done hair
You can have the fresh, crisp, air, or you can have every last hair remain in the place you put it. These two things are mutually exclusive when driving. Letting down the windows unexpectedly, causing a perfectly done set of hair to be blown into a discombobulated mess is the equivalent of giving an aggressive noogie, and will draw the same, annoyed reaction. This truly isn't a confrontation worth having, as the mayhem and destruction this could potentially leave behind far outweighs having to use the air conditioner.
5. The glove box raid
"Can you grab some napkins? I think there's some in the glovebox."
*Opens glovebox, proceeds to remove every single object and question the reason as to why it's there*
6. The drive-thru indecision
So you pulled over to get some food at the request of your beloved. You're starving too, and you know you want a crunchwrap supreme. You pull up to the drive-thru voicebox of your cheesy dreams, and you lean in to tell them your order, only to discover that your significant other is significantly dense when it comes to ordering. Taking more than 30 seconds to decide want you want in the drive-thru line is a crime, and it is punishable by not getting a single bite of the other person's food ever again.
7. The pissed off hunt for something in the car that ends in a pull-over
"Babe can you get my notebook out from under your seat?"
"Yeah let me check…"
"Thanks."
"It's not there."
"It's there, I'm sure of it…"
"No babe it's not under the seat I just checked it!"
"Jesus babe it's under the goddamn seat just check underneath—"
"I CHECKED IT! IT'S NOT THERE! YOU WANNA PULL OVER—"
*PULLS OVER AND SHOVES THEIR HAND UNDER THE SEAT* "…wait…I could've sworn I put it in here… ah goddamn it it's in the backseat. WHY DIDN'T YOU JUST LOOK AT THE BACK SEAT??"
"I WAS JUST LOOKING WHERE YOU ASKED ME TO!"
8. The resentful stop to go pee
One person in the relationship's bladder is always bound to be smaller than the other person's in the relationship, and this ALWAYS leads to discord on road trips where bathroom breaks are needed. "GOD you have to pee again? We just stopped an hour ago? I want to make this trip in UNDER 6 HOURS!!"
9.The professional passenger-seat driver
When one person's driving and the other is behaving like an aggressive orchestra conductor, it's bound to result in some unpleasantries being exchanged. The "Stop driving so close to the line!" or "Why are you turning so quickly?" or "Why don't you get in this lane?" type commenting should happen when we're 15, and our parents are teaching us how to drive, but never again after that. If you think you have all the answers, here's a concept that works: Drive.
10. The missed exit
"I think that's the exit"
"No, it's definitely the next one"
*Misses exit*
"….I told you that was the exi—"
"NOT RIGHT NOW!"
11. The pit-stop pity trip
The two of you agreed before this drive that you'd try to make it as quick as possible— regardless of how far away your destination actually is. Yet someone the driver has been guilted into taking a completely out-of-the-way detour just to appease the passenger, who forgot something at home…and they probably forgot to pee, too. You spend the rest of the day reminding each other of who was wrong in the situation, and no one can ever be right.
12. The "I have no idea what we're doing" fight that changes your life for the worse
Someone was supposed to grab the wedding invitation because it also had directions on it. Now neither of you can remember whether the wedding starts at 4 or 4:30 and you're cruising along the highway because that's the only part of the directions you thought you'd have to remember. For control freaks this is the worst, especially if they're thinking "just this once I'll let him do all the directions and everything. I won't triple check him, I'll just chill and trust he'll handle it." But, he hasn't handled it and now you're either going to be late or lost or a little of both.
Welcome to walking in just before the final vow in a sweaty huff while everyone stares at you. Welcome to promising yourself you'll always control every aspect of everything for the rest of your life.
13. The battle of "it should be cooler" in here
What they say: "Can you turn on the AC? I'm sweating."
What you want to say: "It should be cooler, or you could take that sweater you're wearing off. I'd put one on but I'm driving (!) so maybe just help me out? You know, I got that Audible membership just for this trip and you haven't even started playing it and we're halfway there. Seriously, you knew that it was going to get hot in the car because I told you it would and you decided to wear a wool sweater anyway because you like the way it looks? No, the air stays where it is. Take off your seatbelt and peel down a layer like a normal human being."
What you actually say: "suuuuuuure."
14. The impromptu car redecorator fight
Their parents car must have been clean, like spotless. Sure, you may have an empty bottle or two behind the seats and there may be some grime on the bumper but it's mid-Winter. That's hardly reason enough for you to stop by a car wash and do a full vacuum on the floor mats. I mean, it needs it but does it need it, need it?
This is the worst because your car is basically you in car form and being told it needs mad air freshener assistance is like being told you haven't taken a bath in a month and you have food on your face. In the end, you know it's out of love, but at the time, you're like, "Just. Let. Me. LIVE!"
15. The loudest silence
*Six hours of no speaking whatsoever*