Cheaters just really suck, right?
Well when this conniving guy discovered that his best friend's girlfriend was cheating on her, he wanted some revenge.
He sent the guy these text messages, making it clear that he knew EXACTLY what was going on: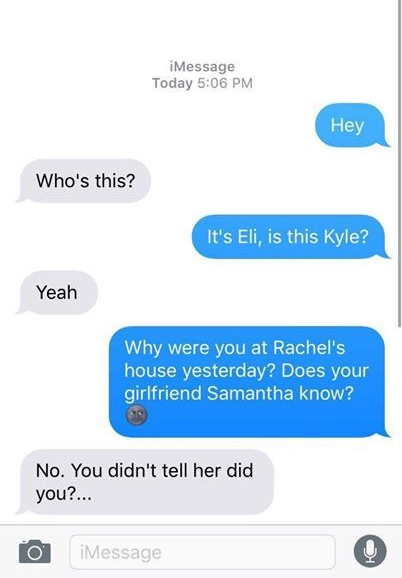 You can tell already that Kyle is super nervous. He knows that he fucked up, and he knows that Eli could totally spill the beans on him. He has Kyle exactly where he wants him, and that's when he knows that it is time to blackmail him:
He asks for a pizza to literally be delivered to his house. And Kyle, probably willing to do pretty much ANYTHING to make it happen, immediately fulfills his request.
Interestingly, Eli says that he "WILL" tell him if Kyle buys him a pizza. Was that Eli's typo? Or was he setting a trap for Kyle expecting him to read it incorrectly?
For a guy with THAT MUCH dirt on him, it seems like a very small ask, and Kyle is probably sighing with relief that his dirty secret will be forever safe. Except…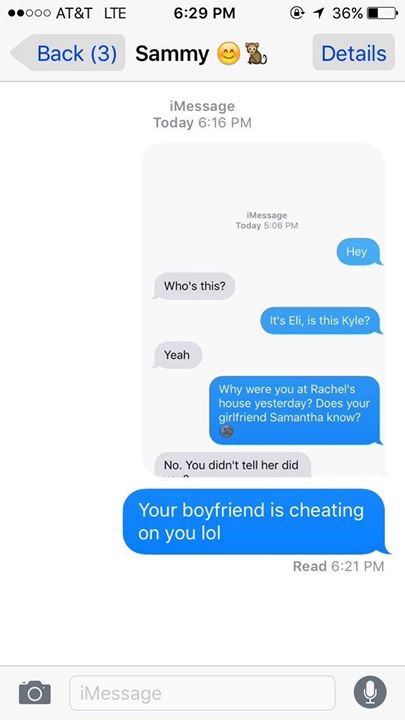 Eli totally tells her anyway! Of course he does! Sammy is his friend! But he was certainly willing to get a free pizza out of the drama before telling the bad news to his BFF.
I can just imagine this Eli laughing his ass off, eating pizza, seeing this petty fuckboy totally get what he deserves. Hopefully Sammy dumped his sorry pizza-buying butt immediately!

Update: After reader tip, we corrected the gender of the friend from female to male. Still an amazing story!