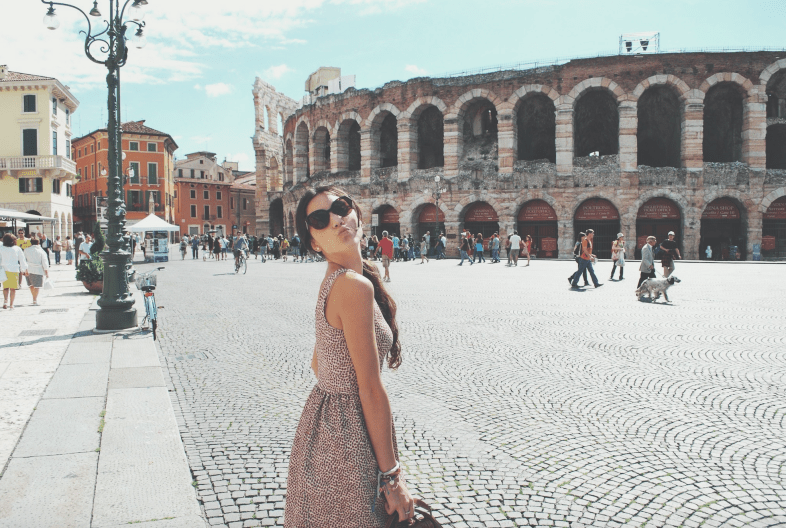 It's easy to get caught up in your own head and believe you're behind where you're supposed to be for your age or that a single mistake is a string of fuck-ups or that you're doing anything other than enough. This is a collection of quotes meant to jolt you out of negative self-talk and give you perspective about where you're really at.
1.
P.S. You're not going to die. Here's the white-hot truth: if you go bankrupt, you'll still be okay. If you lose the gig, the lover, the house, you'll still be okay. If you sing off-key, get beat by the competition, have your heart shattered, get fired…it's not going to kill you. Ask anyone who's been through it. — Danielle LaPorte
2.
The harder you slam a ball into the ground, the higher it bounces back up… A divorce, a breakup, losing a job, or just feeling seriously down can ground you, rough you up a bit, leave calluses on your feet and grit under your finger nails. But more than that, it leaves you wiser and stronger next time… Life is about experiencing opposites isn't it? — Laurel House
3.
Someone can be madly in love with you and still not be ready. They can love you in a way you have never been loved and still not join you on the bridge. And whatever their reasons you must leave. Because you never ever have to inspire anyone to meet you on the bridge. You never ever have to convince someone to do the work to be ready. There is more extraordinary love, more love that you have never seen, out here in this wide and wild universe. And there is the love that will be ready. — Nayyirah Waheed
4.
What we have to remember is that we can still do anything. We can change our minds. We can start over. Get a post-bac or try writing for the first time. The notion that it's too late to do anything is comical. — Marina Keegan
5.
An entire sea of water can't sink a ship unless it gets inside the ship. Similarly, the negativity of the world can't put you down unless you allow it to get inside you. –Goi Nasu
6.
A beautiful thing is never perfect. –Egyptian proverb
7.
The sign of intelligence is that you are constantly wondering. Idiots are always dead sure about every damn thing they are doing in their life. –Sadhguru Jaggi Vasudev
8.
Forget about good.
Good is a known quantity.
Good is what we all agree on.
As long as you stick to good,
you'll never have real growth.
–Bruce Mau
9.
The need to be normal is the predominant anxiety disorder
in modern life. –Thomas Moore
10.
Losses aren't cataclysmic if they teach the heart and
soul their natural cycle of breaking and healing. A
real tragedy? That's the loss of the heart and soul
themselves. If you've abandoned yourself in the effort
to keep anyone or anything else, unlearn that pattern.
Live your truth, losses be damned. Just like that, your
heart and soul will return home. –Martha Beck

11.
The greater the artist, the greater the doubt.
Perfect confidence is granted to the less talented
as a consolation prize. –Robert Hughes
12.
You will always be too much of something for someone: too big, too loud, too soft, too edgy. If you round out your edges, you lose your edge. — Danielle LaPorte
13.
When I get lonely these days, I think: So BE lonely, Liz. Learn your way around loneliness. Make a map of it. Sit with it, for once in your life. Welcome to the human experience. But never again use another person's body or emotions as a scratching post for your own unfulfilled yearnings. — Elizabeth Gilbert

14.
It takes courage…to endure the sharp pains of self discovery rather than choose to take the dull pain of unconsciousness that would last the rest of our lives. — Marianne Williamson
15.
When one door closes another door opens; but we often look so long and so regretfully upon the closed door, that we do not see the ones which open for us. — Alexander Graham Bell
16.
It's so difficult while we're blind and hurting and don't know which way is up. But, if you have faith in anything, have faith in the fact that the universe has a beautiful way of straightening things out far better than we ever could. — Brianna Wiest
17.
I wanted a perfect ending. Now I've learned, the hard way, that some poems don't rhyme, and some stories don't have a clear beginning, middle, and end. Life is about not knowing, having to change, taking the moment and making the best of it, without knowing what's going to happen next. Delicious Ambiguity. — Gilda Radner
18.
A life spent making mistakes is not only more honorable, but more useful than a life spent doing nothing. — George Bernard Shaw
19.
Drop the idea of becoming someone, because you are already a masterpiece. You cannot be improved. You have only to come to it, to know it, to realize it. — Osho
20.
The most beautiful people we have known are those who have known defeat, known suffering, known struggle, known loss, and have found their way out of the depths. These persons have an appreciation, a sensitivity, and an understanding of life that fills them with compassion, gentleness, and a deep loving concern. Beautiful people do not just happen. — Elisabeth Kübler-Ross
21.
You say you're 'depressed' – all I see is resilience. You are allowed to feel messed up and inside out. It doesn't mean you're defective – it just means you're human. — David Mitchell
22.
The brick walls are there for a reason. The brick walls are not there to keep us out. The brick walls are there to give us a chance to show how badly we want something. Because the brick walls are there to stop the people who don't want it badly enough. They're there to stop the other people. — Randy Pausch
23.
A bad day for your ego is a great day for your soul. — Jillian Michaels