DISCLAIMER: None of these are rated 10/10 because nobody wants to believe that they've already tasted the best pizza life has to offer. We all want to live in a present that has the possibility of better pizza in the future.
Personal Pan Pizza
Personal sized pan/deep dish pizzas from anywhere are ALWAYS delicious. They're just one of those concoctions that it's impossible to ruin. Think about it, the worst pan pizza you've ever had still tasted better than the best vegetables you've ever eaten, guaranteed. My first experience with these came during the early 90s' Pizza Hut Book It! Program, which basically offered free personal pan pizzas to kids for reading books. Needless to say I was thumbing through Gary Paulsen titles like there was no tomorrow. To this day food is one of my biggest motivators and there aren't many challenges I wouldn't be willing to accept if the other side of success had warm, gooey, cheese covered heaven on it. (Sidenote: Even the largest pizzas can be considered personal sized if you're ambitious/hungry/selfish enough.) Rating: 9.4/10
Totino's Pizza
Oh, Totino's Pizza, where do I begin? The thing about these delightful, cheap frozen pizzas is that it's hard to define 'em as good or bad considering they're really only consumed in beggars can't be choosers scenarios. Sometimes we can't afford the price of ordering a pizza and spending extra on delivery fees and tips, leaving us with limited options. Totino's doesn't even really taste like pizza, so much as crispy bread-like crust covered in tomato paste and test-tube cheese, but they've always been there for me and my empty wallet, therefor I can only be so critical. They usually cost around a buck, and if I can buy 10 Totino's for the price of one pizza from a chain, I'm going to preheat the oven to 450 and be 11-12 minutes away from mediocrity. You do your job, Totino's Pizzas, and for that we appreciate you. Rating: 3.7/10
$1-2 Slices At Any Pizza Joint (Often consumed post-bar/club)
These usually contain a puddle of grease on 'em, which is great for those trying not to wake up hung-over. If healthiness means that much to you, grab a napkin and get to blotting because these giant, single slices from random pizza joints tend to be so indescribably satisfying. They're also a really cheap meal, and low price is the food version of sexy lingerie. Rating: 8.1/10
Papa John's/Domino's/Pizza Hut
The general consensus seems to be that Papa John's & Pizza Hut are better than Domino's, which has built a reputation for  making subpar pizza. Of course opinions differ so everyone has a preference, but Domino's certainly didn't do themselves any favors by coming off like a desperate ex, drunk dialing you and begging for your consideration of their product. While Papa John's has the amazing garlic sauce that tastes like tears of joy from the eyes of Jesus, they also have a couple of racist employee incidents that make me feel guilty for eating their pizza. Last point, Pizza Hut offers buffets that never fail to ruin a diet in the most satisfying way. Rating: PJ: 8/10 D: 5/10 PH: 8.8/10
Little Caesar's Hot-N-Ready
When evaluating Little Caesar's Hot-N-Ready pizza, it's hard not to include their low price of $5 and convenience of being readily prepared for immediate consumption in your evaluation process. Does the crust sometimes taste like it's made out of the same cardboard as the box it came in? Absolutely. Another downside would have to be the fact that you have to eat the entire thing in one sitting, because reheated Little Caesar's pizza reminds me of a mediocre movie with a flat-out awful sequel. All things considered, there are benefits and downsides to deciding on this, but at the end of the day it's still edible pizza. Rating: 5.7/10
Lunchable Pizza
I don't care if these aren't widely considered a form of pizza, they are on here because one shouldn't be ashamed to spread their sauce across that cold, hard slab of bread/crust and sprinkle the cheese, then decorate it with pepperonis, just because he or she is well over ten years old. Rating: DON'T-JUDGE-ME/10
DiGiorno
Clearly you're not delivery, DiGiorno, who did you think you had fooled? We love you for what you are, which is elite frozen pizza. The thing that's troublesome about DiGiorno is its cost, which typically isn't too much cheaper than it is to order from an actual pizza joint, so why spend on lower quality food that also requires us to prepare it in the oven? They even try to throw in a side of frozen chicken strips, wings, breadsticks or cookies to distract us from the fact that for a few more bucks we could have a hot pizza pie delivered directly to us. Well played, DiGiorno. Rating: $6.99/10
Authentic Pizza
The authentic, Italian style stuff is entirely different from every other kind. It's high quality, it's the real deal and after having significantly less delicious forms of pizza, it's quite a treat for oneself. Being financially restricted, you might only get one authentic pizza per every 100 Totino's pizzas, so when you finally have the real thing you feel like Will Smith, celebratory clapping after getting hired in that emotional Pursuit of Happyness scene. Started from Totino's now we here… Rating: 9.8/10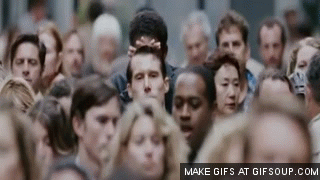 Join the Patrón Social Club to get invited to cool private parties in your area, and the chance to win a four-person trip to a mystery city for an an exclusive Patrón summer party.