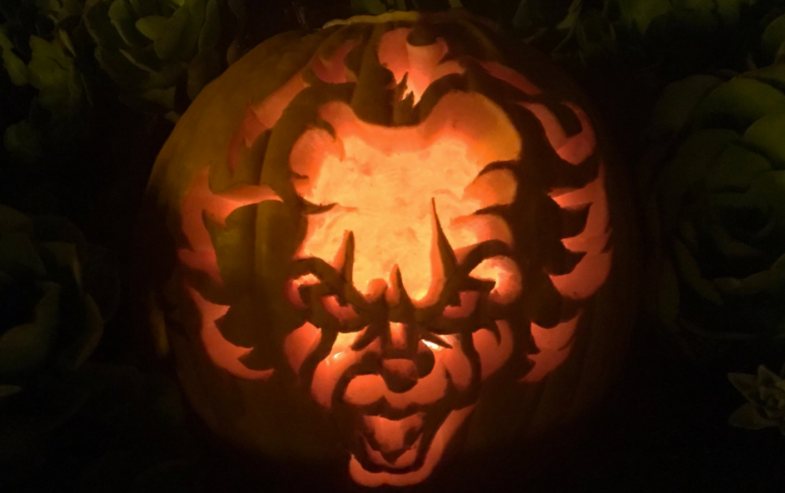 Hello, 911, I'd like to report a crime: people won't stop making Pennywise pumpkins and I need you to cancel Halloween IMMEDIATELY.
People have basically been obsessing over It (and it's weirdly sexy clown) since it came out in theaters last month. So I really shouldn't be surprised that Pennywise The Fuckable Clown is taking over, but honestly, I just wish it would stop.
My bff carved this pumpkin into Pennywise … WHAT IS THIS WITCHCRAFT??? pic.twitter.com/QdvK3sqOHS

— s 🍄 (@seeseenotfound) October 13, 2017
https://twitter.com/sarah_haII/status/919727494831525888
The staff's Halloween pumpkin certainly came out nice!#Librarian #Library #Pumpkin #Halloween #Pennywise #It pic.twitter.com/jNoADEhBVK

— Matt Johnson (@MatthewAJohnson) October 12, 2017
Do these people have incredible talent? Definitely!!! Do they need to stop right this instance? Yes, immediately!!!
I attempted to make a Pennywise pumpkin 😂 Pumpkinwise? Pennypumpkin? pic.twitter.com/3v63PHqGCa

— Kayla 🌻🎡 (@ferrytothestars) October 14, 2017
.@NotMarkCameron –
Pennywise pumpkin carving is now a thing & these are pretty awesomehttps://t.co/XP4qgUZKHE#BroNews pic.twitter.com/dRLlEBrNwC

— FM96 (@FM96Rocks) October 18, 2017
Lol, work in progress #halloweenvibes #pumpkin #october #Pennywise pic.twitter.com/RJXD1dq82r

— Sofie (@SofieSaidSo) October 16, 2017
I don't mean to be a Halloween buzzkill, but can't we go back to having cute lil Jack-O-Lanterns with misshapen eyes on our doorsteps? Now Pennywise is following me down every street I go and I CAN'T DEAL.
Pumpkin #10 of 31
"You'll float too"#Pennywise Inspired by#AndresMuschietti's #IT@ITMovieOfficial@NewLine_Cinema#31PumpkinsForHalloween pic.twitter.com/z9XZ3yTdGQ

— CORIN HARDY (@corinhardy) October 11, 2017
#Pennywise #pumpkin #halloween pic.twitter.com/UDT8Q8nE0h

— Missouri Mommy (@MissouriMommy1) October 16, 2017
First carving of 2017!@StephenKing @ITthemovie #stephenkingsit #Pennywise #it @ITMovieOfficial #movies #pumpkincarving #halloweenwars pic.twitter.com/rvhHceEo9X

— Jimmy Carmon (@JimmyCarmon) October 3, 2017
Pennywise carved from Pumpkins! 🤡🎈🎃 See more at https://t.co/IgRXgA6QfG #Horror #ITMovie #Halloween pic.twitter.com/gwaxqNgeCv

— Eric Weiss 🤘💀 (@ZombieRiot) October 11, 2017
I guess this is better than the killer clowns of 2016, but also, can we just stop with clowns for the rest of the century??? Please and thanks.