I love Carly Rae Jepsen. I want to find the nearest rooftop and actually shout it. Like, with a megaphone. I want to knock on every door I pass to spread the news of our Lord and Savior, CRJ.
For those who only think of her as the "Call Me Maybe" girl, YOU NEED TO EDUCATE YOURSELF, ASAP (Rocky). Her album, E•MO•TION, was one of my favorites that year. And today she dropped E•MO•TION: Side B.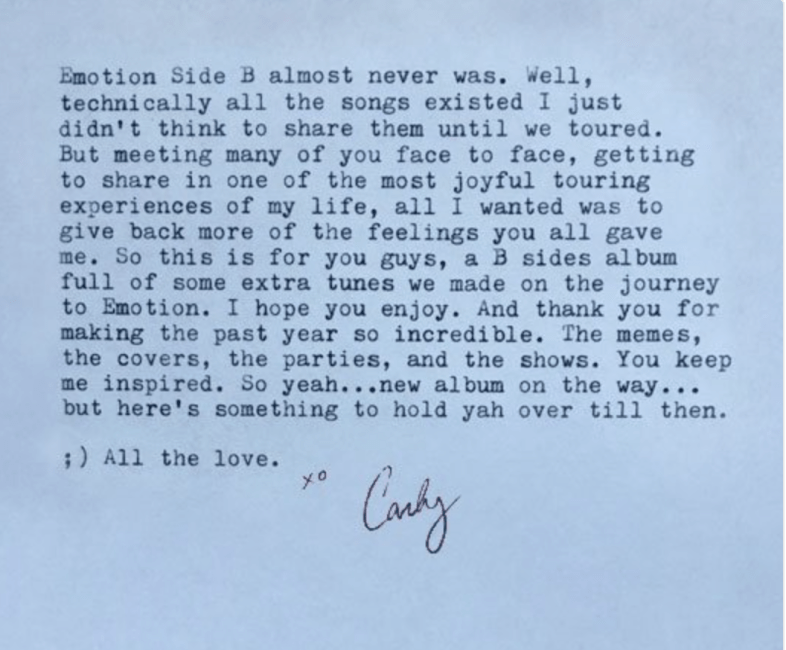 AND DEAR GOD, I LOVE IT SO MUCH ALREADY. Catchy, electric, very 80s dance inspired, and with lyrics that (of course) make me think about all the dudes I loved who just wanted to remain friends. Hahahah, I'm fine.
So, if you're looking for a new Instagram caption, allow me to share my favorite lyrics from E•MO•TION: Side B.
---
1.
"Cause when my heart breaks / It always feels like the first time."
— First Time
---
2.
"Looking back, I followed you everywhere / We were kids just playing with truth and dare."
— First Time
---
3.
"You take me higher than the rest / Everybody else is second best."
— Higher
---
4.
"Romance is fine, pour me some wine / Tell me it's just for the fun of it."
— The One
---
5.
"My breath was lost when you said 'friends' / Well, that could work but I'm still hot for you."
— Fever
---
6.
"You wanna break my heart, alright / I caught your fever, I'll be feeling it forever."
— Fever
---
7.
"And my lights stay up, but your city sleeps / It's a different world when you're not here with me."
— Fever
---
8.
"I call you my lover, you call me your friend."
— Body Language
---
9.
"Body language will do the trick."
— Body Language
---
10.
"He never wants to strip down to his feelings / He never wants to kiss and close his eyes."
— Cry
---
11.
"He never wants to cry, cry / I never really know when he'll be leaving / And even with hello I hear goodbye / He always makes me cry, cry."
— Cry
---
12.
"Wake up and I'm next to you / But I wish that I was next to him."
— Store
---
13.
"I'm not that good at goodbyes."
— Store
---
14.
"Knock on the door, leaving it open / It wasn't you, why was I hoping?"
— Roses
---
15.
"And I can feel you reaching through the cracks / A simple change of seasons and you're back."
— Roses
---
16.
"A simple change of heart and you attack / All the roses in the garden fade to black."
— Roses
---
17.
"Cat got your tongue, it's been forever / Have you been good? Have you been better?"
— Roses
spotify:album:31776n0a6xHYMHSlK4983u