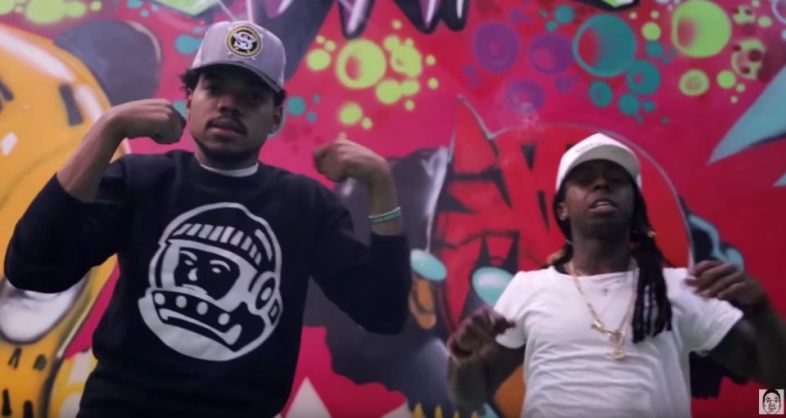 1.
"I am not Jasmine, I am Aladdin."
– Nicki Minaj, "Roman's Revenge"
2.
"Got buffoons eatin my pussy while I watch cartoons."
– Lil' Kim, "Queen Bitch"
3.
"They told me to change, they called me names, and so I popped one. Opinion's are like assholes and everybody's got one."
– Salt-N-Pepa, "None Of Your Business"
4.
"Run shit like diarrhea."
– 2 Chainz, Chance The Rapper's "No Problem"
5.
"Now if I fuck this model, And she just bleached her asshole, And I get bleach on my T-shirt, I'mma feel like an asshole."
– Kanye West, "Father Stretch My Hands, Pt. 1
6.
"Ayy I'm just feelin' my vibe right now. I'm feelin' myself."
– Desiigner, "Panda"
7.
"Go downtown and eat it like a vulture."
– Missy Elliot, "Work It"
8.
"Got so many chains they call me Chaining Tatum."
– Drake, "Pop Style"
9.
"This dick ain't free."
– Kendrick Lamar, "For Free? (Interlude)"
10.
"Nothing can stop me, I'm all the way up."
– Fat Joe, "All The Way Up"
11.
"Let's make a movie, are we moving too fast? Who cares? You're my new bae."
– Vic Mensa, "New Bae"
12.
"Girl you standin' right there lookin' so amazing."
– Migos, "Say Sum"
13.
"I keep it O.G watchin episodes of O.C."
– Living Legends, "Brand New"
14.
"All these bitches is my sons."
– Nicki Minaj, "Did It On'Em"
15.
"I go on and on. Can't understand how I last so long."
– TOO $HORT, "Blow The Whistle"
16.
"If you got money, and you know it. Take it out your pocket and show it."
– Lil' Wayne, "Got Money"
17.
"Don't ask me shit, make me lie to you motherfucker."
— T.I., "Dope"
18.
"I don't know what you heard about me. But a bitch can't get a dollar outta me. No Cadillac, no perms, you can't see, That I'm a motherfuckin' P.I.M.P."
– 50 Cent, "P.I.M.P."
19.
"Bitch I'm back out my coma."
– Kanye West, "Hold My Liquor"
20.
"To fuck with me you need a reservation."
– Big Sean,"Who I Am"
21.
"I'm an ordinary person but I'm paid."
– Lil Boosie, "Wipe Me Down"
22.
"When the pimp's in the crib ma, drop it like it's hot."
– Snoop Dogg, "Drop It Like It's Hot"
23.
"I be that pretty motherfucker."
– A$AP Rocky, "Peso"
24.
"They say I act like I'm the man, cause motherfucka I am."
– J. Cole, "I'm The Man"
25.
"Told her beauty is why God invented eyeballs. And her booty is why God invented my balls."
– Kanye West, Lloyd Banks, "Start It Up"
26.
"Button start the foreign, oh my God I'm gorgeous."
– Kevin Gates, "2 Phones"
27.
"All I do is win win win no matter what."
– DJ Khaled, "All I Do Is Win"