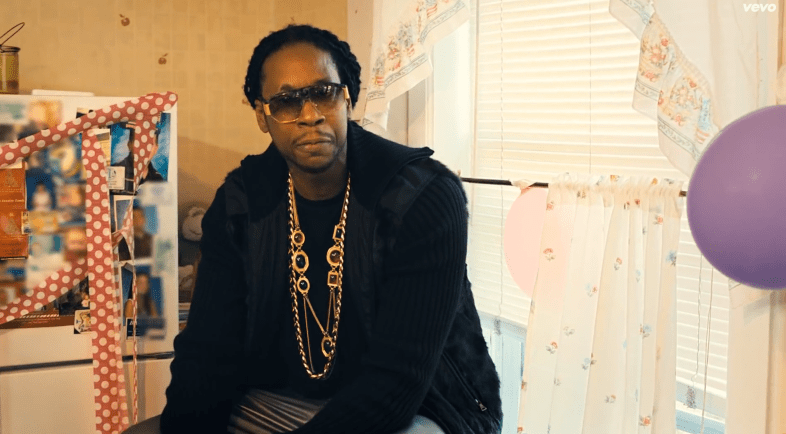 There are certain things in life that bring me unexplainable joy: The sound of my goddaughter laughing. The way my mother smells when she hugs me. The first tree that starts changing colors in autumn. The words 2 Chaaaaainzzzzzz busting out my car speakers. In all seriousness, I have tried to fight this secret, undeniable love and I just can't anymore. 2 Chainz is my Tru Luv. And I feel it's only right to share the brilliance of my bae with the rest of you. But please, remember I called dibs first.
Netflix – ft. Fergie
"2 Chainz, got 'em staring at my necklace. Let's make a sex tape and put it on Netflix. Let's make a sex tape and put it on Netflix."
Easy access. 2 Chainz is the kind of guy who wants to ensure the whole family has fun.

24 Hours – TeeFLii ft. 2 Chainz
"I ask em who is it? They say room service. Gimme one minute, she gettin' a womb service."
Ma'am, are you ready? Your gynecologist 2 Chainz will see you now.

Extra – 2 Chainz
"I just had a threesome for three weeks in a row. Last name Chainz. First name 2. I'm true to it. You know how I do it."
Three weeks in a row??? WHO R U?!?!?! PLZ EXPLAIN!

Birthday Song – 2 Chainz, Kanye West
"She got a big booty, so I call her big booty."
The classic one we all know and love. He's just keeping it simple. Why complicate the situation? She got a big booty. What's he supposed to call her, Susan?!

Fork – 2 Chainz
"I got medusa on my sneakers. My dick up like "nice to meet ya."
You just have to give a polite penis some credit every now and then.

Party Ain't A Party – Jamie Foxx, 2 Chainz
"I fuck over your girl hairdo. If it's curly, I'll straighten. If it's straightened, I leave it curly."
I love this. He's just a super versatile dude. He can deal with ANY texture, don't stress. He's got you.

I'm Different – 2 Chainz
"I am so high… attic. I am so high like an addict"
That word play…oh, bae.
ALSO
"I paid a 1, 000 dollars for my sneakers. 'Ye told ya, a 100k for a feature. Eee-err Eee-err, sound of the bed."

I Luv Dem Strippers – 2 Chainz, Nicki Minaj
"I'm haterphobic, they mad cause I'm winning."
OH YOU TELL THEM BOO BOO!

Fuk Da Roof – 2 Chainz
"I'm standing in the vip. I'm parked in the vip. I go from vip to vip so much that I'm nauseous."
Awwww, honey! I'll bring you some Pepto.

No Lie – 2 Chainz, Drake
"2 Chainz on my rugby. Left hand on that steering wheel. Right hand on that pussy."
Rugby? Driving? Vagina? I literally have no idea what is happening right there, but okay, I'm with it.

Yuck! – 2 Chainz, Lil Wayne
"I just woke up, tell me where the drugs at. And after the drugs, where the girls at."
My mom always said to go for a man who knows what he wants in life.
ALSO
"I be like you could get her, he be like you could get her. I be like you could have her, he be like you could have her. He be like, it don't matter, I be like, me neither."
Wat. Did he just have a stroke?

Burnin' Up – Jessie J, 2 Chainz
"Everything hot like it's fresh off the grill. Million dollar grill look fresh on the hill. Plus I'm 6'5″, she need to step in some heels."
Just a subtle reminder that's a VERY tall drink of water.